MSU Extension offers free online Michigan Water School webinar series for elected and appointed officials and their staff
Understanding the state's water resources is important for making sound water management decisions.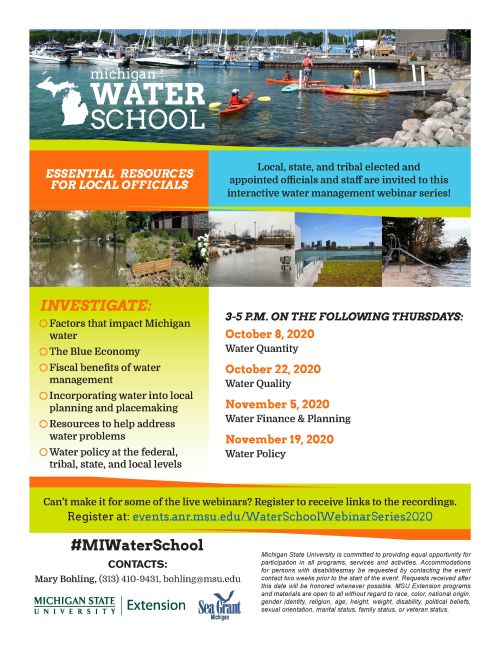 Elected and appointed officials often need to make important decisions regarding the future of shared water resources. The new online version of the Michigan Water School program from Michigan Sea Grant and Michigan State University Extension provides decision-makers with critical, relevant information needed to understand Michigan's water resources in order to support sound water management decisions.
This year Michigan Water School: Essential Resources for Local Officials will be offered for free in a Zoom webinar format on four Thursday afternoons in October and November. This project has been generously supported by the Erb Family Foundation and Pure Oakland Water.
Science and resources
The program will include sessions on water quantity; water quality; water finance and planning; and water policy issues. Topics to be covered include:
The Blue Economy

Fiscal benefits of water management

Incorporating water into local planning and placemaking

Resources to help address water problems

Water policy at the federal, tribal, state, and local levels
Webinar schedule
Water School speakers will include educators and faculty from MSU and MSU Extension as well as other experts providing local perspectives. The webinar series will be held 3-5 p.m. on the following Thursdays:
Oct. 8:

Water Quantity

Oct. 22:

Water Quality

Nov. 5:

Water Finance & Planning

Nov. 19:

Water Policy
Register to attend the free, policy-neutral, fact-based program at events.anr.msu.edu/WaterSchoolWebinarSeries2020. Not sure if you will be able to attend the live sessions? Each webinar will be recorded and all registrants will receive links to the recordings so you can watch them at a more convenient time, along with additional resources. For more information, contact Michigan Sea Grant Extension Educator Mary Bohling at bohling@msu.edu. Follow on Twitter with #MIWaterSchool.
Michigan Sea Grant helps to foster economic growth and protect Michigan's coastal, Great Lakes resources through education, research and outreach. A collaborative effort of the University of Michigan and Michigan State University and its MSU Extension, Michigan Sea Grant is part of the NOAA-National Sea Grant network of 34 university-based programs.
This article was prepared by Michigan Sea Grant under award NA180AR4170102 from the National Oceanic and Atmospheric Administration, U.S. Department of Commerce through the Regents of the University of Michigan. The statements, findings, conclusions, and recommendations are those of the author(s) and do not necessarily reflect the views of the National Oceanic and Atmospheric Administration, the Department of Commerce, or the Regents of the University of Michigan.