MSU Quantitative Fisheries Center honored by Great Lakes Fishery Commission
The Center was recognized as a world-renowned leader in the use of quantitative tools for teaching, outreach, research, and fishery management.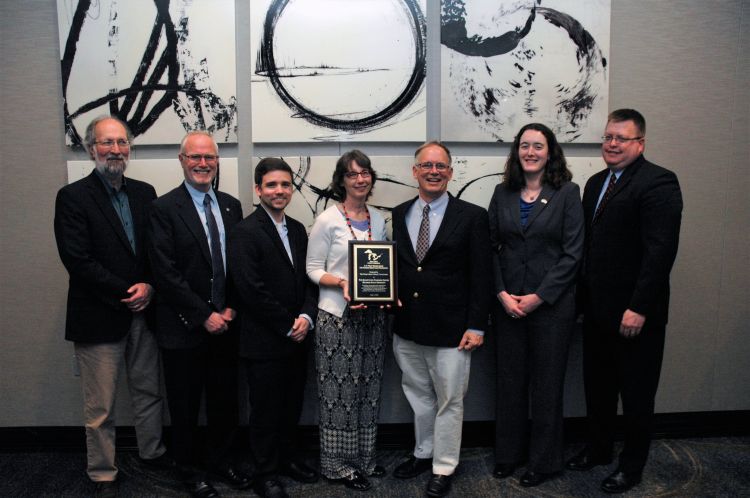 The Quantitative Fisheries Center (QFC) received the 2018 C.D. "Buzz" Besadny Award for Fostering Great Lakes Partnerships during the Great Lakes Fishery Commission (GLFC) 63rd annual meeting in Toronto, Ontario. This prestigious award is given annually to an individual or group that exemplifies an extraordinary commitment to building strong and lasting partnerships in Great Lakes resource management.
Drs. Michael Jones and Jim Bence, Co-Directors of the QFC, and Dr. Travis Brenden, Associate Director of the QFC, were presented with the award by Commissioner Tracey Mill, Assistant Deputy Minister for the Ontario Ministry of Natural Resources and Forestry's Provincial Services Division. In her remarks, Commissioner Mill cited the important role the Center plays in supporting the mission of the GLFC stating, "The QFC was established in 2004 through a partnership among Michigan State University, the Michigan Department of Natural Resources, and the Great Lakes Fishery Commission. The QFC was formed because of a growing recognition among management agencies that quantitative and statistical expertise were becoming increasingly important in fisheries management."
Mill continued, "Since its inception, the QFC has worked diligently to identify research priorities. Above and beyond that, members of the QFC have continuously shown a willingness to assist with the most complicated of issues.'
For more information, read the full Press Release.
Photo Credit: Ted Lawrence, GLFC