Southwest Michigan fruit update – June 15, 2021
Strawberry harvest continues. Sweet cherry harvest is beginning.
Weather
Last week was hot and humid. High temperatures were in the mid- to upper 80s. Lows were in the upper 60s. These conditions stimulated several days of scattered, showers and thunderstorms. Rainfall was quite variable, with some areas receiving over an inch for the week, others less than one tenth. A cold front passed through the area on Sunday, bringing cooler and drier air.
Highs will be in the 70s for much of the coming week. A short warming event on Friday could bring a few showers or thunderstorms, with a return to the cooler conditions on Saturday.
Soils remain dry. Most of lower Michigan is in a moderate to severe drought. All of southwest Michigan, except the southern portions of Berrien and Cass counties is now in D2 (severe) drought condition. Growers should be irrigating.
With the warm, humid week, we picked up a lot of growing degree days (GDD) last week: 230 GDD base 42 and 175 GDD base 50. We are 150 degree days ahead of the five-year average.
Southwest Michigan GDD summary from March 1 - June 13, 2021

Station

GDD 42 F

GDD 45 F

GDD 50 F

Benton Harbor (SWMREC)

1319

1113

821

Lawton (Lawton)

1344

1135

832

Fennville (TNRC)

1168

975

706

Average for the SW region

1303

1098

805

Average last week

1072

888

630
Tree fruit
Rain over the past month has been significantly normal, inhibiting most plant diseases except powdery mildews. The warm weather, humidity and scattered rain last week brought several disease infection events. Even with rain last week, irrigation is needed on sandy sites. Insect activity has increased with warm temperatures. San Jose scale males began showing up in the Trevor Nichols Research Center trapline on May 24. Crawler emergence is approximately 400 degree days base 51 F after biofix, which should occur in the warmer areas of the region this week.
Apricots are 1.25 inches in diameter with hard pits. The crop looks to be very good at some sites and poor at others. Plum curculio is a concern with the warm evenings. Dry conditions have not been very favorable for bacterial spot. Copper is about the only bactericide labeled for apricot, and most labels do not support post bloom use.
In peaches and nectarines, the predicted harvest date for Redhaven in central Berrien County is July 31. Pits were not quite hardened in central Berrien County. Hand thinning is underway. Bacterial spot treatments to protect fruit are most effective from shuck split to pit hardening. First traces of bacterial spot symptoms are being seen on foliage. Oriental fruit moth second generation biofix is occurring. Tarnished plant bug feeding on fruit is still ongoing.
In cherries, tarts are beginning to change color. Some sites in Berrien County are showing significant red. Apply ethephon when fruit is in stage III of growth, when the fruit turns straw color to early red. If ethephon is applied too early, the fruit may stop growing and the stems stay attached.
Sweet cherries are red. Harvest of early season varieties is beginning at some sites closer to Lake Michigan. Total number of cherry leaf spot infection periods since early May is 2 to 3, about half of the usual number.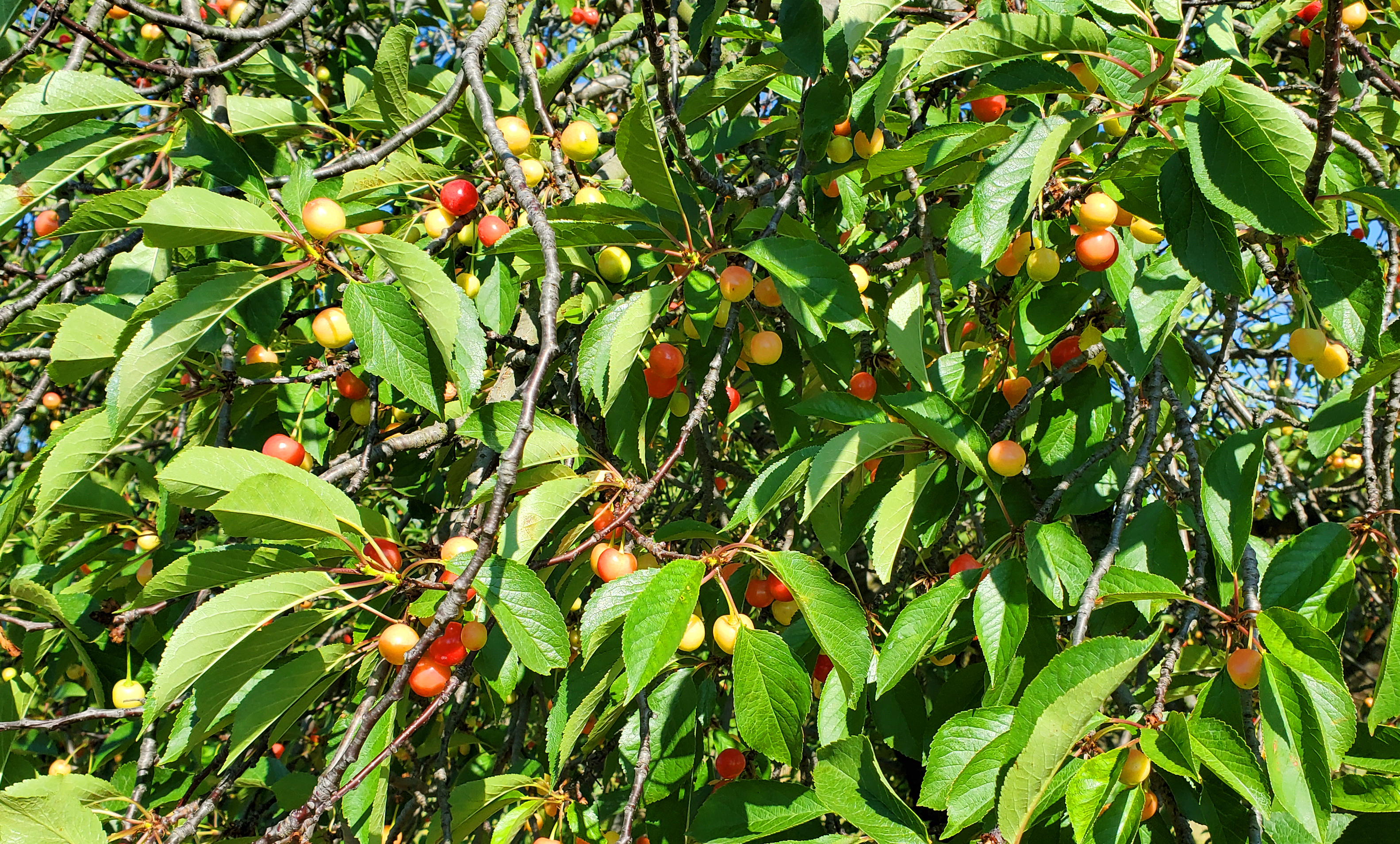 In plums, Japanese plums are 21-27 millimeters with hard pits. European plums are 20 millimeters, but pits are not hard yet. June dropping is continuing. Crop prospects for plums look okay to only fair, depending on the site. Black knot control is still ongoing until terminal growth slows. Current warm wet conditions are conducive to bacterial spot infections.
Apple fruit sizes are generally over 30 millimeters. Many fruits have low seed counts due to poor pollination. Thinning should focus first on varieties such as Honeycrisp, Fuji, and Goldens that initiate bud set first. Summer NAA treatments to encourage return fruiting generally start about five weeks after full bloom, approximately in early June in central Berrien County. A few fire blight symptoms have been spotted. Codling moth catch continues to be significant. Obliquebanded leafroller biofix was approximately June 1. Oriental fruit moth second generation flight is starting. Scab ascospore catches on June 9 were still significant.
Pears are approximately 30 millimeters in diameter. Fruit that are not successfully pollinated are dropping. Pear fruit are generally too hard to be a target for first generation codling moth. Plum curculio and tarnished plant bug can target pears at this stage. Pear psylla nymphs are starting to appear. Scab can still be a threat.
Small fruit
Grape bloom is ending. Labrusca and most hybrid grapes not impacted by the radiation freezes the first week of May have finished bloom. There is still some bloom on secondary shoots. Most vinifera cultivars are blooming now. May 25-27 can be used as general dates for wild grape bloom in southwest Michigan.
Last week, there were several disease infection events. Protectant fungicide sprays to control Phomopsis, black rot, downy mildew, and powdery mildew are the management focus during bloom. Anthracnose was also recorded this week from an infection last week. Wine grape growers will also want to include botrytis in their disease management plans.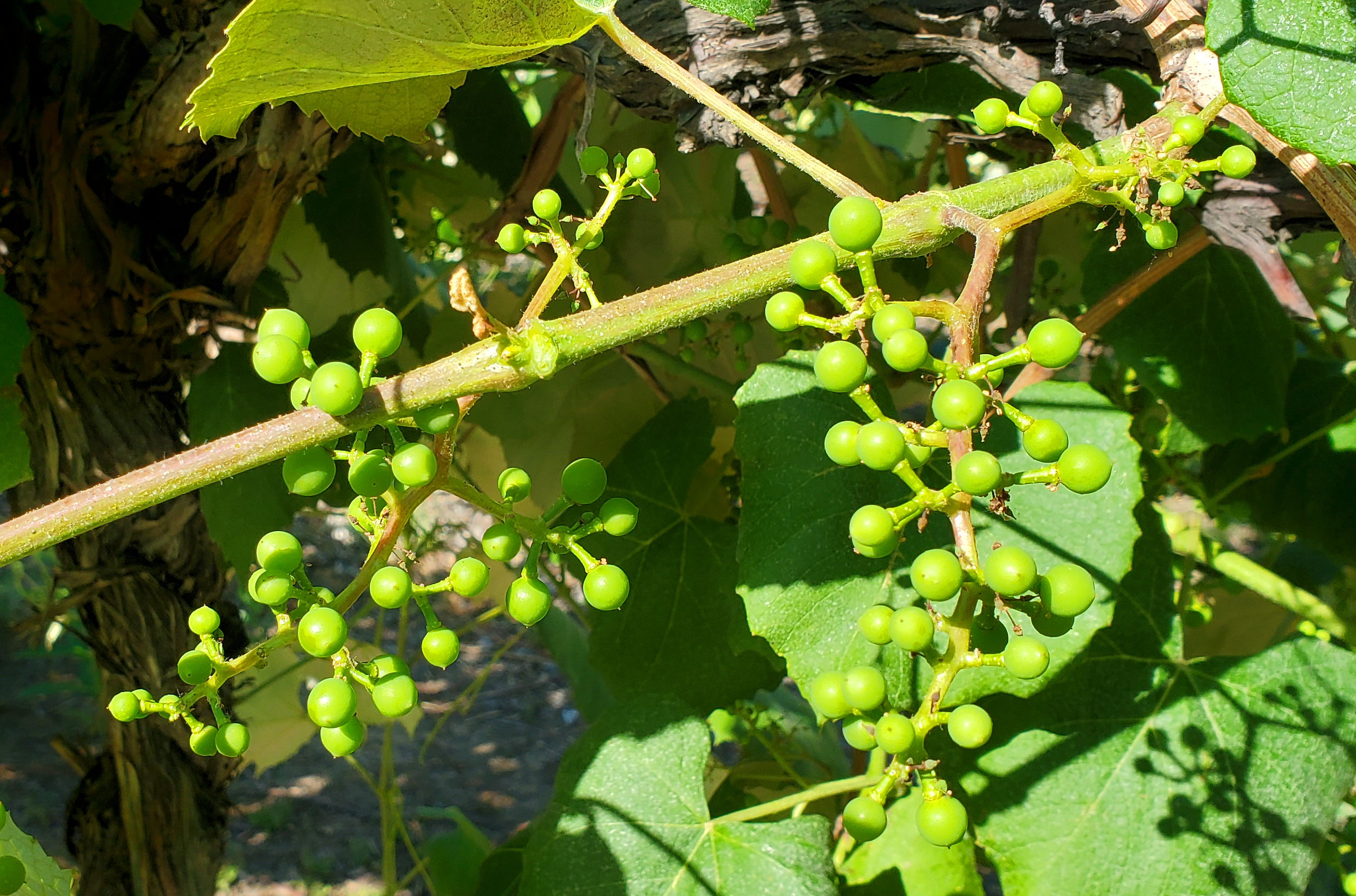 Blueberries have green fruit. Now that fruit is sizing, the crop is looking better. Disease control should focus on anthracnose infections to young green fruit, especially in irrigated fields. Shoot growth looks good. In fields without irrigation, the soils are extremely dry. Maintain irrigation to maintain shoot and fruit growth.
Cherry fruitworm and cranberry fruitworm egglaying is continuing. Petal fall is typically the appropriate time for managing this pest.
Strawberry harvest is underway.
Bramble bloom is in various stages: Raspberries have finished blooming, blackberry bloom is ending. Fruit are beginning to size.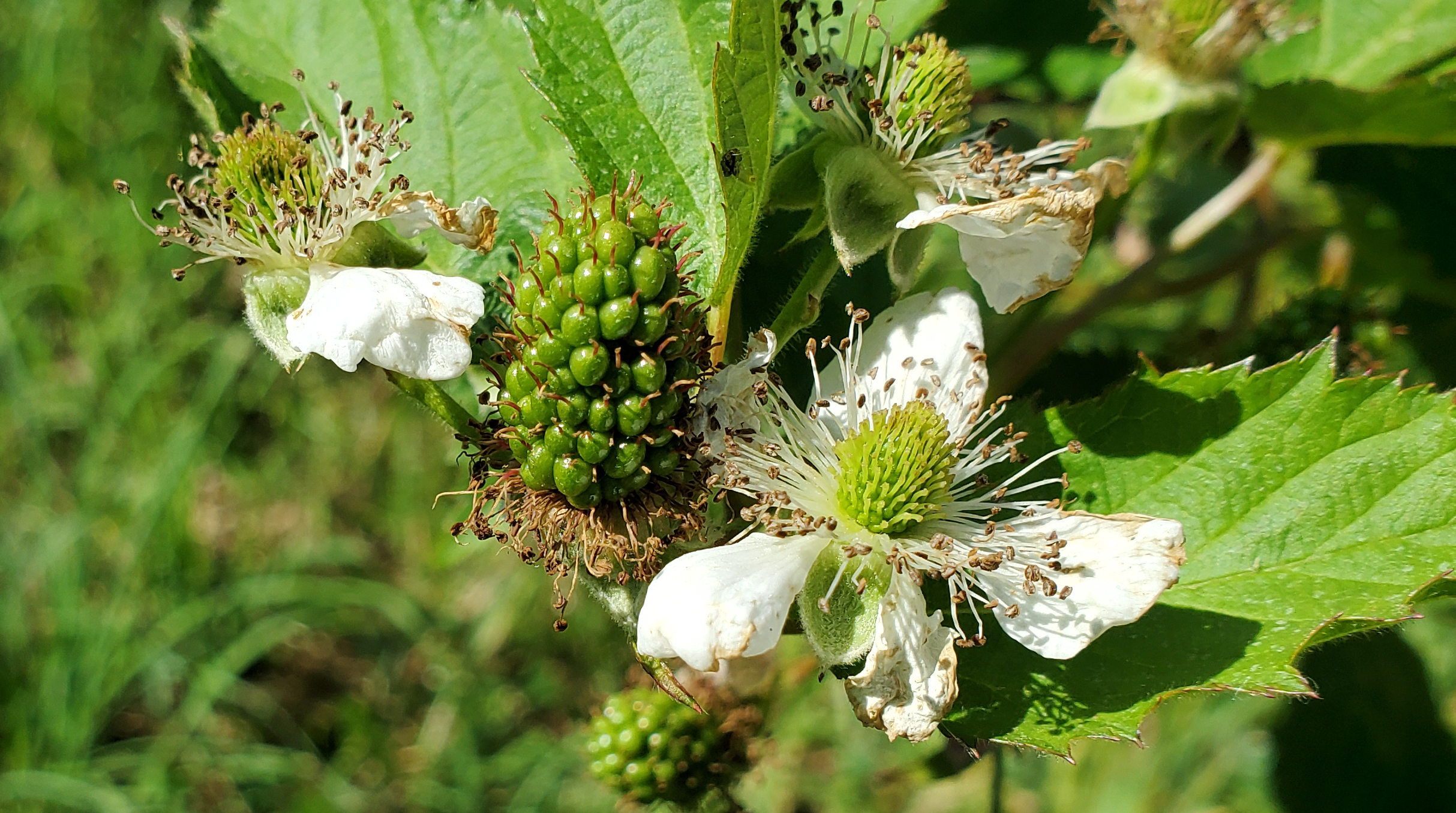 Miscellaneous crops
Hops training is finishing. Most varieties are 3-5 feet from the top. With the dry soils, irrigation is being used to increase shoot length ahead of training. European corn borer biofix was May 25. Larvae are being seen. Flight should end this week.
Chestnut catkins are continuing to develop. Lecanium scale is showing up on chestnut trees. Mature trees can withstand small populations, but for small trees or heavy populations, a treatment may be necessary to reduce tree stress and buildup of sooty mold. With the hot, dry weather, grasshoppers can become an issue. Some leaf damage on perimeter trees has been observed.
Hazelnut blooms are developing.
Cranberries are blooming.
Upcoming meetings
Our regular Southwest Michigan Monday Fruit IPM Updates are available online. You need to register to receive the Zoom link and password for these meetings. The webinars are free and one pesticide applicator credit is available for each meeting. We had 60 growers attending our Monday meetings last week.
There is a 2021 Blueberry Pre-Harvest Webinar scheduled for Thursday, June 17, from 12-2 p.m. To register for this webinar, go to this registration page.
Related articles