MSU STEM Facility Earns WoodWorks Award for Using Mass Timber
WoodWorks, the non-profit educational arm of the American Wood Products Council, acknowledged the use of mass timber in the Michigan State University STEM building with its 2022 Wood Design Award for Wood in Schools.
Contacts:
Sandra Lupien, Director, MassTimber@MSU; lupiensa@msu.edu; 510-681-3171
Kristen Campbell, Integrated Design Solutions; kcampbell@ids-michigan.com; 248-823-2120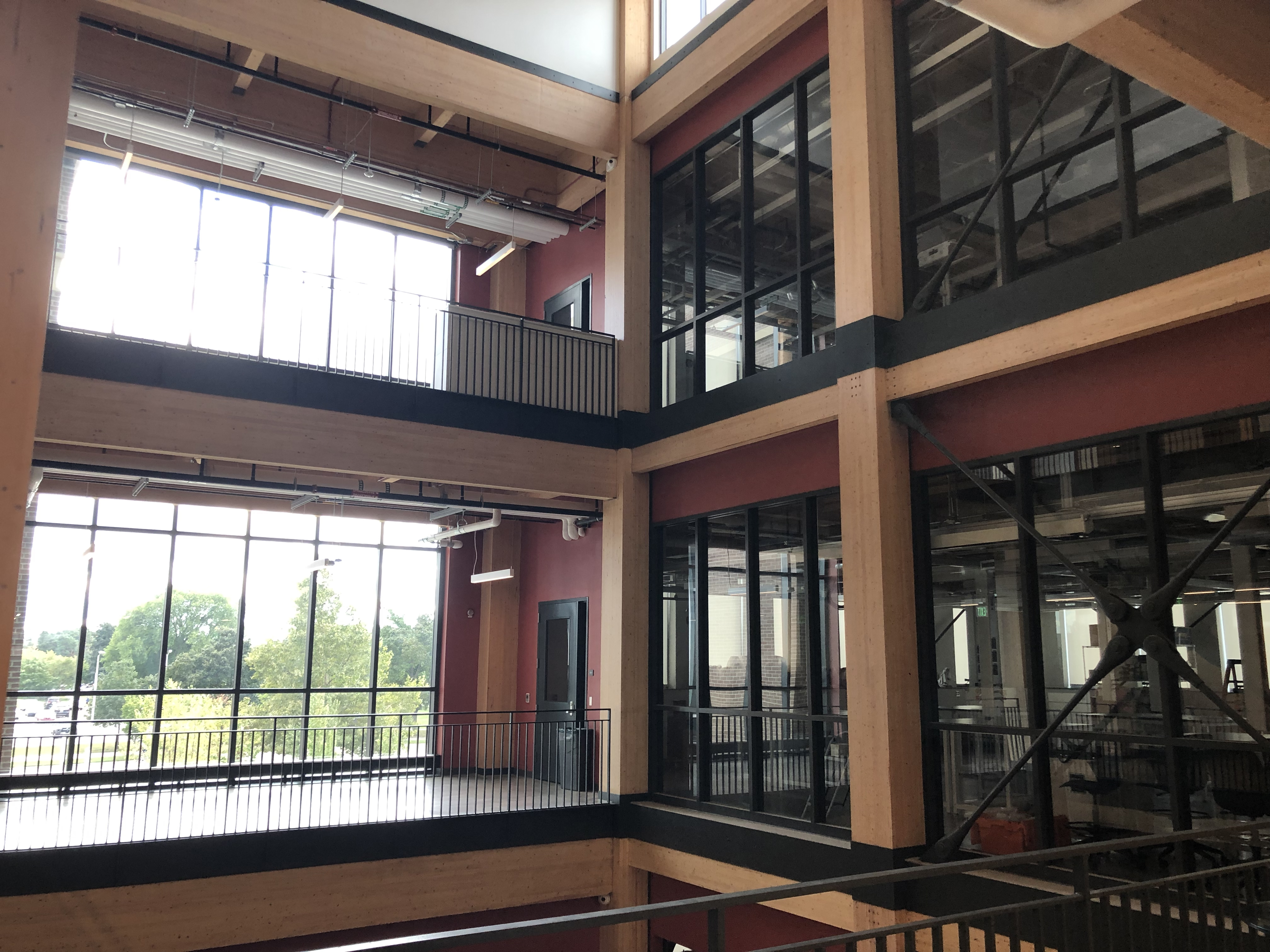 EAST LANSING, Mich. — Michigan State University (MSU) has been awarded the WoodWorks Wood Design Award for Wood in Schools for using mass timber in its state-of-the-art STEM Teaching and Learning Facility.
The new STEM Teaching and Learning Facility features an abundance of natural light, exposed ceilings, and a mix of modern and repurposed architecture, including a mass timber and steel structural system. Tucked inside the sustainably glamorous building are spaces for students to collaborate and learn.
The STEM Teaching and Learning Facility is Michigan's first mass timber building. Mass timber is an umbrella term for a variety of panelized, engineered wood building materials such as large cross-laminated timber (CLT) panels and glue-laminated (glulam) columns and beams with an array of structural and decorative uses in buildings.
"Humans have been building with wood, for centuries," said Sandra Lupien, Director, MassTimber@MSU, "But not with wood like this. By creating super-strong panels and beams from layers of dimensional wood, we can build bigger and higher than ever with timber. And that's a good thing – wood is a renewable resource and building with it has many sustainability benefits. Mass timber emits comparatively less carbon dioxide during production than many common building materials and it stores carbon absorbed by trees while they're in use in the building, keeping that carbon from releasing into the atmosphere where it would contribute to climate change."
The 3,000 cubic meters (105,000 cubic feet) of mass timber in the MSU STEM facility store a volume of carbon equivalent to not driving the average vehicle at least 4.7 million miles or not burning at least 2 million pounds of coal. The mass timber comprises Forest Stewardship Council black spruce from northern Quebec in Canada, and with sustainable forestry practices, North American forests can replace the volume of wood used in the building in just 8 minutes.
Integrated Design Solutions (IDS - Architect of Record/MEP) along with Ellenzweig (Design Architect), Michigan State University, WoodWorks, and an array of stakeholders worked hard to make MSU's vision for the state's first mass timber building a reality.
"The vision for a wood structure was championed by the entire team, especially Michigan State University and was not without risk," said IDS's Kevin S. Marshall, AIA, the Project Architect for the MSU STEM facility. "As the first structure in the state to utilize CLT, we were breaking new ground. But by exposing as much of the timber as possible along with careful design of the building systems, the team was able to put 'science on display' for the roughly 7,000 students who take classes in the building every week. The conversion of the long-decommissioned power plant gave the design team a way to create a hub of activity in the center of the complex and brought the wonderful structure out of hibernation. The deliberate mix of new and old throughout the complex creates a seamless unity celebrating the University's STEM curriculum."
This process led to categorizing the building as a Type IIIB construction, using a hybrid mass timber and steel structural system as well as a steel exoskeleton to support the brick, cast stone, and glass to fit MSU's campus-wide aesthetic.
Seeking to ensure high visibility for the first new MSU building in decades exclusively to classrooms and laboratories, MSU opted to renovate the decommissioned Shaw Lane Power Plant located right next to Spartan Stadium. The project team advanced an open design that would be open, inviting, and inspirational to emphasize the leading-edge teaching pedagogies that would be housed there. The building complex consists of 121,290 square feet of new construction split across north and south wings built around the original 48,531 square foot power plant structure.
The finishes in the new construction consist of the mass timber – glulam columns and beams, CLT floor decks, and CLT wall panels in the stair towers – combined with polished concrete walking surfaces, glass, and gypsum board creating a warm yet industrial aesthetic. The power plant was carefully renovated to preserve as many items from the original building as possible while interweaving floor plates in the 4-story volume. Since the power plant is a structural steel framed, mass wall masonry structure, the renovated center section consists of steel beams connected to existing steel columns. New floor surfaces in that section use the same CLT structural floor decks which, this time, are topped with a natural maple wood floor surface that maintains the original motif of the Power Plant while tying it to the modern mass timber
The WoodWorks Award recognizes excellence and innovation in mass timber, heavy timber, traditional wood-frame and hybrid buildings. A non-profit dedicated to helping project teams design, engineer and construct successful wood buildings, WoodWorks has been hosting its award program for 15 years as a way to recognize developers and design teams whose creativity and emphasis on quality continue to expand the possibilities for wood buildings.
Architect of Record/MEP: Integrated Design Solutions (IDS)
Design Architect: Ellenzweig
Contractor: Granger Construction
Mass Timber Supplier: Chantiers Chibougamau, Nordic Structures
Erectors: Christman Constructors, Inc.