MSU student receives Outstanding Student Award from the National Association of Home Builders' Student Chapter
Construction Management senior, Alex Beem, received the Outstanding Student Award from the NAHB Student Chapter in Las Vegas, on Jan 22. Join us in congratulating Alex regarding this great achievement!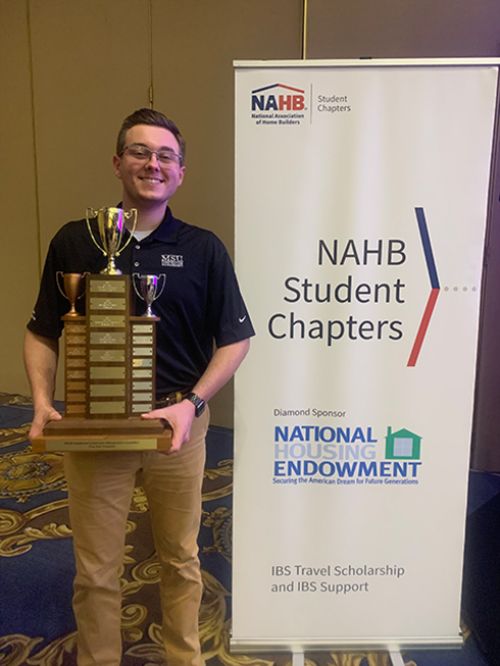 Graduating Construction Management senior, Alex Beem was awarded the Outstanding Student Award by the National Association of Home Builders Student Chapter on Jan. 22, 2020, at the International Builder's Show.
This award recognizes student members for their work for their student chapter and/or local Home Builder's Association. Students are selected on the evaluation of their academic standing, their level of involvement with their student chapter, as well as their interest in pursuing a residential building career. One student per chapter is eligible for nomination.
"It is an honor to receive this award. This is the second year in a row that a CM student has received this award, which proves that the CM program continues to prepare students to be career-ready professionals," said Alex Beem.
Beem graduates in May 2020 and has accepted a position working with Sachse Construction and Development in Detroit, Mich.
"My family is multigenerational in the construction industry," he said. "But, following the business-oriented side of the industry was the right direction for me."
Beem's father and grandfather were both in the skilled trades. "With the knowledge I was able to gain from them, it put me miles ahead in life, as well as in the program."
Beem participated as a competition team member for the National Association of Home Builder's student chapter last year, when the team took home the first-place trophy. This year, the team did it again as Beem led the team to another victory. Beem is involved with student life on campus and serves as e-board president for the MSU Student Builders and Contractors Association.
Beem took a non-traditional transfer route to Michigan State University, and serendipitously ended up in the Construction Management program.
"I really found this career path through an English professor at St. Clair County Community College. He proposed a research paper about finding ourselves and our career paths, that is when I stumbled across this program and eventually transferred into it," he said.
Beem's main point of advice to current and future construction management students is to get involved.
"Get involved with everything you can get your hands on; you only get this four-year opportunity once in your life. It sounds cliché, but rounding out my time here by May, it is becoming all too real," he said.