MSU students win first place again at the National Association of Home Builders Student Competition
MSU's Residential Construction Management Competition team took first place that the National Association of Home Builders Student Competition for the second year in a row!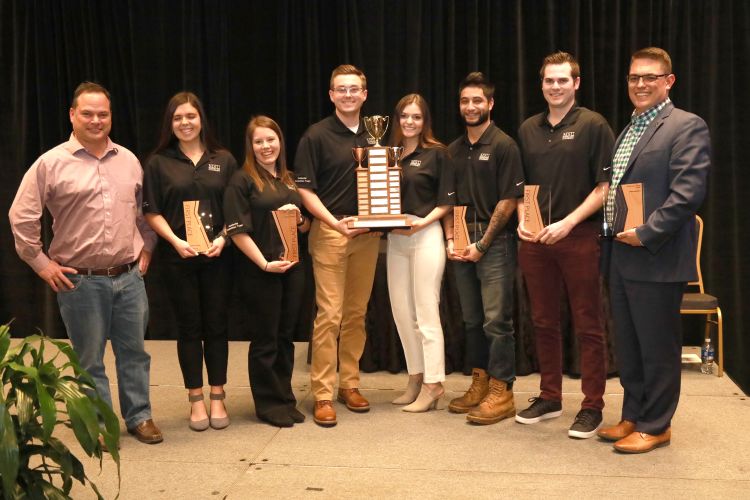 On Jan. 22, 2020, the MSU Residential Construction Management Competition team took first place – for the second year in a row – at the National Association of Home Builders Student Competition in Las Vegas.
Consecutive wins are a rarity in this event, having happened only twice before in the event's 29-year history - the last time was in 2004-2005. This is the first consecutive win since the competition moved to its current 37-plus-team format. MSU finished on the podium for the third year in a row and beat out 39 other four-year university teams in this highly competitive event.
This is the fourth time the MSU competition team has placed first at this event, since its first entry in 1994. The team competes every year and regularly places in the top five.
The competition team is led by George Berghorn, PhD, assistant professor of construction management (CM).
Primary team members include School of Planning, Design and Construction (SPDC) CM seniors Alex Beem, Kyle Broccardo, Eric Fantry and Evan Harless; CM junior Aundrea Cole; and Interior Design senior Danyel Zmudka. The alternate members of the team included Interior Design junior Taylor Howes, CM seniors Jake Garbarino and Matt Zenk (also Finance), and CM junior Sabrina Maniaci.
The team members are a part of the MSU Student Builders & Contractors Association. Alex Beem, who served as their e-board president last year also received an NAHB Outstanding Student Award at this same event.
This student competition is one of the highlights of the NAHB International Builders' Show. Their mission is to expose students to an in-depth residential development project from concept to closing. The competition gives students an opportunity to apply skills learned in the classroom to a real company by completing a detailed land and home development prospectus.
"Team members easily put in a work year's-worth of work on this project between September and January. Their discipline and self-motivation were obvious during their project presentation in Las Vegas, and all of that effort paid off with a second consecutive first place finish," George Berghorn said.
This year, the competition required students to prepare a proposal to acquire and develop a 130-parcel with very intense design criteria for a 55+ Active Adult Community, located in St. George, Utah.
During the competition, students defend their proposals to the judges in front of a large audience. The judging panel is comprised of five senior executives from some of the top builder-developers in the U.S., and they scrutinize student proposals with the same intensity they would those from their own firms.
Vito Castellana, owner of VIP Homes and a 2010 CM program alumnus added, "The MSU team presented a large-scale successful housing project like professionals. Their futures behold big things for our industry."
"The quality of the competition increases every year, and the competitors are tougher and tougher," Berghorn said.
"Winning two years in a row is exciting – it's certainly validation of the quality of MSU's SPDC programs – but more importantly it speaks to the dedication and abilities of our amazing students! The work they put in to complete the 50-page proposal and deliver a strong presentation speaks well for their futures in the construction industry. I could not be prouder of these students."
While this is primarily a construction management competition, the Michigan State team also included team members from the interior design program, reflecting the interdisciplinary nature of the School of Planning, Design and Construction.
"This is an interdisciplinary team that last year included three SPDC majors and this year it included two. It is through this connection that we form bonds that are stronger between these programs, which has helped us, year after year, be more successful in every aspect of this competition." Alex Beem said.
When the judges announce the placements, they start with fifth through second places, and the participants must wait for nearly a half-hour until the first-place team is announced.
Beem said the team could hardly contain themselves as they waited in anticipation for the first-place announcement.
"We all felt a huge sigh of relief when they announced our win," he said.
"It meant so much to each and every one of us to end up on that stage and bring the trophy back to East Lansing for another year. I bet we totaled more than 2,000 hours over the course of the semester this project, and to come out victorious for the second time? It shows that the team is very well-rounded, but also that Dr. Berghorn knows the right ways to push us to get over the finish line."
For more information about the MSU Residential Construction Management Competition team, contact George Berghorn.
Learn more about the MSU Student Builders and Contractors Association and the National Association of Home Builders Student Competition.