MSU Students launch local food business made from campus grown foods
Look for Land Grant Goods products this summer on campus.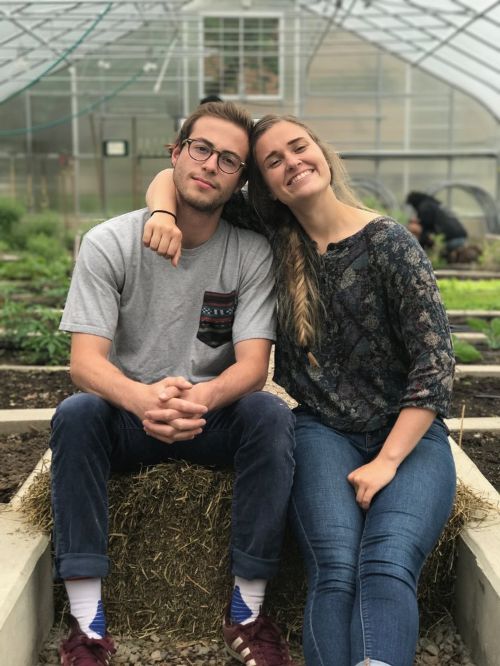 For anyone who finds themselves around the Brody Halls at Michigan State University, whether they be an incoming resident, staff, family member, or simply someone in the neighborhood, it may be beneficial to know that this location site offers their own handmade goods straight from the Bailey GREENhouse community garden located next to Bailey Hall in the Brody Complex, west of the Kellogg Center. Stop by to help support this student-run organization.
Since Michigan State University opened its doors in 1855, it has always been dedicated to education and to agriculture. In fact, it was originally called "the Agriculture College of the State of Michigan." Which is why, to this day, you will see various gardens, hoop houses, open fields, and an overall beautiful landscape when touring the campus. As the school continues to build on to this campus, as you can see in the future visions they have set for the year 2020, MSU will continue to embrace the university's agricultural heritage.
With this in mind, various students studying agriculture, sustainability, and education have decided that the Brody Halls, which is secluded from much of campus, needed their own greenhouse. With MSU having such a large agriculture department, and Brody Halls being located several miles away from the MSU Student Organic Farm and other MSU agricultural production facilities, it created a barrier for students living in these halls to be exposed to the culture of farming. Luckily, the Bailey GREENhouse enables students living on campus to be involved in agriculture without having to travel far distances.
This idea was put in motion in 2012, joining with the Residential Initiative for the Study of the Environment (RISE). The Bailey GREENhouse produces a wide variety of greens, tomatoes, herbs, mushrooms and even an apiary they have created themselves. The amount of components being produced in such a small area between the dorm halls is impressive and is all student-grown.
Bailey GREENhouse crops were originally used only for the residential dining halls and the State Room restaurant in the Kellogg Center, but the students knew they could take their successes further. They launched Land Grant Goods in 2015, with a goal to promote locally-made products to the community.
Today, using a mobile certified kitchen inside of a trailer parked at the MSU Student Organic Farm, the students process their jams. They sell the honey made from the apiary, and make teas from GREENhouse herbs. Overall, they have shown that they can work to make their small space as productive as possible by thinking about various value-added products that can be created.
For anyone who finds themselves visiting this site, seek out the students running this operation. This group of passionate individuals welcome all those interested in learning more about how they run their business, and will talk with excitement about the work they do and the new projects they have lined up. This may only be the start for these students, but in order to achieve these goals they will need a support system to do it.
Michigan State University Extension supports commercial agricultural producers and food businesses. For more information about launching a food business or seeking business counseling services, please contact the MSU Product Center at (517) 432-8750.