Native fish spawning habitat: It's more than just rocks in the river - Part 1
An adaptive management native fish spawning habitat restoration experiment begins in the Detroit River.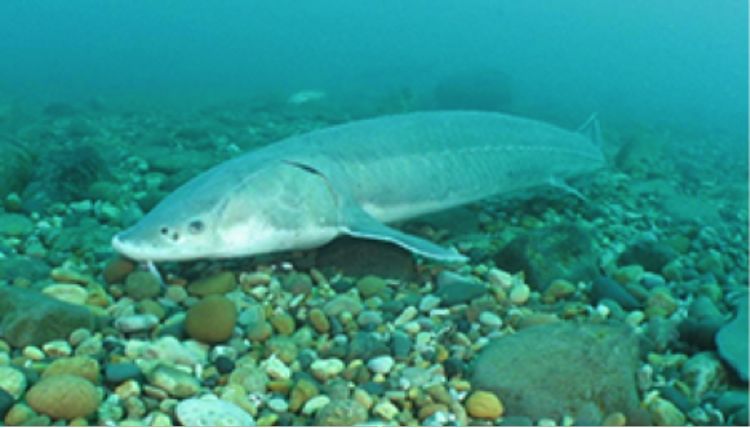 It was just before Thanksgiving 2001 when Michigan Sea Grant was asked to take the lead on a potential project in the Detroit River. On the surface it was simple — one time, very specific, a chance to construct habitat in the river to restore native fish populations. Sea Grant, Michigan State University Extension, United States Geological Survey and others had just days to put together a team and to come up with a proposal. From the beginning, the team agreed that performing assessments, before and after the restoration work, was critical to the viability of the project. The team carefully considered where to put rocks, place them specifically and then record what happened. The team approached this effort as an experiment because they were uncertain about what would work.
That meant the team approached the project in two ways: as a research project — what would happen if …? And as a restoration project: here's an existing population of sturgeon and other native fish, they are spawning on similar rock types, if we build spawning habitat in the right areas, out of the right materials, will the populations be sustained and will they grow?
Starting out, the team didn't know what kinds of rocks to use, or what size. They didn't know where a reef should go. Spawning requirements are one thing, but what happens when the fish hatch? They need a hospitable environment to hide, feed and grow. What happens when they get bigger? Will they be poached? Will they survive to spawn? The post-restoration assessment work would help figure that out.
The assembled team, consisting of specialists from the USGS, U.S. Fish and Wildlife Service, Michigan Department of Environmental Quality and Department of Natural Resources as well as others, had decades of experience working with fish and aquatic habitats.
After significant assessment, lining up the science, laying out objectives and loads of research on spawning and juvenile fish survival needs, the team built reefs. In 2004, they installed a series of rock reefs in the Detroit River near Belle Isle. The reefs were created with different sizes and types of rocks to learn what might draw the most fish and then monitored for spawning activity.
Future articles will focus on how the team defined restoration success, results of these reefs as determined by post construction monitoring, lessons learned from the adaptive management strategy and the economic and ecological benefits of these projects.
Michigan Sea Grant helps to foster economic growth and protect Michigan's coastal, Great Lakes resources through education, research and outreach. A collaborative effort of the University of Michigan and Michigan State University, Michigan Sea Grant is part of the NOAA-National Sea Grant network of 33 university-based programs.
Read the full series
"Native fish spawning habitat: It's more than just rocks in the river"