Native fish spawning habitat: It's more than just rocks in the river - Part 4
Spawning a system-wide program for adaptive management of native fish spawning habitat in the St. Clair and Detroit rivers.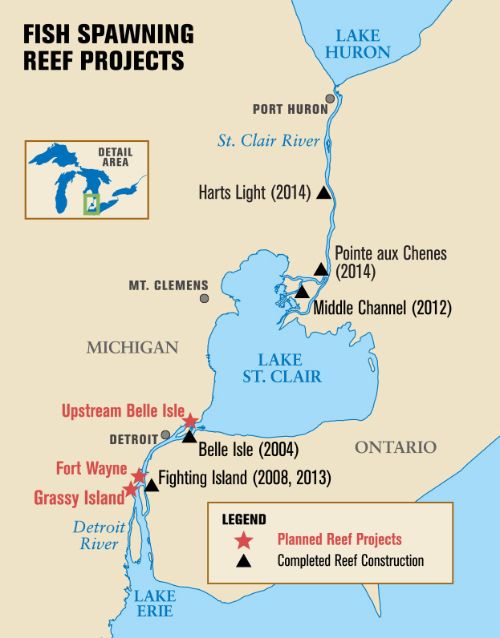 Part 1 in this five-part series documented the beginning of a native fish habitat restoration project in the Detroit River. Part 2 explored how a project team that included Michigan Sea Grant, Michigan State University Extension, United States Geological Survey and others developed a strategy for defining restoration goals. Part 3 discussed post-construction assessments to see if native fish were in fact reproducing on the constructed reefs. This article will describe how the success of the first spawning reef experiment led to the subsequent projects throughout the St. Clair and Detroit rivers.
Positive post-construction assessment results and public interest from the Belle Isle reef project led the team to search for other locations in the St. Clair and Detroit Rivers where reef construction could further benefit fish spawning in the region. The project blossomed from one stand-alone reef project to an ecosystem-wide approach with more fish habitat restoration projects planned.
The Belle Isle reefs were the first step and provided the team with on-the-ground, real-life answers to some questions about fish habitat construction. It largely showed that restoration of fish spawning habitat in the corridor was possible and brought managers closer to solving the riddles that each restoration project faces (location, rock sizes, nursery habitat, etc.).
In 2008, more reefs were constructed in the Detroit River, near a place called Fighting Island. A few years after that, in 2012, a series of reefs were constructed across the Middle Channel in the St. Clair River, just north of Lake St. Clair.
Each reef was constructed using different types of rock material. Based on these three projects, the team discovered that target fish species — lake sturgeon, walleye and lake whitefish — didn't seem to have a preference for one type of rock. What the fish did prefer were rocks piled deep enough to form crevices that protect the eggs from predators and from being washed downstream, and that remain relatively free of silt, algae and mussels.
The reef projects are an example of adaptive management in action. As each project was built, new lessons were learned which positively impacts future projects. Using these lessons learned, two additional reefs were built in 2014, near Algonac and East China, Mich., in the St. Clair River and another is currently being constructed in the Detroit River that will be completed by November 2015.
"We're not just doing this work for the sake of knowledge alone," said Jennifer Read, project manager and director of the University of Michigan Water Center. "This is real, actionable science that people really respond to because they can see it and they can see results. It's also science that supports management decisions. That's what sets our adaptive management approach to restoration apart."
The final article in this series will illustrate the ecological and economic benefits of this and other coastal habitat restoration projects.
Michigan Sea Grant helps to foster economic growth and protect Michigan's coastal, Great Lakes resources through education, research and outreach. A collaborative effort of the University of Michigan and Michigan State University, Michigan Sea Grant is part of the NOAA-National Sea Grant network of 33 university-based programs.
Read the full series
"Native fish spawning habitat: It's more than just rocks in the river"