Northwestern Michigan Spring Cover Crop Field Day on May 10
The fourth field walk of the season will focus on cover crop techniques for Northwest Lower Peninsula.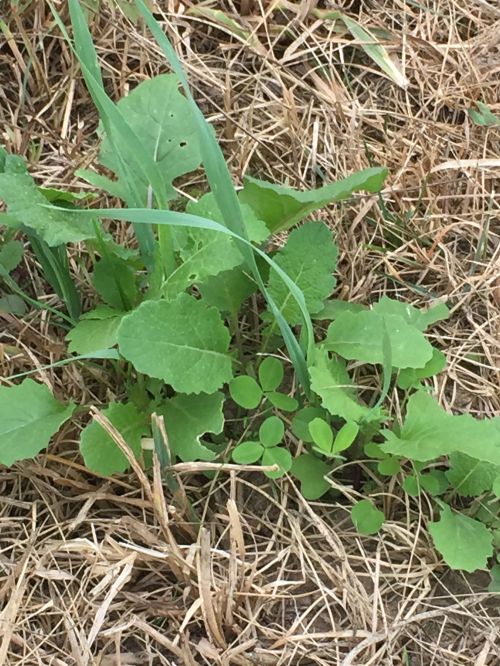 The Michigan State University Extension cover crops team will be hosting a series of informational Cover Crop Field Walks in 2018 looking at different cover crop species and how they work in different cropping systems. This is an opportunity for producers and agricultural professionals to visit cover crop field sites in various locations throughout Michigan with MSU Extension educators to observe and discuss cover crop use, management, benefits and challenges.
A challenge in northern Michigan for farmers is how to incorporate cover crops into their system after their cash crop has been harvested. One option for some growers is overseeding. On Sept. 4, 2017, USDA-NRCS staff in the Bear Lake Field Office, along with the MSU Extension cover crop team, used a highboy seeder to overseed cover crops into a corn demonstration plot at Schoedel Summit View Farm near Manistee, Michigan. On Oct. 21, 2017, farmers were invited to a field day to look at the site and to talk about cover crops.
Schoedel's Summit View Farm, located at 3217 Schoedel Rd, Manistee, MI 49660, will be hosting a field walk on May 10, 2018, from 5 to 7 p.m. to revisit the fields that were highlighted last fall to look at how they fared over the winter. Benzie-Manistee Farm Bureau and the USDA-NRCS are sponsoring the event along with MSU Extension. The evening walk will focus around cover crop management decision, integrating cover crops into row cropping systems for Northern Michigan and cost-share opportunities for farmers implementing cover crops into their farm plan. This MSU Extension event is co-sponsored by Schoedel's Summit View Farm, Benzie-Manistee Farm Bureau and USDA-NRCS.
Participants will have the opportunity to receive a Cover Crop Pocket Guide and the new MSU Extension Cover Crop Termination bulletin, published April 2018, by MSU Extension specialists Erin Hill and Christy Sprague. Developing a termination strategy is an essential part of any successful cover cropping system. The three termination methods—winter kill, mechanical methods and herbicides—will all be discussed with the examples in the plots.
For more information contact MSU Extension educators Christina Curell at curellc@anr.msu.edu, Paul Gross at grossp@msu.edu or Dean Baas at baasdean@msu.anr.msu.
Join the MSU Extension cover crop team members and farmers at one or several Cover Crop Field Walks scheduled throughout the 2018 growing season. The field walks will be in-field opportunities group discussion and hands-on learning. As dates get closer, visit the MSU Extension Cover Crops page for location details and see the tentative schedule below for this year's Cover Crop Field Walks.
Tentative schedule for 2018 Cover Crop Field Walks
May 10, 5 - 7 p.m. at Bear Lake, 3217 Schoedel Rd, Manistee, MI 49660
July 12, 5 - 7 p.m. in Oceana County (vegetable focus)
July 26, 5 - 7 p.m. in Clinton County (planting demo)
Aug. 9, 5 - 7 p.m. in Kent County (fruit focus)
Aug. 23, 5 - 7 p.m. in St. Joseph County
Sept. 6, 5 - 7 p.m. at East Lansing Student Organic Farm
Sept. 20, 5 - 7 p.m. in Lapeer County
Oct. 4, 5 - 7 p.m. in Lenawee County
Oct. 18, 5 - 7 p.m. in Isabella County