Northwest Michigan apple maturity report – September 7 2022
Harvest is underway for early varieties of apples at this time: Gingergold, Zestar, SweeTango, Jersey Mac, PaulaRed. Fruit quality is excellent.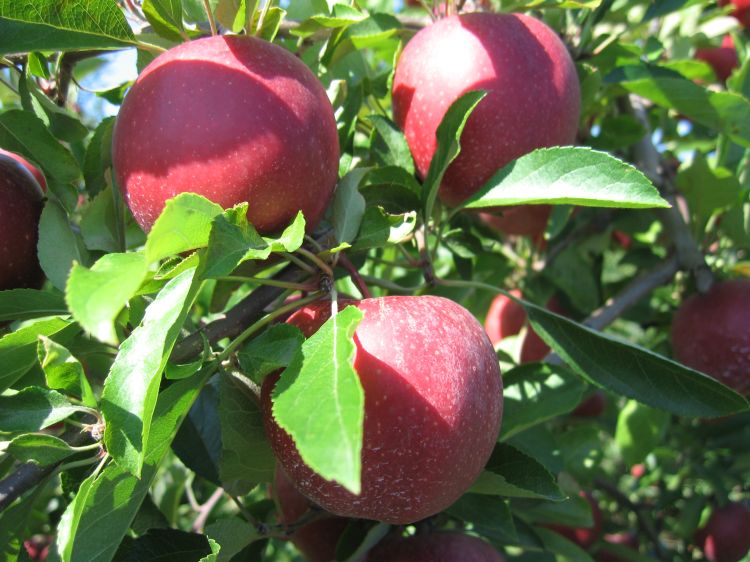 This is the first apple maturity report for the 2022 harvest season for northwest Michigan. Reports are sent out every week (usually on Wednesdays), following the MSU fruit team apple maturity calls on Wednesday morning.
How to read maturity tables
Each week, we test apple varieties that are nearing maturity in northwest Michigan. We are reporting average values for several samples for each variety. Maximum and minimum values are included for the highest and lowest individual fruits evaluated for each, to give a full spectrum of the maturity.
Updates for this week
Weather. Unlike other areas of the state, northwest Michigan has not had significant rainfall since the first part of August. The Enviroweather station at the NWMHRC recorded 1.18 inches of rainfall on Aug. 3 and another 0.93 inches on Aug.11. Since that rain, there have been spotty amounts recorded for the remainder of the month. In blocks without irrigation, fruit size is relatively small with the lack of rainfall this past month. Conditions have been good for coloring up fruit. We have had sunny days and cooler nights. The forecast is predicting warmer weather for the remainder of the week into the weekend; daytime highs will be in the mid-80s Fahrenheit. Temperatures will cool by Sunday will be back down into mid-70s F. There is also rain in the forecast for Sunday and into the week next week.
Honeycrisp
This variety is coming along in maturity, but many of the samples we tested need more color. Firmness is high and ranges from 17 to 23 lbs. of pressure. We typically harvest Honeycrisp around Sep. 25at the NWMHRC.
| | | | | |
| --- | --- | --- | --- | --- |
| Sample Date | Color % (range) | Firmness lbs (range) | Starch (range) | °Brix |
| Sep 6 | 44.8% (10-80) | 19.6 (17-23) | 1.3 (1-2) | 10.9 (10-13.6) |
Gala
Color on Gala is excellent for most of the samples we tested this week, but we detected big amounts of variability in color. We had a color range of 15% all the way up to 100%. Firmness is also quite high in this variety. Some of Gala we tested were small in size, which can sometimes be an issue growing this variety on sandy soils.
| | | | | |
| --- | --- | --- | --- | --- |
| Sample Date | Color % (range) | Firmness lbs (range) | Starch (range) | °Brix |
| Sep 6 | 74.125% (15-100) | 22.2 (19-23) | 1.4 (1-5) | 10.5 (8.5-12.5) |
McIntosh
This variety tends to have good color in northwest MI. We will need to wait a bit for more color with the recent conditions. Firmness is excellent in this variety. Brix for all samples we tested, despite variety, were in the mid to high 10 brix. We anticipate sugars to be high in our region because we have had less rain than in other parts of the state.
| | | | | |
| --- | --- | --- | --- | --- |
| Sample Date | Color % (range) | Firmness lbs (range) | Starch (range) | °Brix |
| Sep 6 | 55.5% (15-90) | 19.9 (16-23) | 1.9 (1-5) | 10.8 (9.7-13.1) |
*Starch values according to the 1-6 scale developed by WSU
Apple maturity sampling parameters
Ethylene (% fruits with internal ethylene over 0.2 ppm) = indicates when ethylene begins to influence fruit ripening and it cannot be held back easily after this is reached.
Color % = the visual percentage of red color from 0 to 100; range is of all fruits tested. Indicates surface area covered in red and intensity of red color.
Background color: 5 = Green, 1 = Yellow; range is of all fruits tested.
Firmness in pounds pressure = measured with a Güss Fruit Texture Analyzer; range is of all fruits tested.
Starch: 1 = all starch, 8 = No starch; range is of all fruits tested. Using Cornell Starch Iodine Index Chart.
Starch For Honeycrisp: will typically be rated using the standard Cornell SPI scale (1-8). However, a separate starch chart for Honeycrisp Apples developed by Washington State University (scale 1-6) also exists.
Brix = % sugar measured with Atago PAL-1 Pocket Refractometer
Looking for more? View Michigan State University Extension's Apple Maturity page for regional reports throughout the state and additional resources.
Suggested firmness and starch index levels for long-term and shorter-term controlled atmosphere (CA) storage by variety.

Variety

Firmness (pounds)*

Starch Index*

Short CA

Mid-CA

Long CA

Mature

Over mature

McIntosh

14

15

16

5

7

Gala

16

17

18

3

6

Honeycrisp

15

16

17

3.5

6

Empire

14

15

16

3.5

6

Early Fuji

16

17

18

3

7

Jonagold

15

16

17

3.5

5.5

Jonathan

14

15

16

3.5

5.5

Golden Delicious

15

16

17

3

6.5

Red Delicious

16

17

18

2.5

6

Idared

14

15

16

3.5

6

Fuji

16

17

18

3

7

Rome

15

16

18

3

5.5