Grand Rapids area tree fruit update – April 5, 2022
Cool, wet weather continues to delay spring in the Grand Rapids area.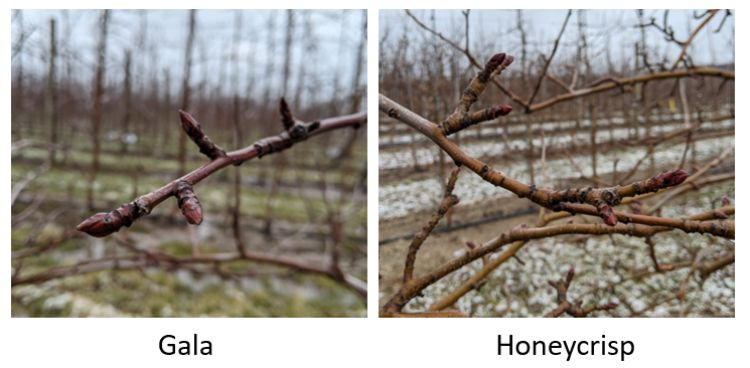 Weather and phenology update
In the Grand Rapids, Michigan, area, conditions have continued to be very cool and consequently spring tree growth has been delayed. Bud swell is evident in some varieties and silver tip has been observed in early apple varieties such as Idared and Ginger Gold, and perhaps some early Gala blocks. As of April 4, 2022, the Michigan State University Sparta Enviroweather station has accumulated 73.6 growing degree days (GDD) base 42 degrees Fahrenheit. This is below average, which for is 110.1 GDD42. Last season (2021) at this time, heat accumulation was slightly above average with 150.7 GDD42 and green tip reported in Gala on March 29. The projected heat accumulation through Sunday, April 10, for this season in Sparta, Michigan, is 88.6 GDD42. This continues to be below average, which is 142.5 GDD42. As a result, conditions are expected to remain behind normal.
There has been significant precipitation in the Grand Rapids area, resulting above normal precipitation and soil moisture for this time of year. This is evident in fields where soil is very wet. Above average rainfall is expected to continue. Beginning tonight, a weather system is expected to move into our region from the west, bringing 0.5 – 0.75 inches of rainfall. Most precipitation will be overnight tonight, followed by scattered showers for the remainder of the week. A dry period is expected over the weekend, but more rain showers are forecasted for next week.
When will we reach bud break? Average GDD42 for bud break (first green) is 127 for McIntosh. However, other varieties will be ahead or behind this, and even McIntosh varies considerably from year to year. Temperatures are expected to remain cool for the remainder of the week. However, next week's forecast indicates warmer temperatures are likely at the beginning of the week and possibly for the duration of the work week, with slightly above average rainfall. The long term (one month) forecast indicates conditions are likely to be close to average temperatures and slightly wetter than average. We continue to expect a delayed spring.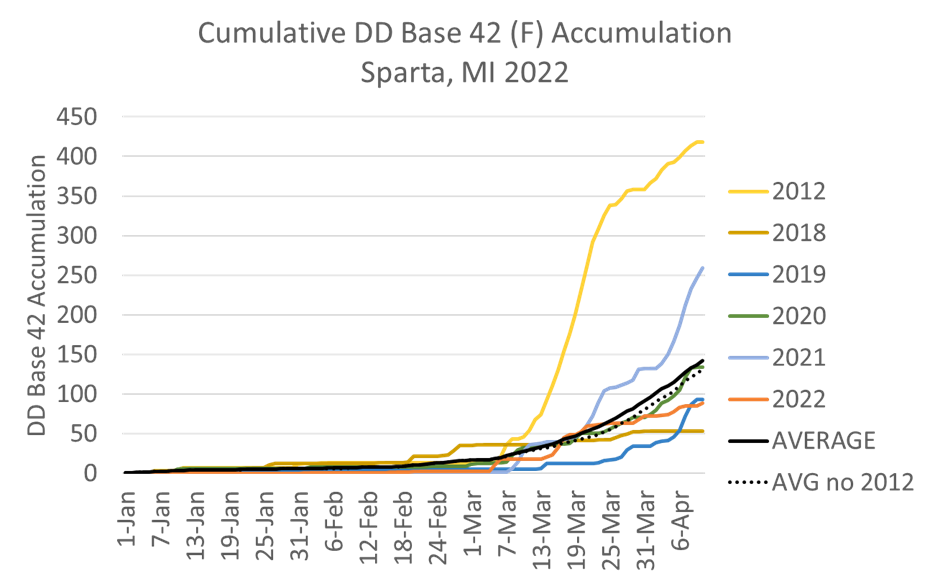 GDD42 accumulation and forecast for Sparta

Day

Date

2021

2022

Average

Su

4/10/2022

259.0

88.6

142.5

Sa

4/9/2022

246.3

85.3

136.9

F

4/8/2022

232.9

85.2

132.6

Th

4/7/2022

212.2

84.8

127.6

W

4/6/2022

186.3

83.0

121.1

Tu

4/5/2022

166.5

77.3

114.8

M

4/4/2022

150.7

73.6

110.1

Su

4/3/2022

138.6

73.2

106.3

Sa

4/2/2022

132.1

72.0

101.3

F

4/1/2022

131.8

72.0

95.8

Th

3/31/2022

131.8

72.0

91.2

W

3/30/2022

131.0

67.7

86.3

Tu

3/29/2022

117.6

63.1

81.3

M

3/28/2022

114.3

63.1

78.2
For these updates, we used averages for 1997-2021 from the Michigan Automated Weather Network (MAWN) to represent normal conditions. Weather data was gathered from MSU Enviroweather.
More information and reports on normal weather conditions and departures from normal can be found on the NOAA Climate Prediction Center website, NOAA U.S. Climate Normals website, NOAA Climate Normals Quick Access Page (which may be searched by region) and Midwest Regional Climate Center website.
Pest updates
Pests are waiting for warmer weather to become active. With a few warmer days in the extended forecast, scab spores and a few early insects will likely become active in Grand Rapids area orchards. Apple scab pressure is expected to be low to average for the start of spring 2022. Early season copper sprays for fire blight will likely be enough for the first apple scab infection, maybe by next week?
The insect outlook is a repeat of last week. There is very little happening in the insect arena—cool weather will slow any early insect activity. Early pests to start thinking about include San Jose scale, obliquebanded leafroller, mites and aphids. This is a good time go over 2021 scouting reports to identify problem areas to address in 2022.
Very little dormant oil is used in commercial apples these days, but it is still your best first management tactic for mites, scale and aphids. There were some apple blocks with higher levels of mites in 2020 and 2021 that we have seen for some years, and this will need to be monitored carefully early in the season. Overwintering mite eggs can be scouted for now. Look for them in the cracks and crevices of bark on the trunks of trees.