Northwest Michigan Fruit Update – Aug. 11, 2020
Most tart cherry harvest is wrapped up across the region except for a small pocket of growers finishing in the far north. Apples are noticeably starting to color on many varieties.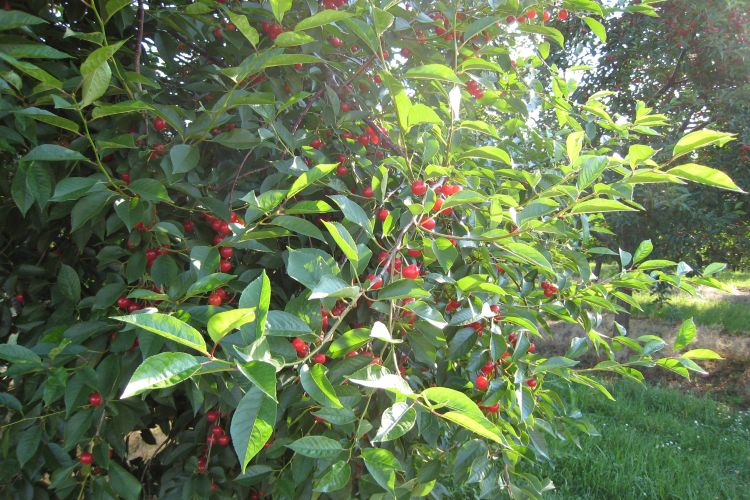 Weather report
The weather has been very summer-like, and the last two days have been particularly hot and humid. There was some intense weather to the south of us that started in the Dakotas and went through into Ohio, almost 800 miles. MSU's Agricultural meteorologist Jeff Andresen called this event a 'derecho' where the weather event moves at 75 miles per hour and is a collective of thunderstorms. The event started to the west and moved east quickly, and there were reports of over one million people without power as a result of this storm. There is damage in Illinois and other areas south of Michigan. The storm weakened as it moved into Michigan, but there was some damage in southwest Michigan; there were also reports of hail in Berrien County.
We did receive some rain on Saturday, Aug. 8, and the NWMRHC Enviroweather station recorded 0.83" of rainfall. Once the rain moved out, the weather has remained humid. However, temperatures are predicted to cool this afternoon but will go back up toward the end of the week and into the weekend. There is little rainfall in the forecast, and the week will be drier than normal. Some rain may move into the state late in the weekend.
Growing degree days (GDDs) through August 10, 2020

Year

2020

2019

2018

2017

2016

2015

30 Yr. Avg.

GDD42

2445

2219

2629

2443

2616

2275

2478.9

GDD50

1641

1412

1793

1547

1734

1556

1606.6
Crop report
The very last of tart cherry harvest is likely wrapping up today. Some growers in the Northport area are predicting to finish today or tomorrow. Fruit quality has continued to hold despite the hot and humid conditions. Most of the region finished harvest a week or so ago. Apples are sizing well, and there is a lot of color starting to show up in apples. Peaches are also sizing well. Growers are hand thinning both fruits at this time.
Pest update
Frass is evident where codling moth larvae are entering fruit in unsprayed apples. Moth numbers in traps continue to be low at the station, and evening temperatures over the past week were also on the cooler side until Sunday. The moths in our traps were fresh and fluttering and likely caught on Sunday and Monday when evening conditions were warm and good for codling moth activity.
Apple maggot flight is ongoing, and trap numbers remain low at the station. According to degree day accumulations, we are at the timing for peak emergence of this pest and timing for peak activity is estimated to last through the end of this week. Some parts of the region received a good amount of rainfall on Saturday, which could have facilitated a flush of apple maggot emergence.
Growers have continued to battle mites this season as miticides have provided variable efficacy for many farms. Discoloration and bronzing of foliage are noticeable in orchards with heavy mite pressure. European red mites can be found on fruit near the stem and calyx ends.
The growth of aphid populations slowed as trees were reaching terminal bud set, but these small sucking insects can still be found in both the winged and unwinged forms. Trees that were hedged or pruned earlier this summer are pushing new tender growth that may be attractive to aphids. We observed many different kinds of predators feeding on aphids this week including lady beetles, syrphid larvae, midge larvae and lacewing larvae.
Male San Jose scale numbers on traps are increasing, but we have not yet observed crawler activity at the research station.
We have received reports of increasing black stem borer numbers in traps in hot spot commercial blocks. Numbers are in the single digits in traps at the station. New borer holes in stressed trees are seeping sap, making the holes and sawdust more noticeable on trees infested with these ambrosia beetles.
No brown marmorated stink bugs have been detected in traps in the northwest region so far this season. This pest has been detected in traps elsewhere in the state. Although we have not found brown marmorated stink bug in traps, we have observed the adults and nymphs in gardens and on wild hosts in our region.
In cherries, it has become increasingly apparent where cherry leaf spot got a foothold in trees earlier in the season, particularly in the tops of mature trees. Many growers have already applied a post-harvest fungicide for cherry leaf spot at this time. If an application has not been made, however, we remind growers that data from our recent MSU Extension efficacy trials show that Captan is more efficacious than chlorothalonil fungicides.