Northwest Michigan fruit update – Aug. 18, 2020
Apples are coloring in northwest Michigan orchards.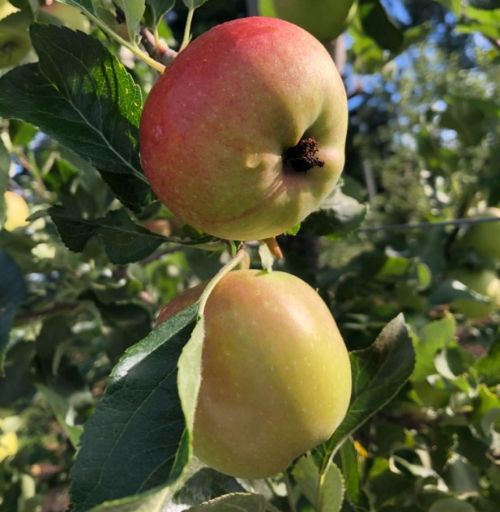 Weather report
The weather has been beautiful over the past week. It is definitely still summer, but there is a bit of fall in the air. Today, Tuesday, Aug. 18, will be the coolest day of the week, and daytime temperatures will be back up in the 80s again later in the week. We have had no rainfall since last Saturday, Aug. 8. There is little chance of rain until later in the weekend.
Growing degree days (GDDs) through Aug. 17, 2020

Year

2020

2019

2018

2017

2016

2015

30 Yr. Avg.

GDD42

2662

2410

2864

2624

2840

2422

2667.9

GDD50

2802

1547

1972

1673

1902

1724

1739.7
Crop report
Cherry harvest is over for 2020. The fruit quality was excellent and growers are concentrating on apples and grapes now. Peaches are ripe and are starting to show up at fruit stands across the region.
Pest update
Recent warmer nights and degree day accumulations over the past week corresponded with the timing for estimated peak emergence of second generation codling moth. We observed an uptick in codling moth catches with one of our traps in a block adjacent to a woodlot catching 25 moths this week. Other traps at the Northwest Michigan Horticulture Research Center were also catching more moths than in previous weeks, but trap numbers were still in the single digits. Growing degree day accumulations from March 1 indicate that peak egglaying is underway at this time. If possible, use an on-farm biofix for second generation to provide a more accurate estimation of biological activity and critical management timings. Eggs are hatching and we are finding larvae in fruit at the station (Photo 1).
San Jose scale crawlers are active at this time. In blocks challenged with this pest, this generation of crawlers poses a threat to fruit finish. If crawlers settle and feed on fruit, a bright red ring or spot is produced around the site where the crawler has settled.
Mite populations have continued to build and bronzing and discoloration is evident at the station (Photo 2). Russeting on fruit is also apparent in blocks with heavy mite pressure. Early season hot temperatures and spells of dry weather set the stage for a challenging mite year.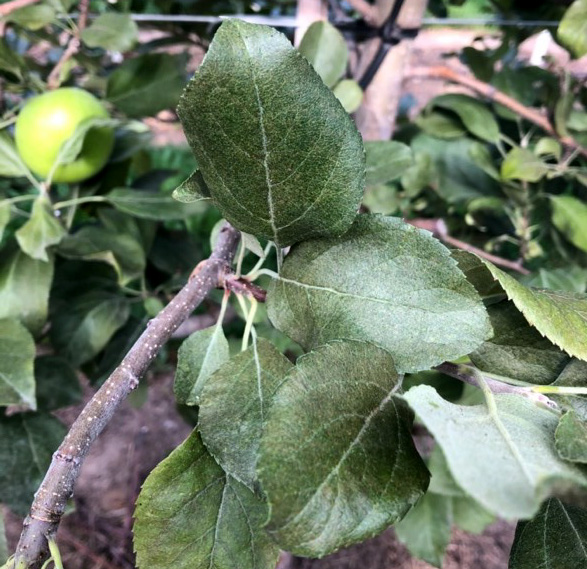 We found a few small colonies of woolly apple aphids on apple trunks and in canopies this week (Photo 3). The aphids are purple to brown and produce cottony-white waxy filaments that cover their bodies.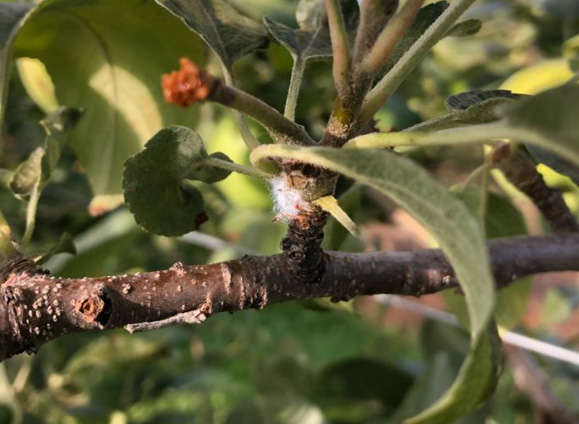 We have consistently trapped apple maggot flies in the single digits for four weeks. According to degree day accumulations, the timing for peak emergence is coming to an end. Continue to monitor for this pest as its population and activity are dependent on site-specific weather conditions.
No brown marmorated stink bugs have been detected in traps in the northwest region so far this season. This invasive insect moves throughout the landscape feeding on different crops over the course of a season. Although we have not found this pest in orchards, we have observed these bugs in homes, gardens and alternate host plants in the region. To hopefully intercept the stink bugs as they move into orchards from other locations, traps are set along woodlots adjacent to apple orchards.
There are several brown marmorated stink bug look alike insects that are commonly found and misidentified in Michigan. Additionally, feeding injury from brown marmorated stink bug can be difficult to distinguish from damage caused by other culprits including bitter pit (which is showing up), apple maggot stings and hail that can leave depressions in fruit that resemble feeding damage. The Michigan State University Extension article, "Look alike late season apple damage by bitter pit, brown marmorated stink bugs, or apple maggot," provides descriptions and pictures to assist with diagnosing the cause of fruit damage.
Additionally, the most recent issue of Scaffolds produced by our colleagues at Cornell University in New York provides a good overview of brown marmorated stink bug as well as its current situation in the Hudson Valley. We have been fortunate in our corner of the state to have few challenges with this pest in fruit crops up to this point, but it is one that we are continuing to keep on our radar.