Northwest Michigan fruit update – July 25, 2022
Growers are in the throes of tart cherry harvest. Fruit quality is holding relatively well with the recent rains and heat.
Weather report
The recent weather was hot, but now has turned cool again. The forecast is calling for cool weather for the remainder of the week, which will help tremendously to maintain fruit quality as we move through harvest. Saturday, July 23, was the hottest day of the week, and daytime temperatures hit the low 90s (degrees Fahrenheit). Sunday, July 24, was almost 12 F cooler, and daytime temperatures topped out in the high 70s.
The weather will be in the mid- to high 70s and even into the low 80s for the rest of the week. Temperatures are predicted to rise again during the latter part of next weekend. The region also reported rainfall on July 22-25, which varied across the region at the different Michigan State University Enviroweather stations (Table 1). We have heard reports of isolated hail in the northern part of the northwest region. We have accumulated 1,818.1 growing degree days (GDD) base 42 and 1,152.6 GDD base 50.
Table 1. Rainfall totals for July 22-25 for northwest Michigan (inches).

Station

Rainfall

Benzonia

0.75

East Leland

0.37

Eastport

0.2

Elk Rapids

0.41

Kewadin

0.19

Northport

0.03

Old Mission

0.35

Onekama

1.53

Petoskey

0.05

NWMHRC

0.4

Williamsburg

0.53
Crop report
Tart cherry harvest is ongoing throughout northwest Michigan. Many growers have been put on quotas, which is slowing the harvest. Tart cherry quality is excellent, and fruit is particularly dark in color this season. There have been some reports of wind whip starting to show up in fruit that is on exposed hills. Many growers are expecting to finish harvest at the end of the weekend or early next week. Some of the bigger growers are anticipating harvest through the second week of August.
Apples are sizing beautifully, and the crop seems to be in excellent shape. Gala at the Northwest Michigan Horticulture Research Center (NWMHRC) are 50 mm and Honeycrisp are 32 mm. Growers are anticipating a nice apple crop for 2022.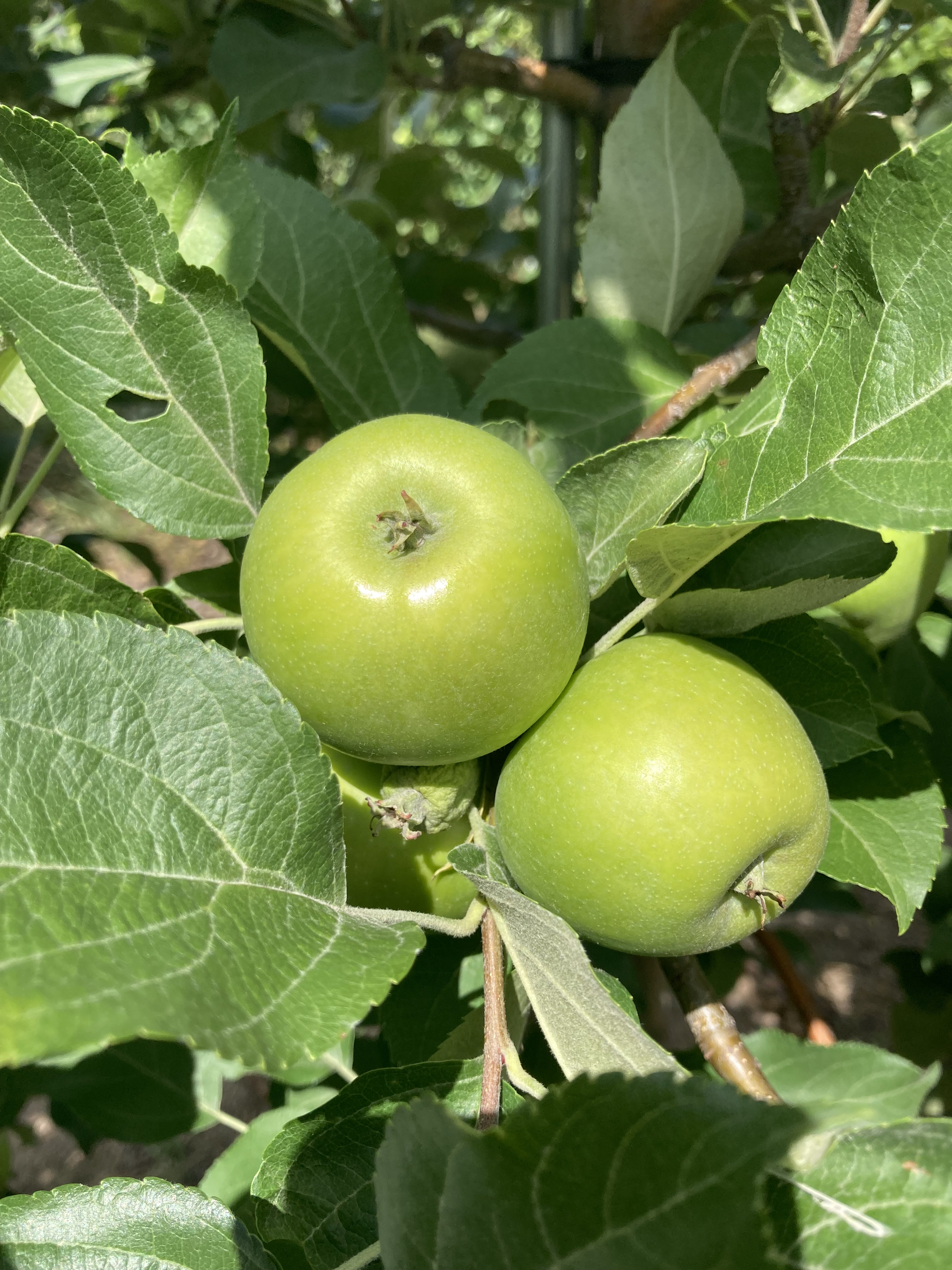 Pest report
San Jose scale is on the rise again this week, so the next generation is out. We caught no males last week, and we caught an average of 28.7 adults this week. This increase signals the flight of the second generation.
Lesser peach tree borer. We are still catching a lot of these moths again this week. We caught an average of 19 moths this week. We caught an average of 20 last week. We have been consistently catching adults from June 6 through today (July 25). During the week of July 4, we had our highest catch of an average of 34.5 moths that week.
Peach tree borer. We caught an average of 19.3 this week. This catch has tripled from last week's catch. This is the first week we have caught double digit peach tree borer moths.
Cherry fruit fly. Remember this pest? We used to catch many cherry fruit fly adults on our yellow sticky traps in years past, but we have seen very few in recent years. However, we are catching a lot of cherry fruit fly this week, an average of 6.7. We had one trap with 12 flies, one with eight flies and one trap with no flies. We caught our first cherry fruit fly last week, and only one trap had one fly. Neonicotinoids are rated excellent for cherry fruit fly. Imidan is also rated excellent against cherry fruit fly, and this material is also excellent against spotted wing Drosophila.
Black stem borer. We caught very few this week and last week. This catch signals a start of the next flight of adult beetles.
Codling moth. We caught an average of two this week. This catch is consistent with the past three weeks when we caught an average of two to four moths per trap.
Obliquebanded leafroller. We caught an average of 3.7 adult moths this week. However, we have observed the larvae in our unsprayed block of tart cherry at the NWMHRC. Growers need to watch for larvae in tanks of cherries at harvest. Obliquebanded leafroller larvae do not infest the fruit but rather fall into the tank during the mechanical harvest process. Larvae will float in tanks with water. Large larvae are much harder to control with insecticide compared with small larvae.
Apple maggot. We caught none this week. We have not caught an adult fly yet this season.
Brown marmorated stink bug. We put out brown marmorated stink bug traps a few weeks ago, and we have yet to catch one.
Spotted wing Drosophila. We are starting to catch more flies in traps this week. At a commercial farm, we caught 14 females and four males. Unlike other insect pests, spotted wing Drosophila are more active at cooler temperatures; activity drops when it is hot and dry. They also prefer humid conditions, and we have just received rainfall. As a result of this cooler weather coupled with the recent rain, we anticipate this insect activity to increase.
In addition to adult activity, we have been monitoring for larvae in fruit in an unsprayed block of tart cherries. In a sample of 750 fruit in unsprayed tart cherries, we found 40 (!) spotted wing Drosophila larvae today, July 25. Last Friday, we found nine larvae, so these pests are definitely on the rise. These larvae ranged in size from first to third instars.
Do not stretch intervals for SWD control because these weather conditions and the increase in infestation in unsprayed fruit are both reminders that this pest's population can explode, particularly later in the season.
Disease report
Cherry leaf spot. We had a low leaf spot infection July 23. We have lots of infection and defoliation in our cherry leaf spot efficacy trial at the NWMHRC.
American brown rot. Brown rot is not hard to find in our sweet cherries that are still on the trees at the NWMHRC. This hot and dry season has helped keep this disease to a minimum this season.