Northwest Michigan fruit regional report – August 5, 2014
Tart and sweet cherry harvest is ongoing and there have been few reports of insect and disease problems.
Weather report
Temperatures were cool, in the mid- to upper 60s early last week and some areas reached daytime highs in the low 80s over the weekend. Weather conditions have been mostly dry throughout the region. The last significant rainfall we received was July 26-27; the Northwest Michigan Horticultural Research Center (NWMHRC) received just over half an inch that weekend. There is little to no chance of rain through Saturday, Aug. 9. Currently, a slight chance of rain on Sunday evening, Aug. 10 is predicted.
Crop report
Sweet cherry and tart cherry harvest is ongoing and weather conditions in the coming week look favorable for harvest. Sweet and tart cherry quality are good this season and although we have observed cracking following the last rainfall at the station, there have been few reports of significant cracking on sweets in the region. As mentioned last week, we had windy conditions and wind whip is evident on tart cherry fruit.
Apples are sizing well and are also looking good. Most growers have been very pleased with the quality and quantity of fruit so far this season.
Wine grape canopy management for vinifera varieties is going to be just as important in this disastrous year as in a normal year. It will be key to producing healthy buds and canes that can withstand the winter ahead and be highly productive in 2015. The buds being initiated and nurtured at the nodes of shoots at this time will be the ones we are relying on for productivity next year.
Bud quality is negatively influenced by stresses such as drought, poor nutrition and shading. Shoot positioning will help create thin canopies with well-exposed leaves, and it will also help combat powdery mildew. Michigan State University Extension recommends hedging on vines that have a full complement of shoots and foliage. Vines with very few shoots need all of the leaves they have, and they would not be likely to shade themselves to a significant degree anyway.
Generalized calendar of grapevine growth and development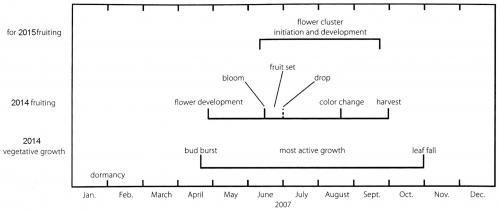 Adapted from Shaulis and Pratt (1965).
Even though there will be very little reward this fall for the effort and labor to do shoot positioning and hedging, these practices are needed to make sure 2015 will be a strong comeback year for the region's vinifera production.
This is the time of year when large hornworm caterpillars or Japanese beetle adults can cause heavy defoliation to shoots. This is typically only an issue for young vineyards with small vine canopies, but this year it may be important to watch out for defoliation in older vineyards as well. In places where there are only a few shoots and a limited canopy on cold-injured vines, the vines will suffer greatly if a significant amount of defoliation occurs.
Thanks very much to Annemiek Schilder, Craig Cunningham and the P45 board for running the show at last Friday's meeting.
Pest report
We have received few reports of insect and disease problems since the beginning of harvest. Most of the comments that we have received have been on how to interpret low numbers of pests in traps this season. In cherries, the insects of primary concern pre- and post-harvest have been cherry fruit flies and spotted wing Drosophila (SWD). Compared with previous years, cherry fruit fly and SWD catches are low this season throughout the region. A total of five cherry fruit flies were caught at the station this week and catches were more than five in previous weeks. Reports of cherry fruit fly activity in the area suggest that cherry fruit fly populations have been low in most areas in our region. We have, however, received isolated reports of traps with 18 or more cherry fruit flies.
On Friday, Aug. 1, an update with last week's regional SWD catches was sent to FruitNet subscribers. Here is a recap of SWD captures for the week of July 28-Aug. 1. In Benzie County, a total of two female SWD were trapped: one SWD in tart cherries and one SWD in a neighboring vineyard. In Leelanau County, the NWMHRC was the only site where SWD were detected; we found a total of three female SWD in tart cherries. Most of the SWD were caught on Old Mission Peninsula with a total of seven female SWD; four of the seven were found in a tart cherry block that had been harvested and the remaining three were trapped in sweet cherries. SWD catches at the station this week were higher than last week; we caught a total of four females and three males. We will report this week's regional SWD catches again on Friday to FruitNet subscribers.
Growers who have monitored for and caught few or no cherry fruit flies and SWD and have very little fruit remaining on trees are considering forgoing a post-harvest insecticide application, particularly if they are not planning to make a post-harvest cherry leaf spot application. Growers who are considering not making a post-harvest cherry leaf spot application have low or no visible cherry leaf spot infection and made a pre-harvest application with an SDHI fungicide, which can provide protection for several weeks after application. This late in the season, a post-harvest cherry leaf spot spray may not be necessary if orchards have low cherry leaf spot infection and received an application of Luna Sensation or Merivon as the last fungicide prior to harvest. Growers have done an excellent job preventing disease infection and most orchards seem to have low cherry leaf spot infection.
Two-spotted spider mites and European red mites are present and populations are variable with some hotspots in orchards. Warm and dry conditions in the coming week could favor the development of mites and growers who have used insecticides known to flare mites, for example synthetic pyrethroids, should be aware of possible mite outbreaks. Peachtree borers and American plum borer activity is ongoing at the station with an average of 14.33 greater peachtree borers, 21 lesser peachtree borers and 18 American plum borers per trap.
In apples, second generation spotted tentiform leafminer moths at the station spiked this week with an average of 211 moths per trap. We found a total of two codling moths and two obliquebanded leafrollers at the station this week. We did not find apple maggots this week and the first apple maggot fly captured at the station was on July 21; some growers have started spraying for this pest at this time, particularly in orchards where there has been codling moth and obliquebanded leafroller activity.
Upcoming meetings
The Straights Area Grape Growers Association Summer Conference will take place Aug. 9 at Crooked Vine Vineyard & Winery.
Northwestern Michigan College and MSU are hosting a conference, Weathering the Climate: Cultivation and Technology in Grape Production, Friday, Sept. 5 at the Hagerty Center at NMC's Great Lakes Campus.
Dr. Rothwell's work is funded in part by MSU's AgBioResearch.