Ornamental plant nurseries need to understand costs to remain profitable (Part 1)
MSU Extension educators can assist nursery growers to understand their financial situation in today's new economic times with the help of new low-cost financial management software.
The nursery industry in Michigan and across the nation has experienced some financial challenges in recent years due to the economy's downturn and subsequently a slower demand for herbaceous perennials, shrubs and trees.
Growers need to evaluate their production costs and plant inventory to determine if adjustments need to be made to stay competitive. To accomplish this, growers need to have a good handle on their costs. MSU Extension has developed a set of inexpensive software to help you evaluate your nursery business from a financial perspective. "Estimating the Wholesale Cost of Nursery Production" is an Excel spreadsheet type of software tool that allows you to use your records to estimate your production costs and to explore opportunities for cost savings.
This is the first of three articles that will help you understand how this software works and how you can use it to help your nursery remain profitable and even grow your businesses bottom line. Read the second article of the series at "Ornamental plant nurseries need to understand costs to remain profitable (Part 2)," and the third at "Ornamental plant nurseries need to understand costs to remain profitable (Part 3)."
Introduction
Using our spreadsheet designed to run with Microsoft Excel, growers can input current costs from tax returns, invoices and quotes to estimate cost of production and project sale prices on a per plant basis for each enterprise. The spreadsheet was designed to provide adequate flexibility to enable individual nurseries to use it for their specific operation. The spreadsheet has 10 interlinked worksheets. The Introduction worksheet provides a brief introduction with a definition of some terms, what information is needed to fill out the spreadsheet and simple instructions. Information needed to complete the spreadsheet are business income tax returns (specifically Schedule F) from the previous year, sales records, costs of materials and supplies from records or from suppliers, labor records and projected prices for crops.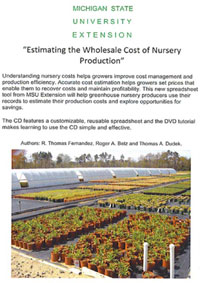 In the remaining 8 worksheets the user enters information into green-colored cells and the spreadsheet calculates values based on those inputs for the white cells. Several calculations in other worksheets are based on data entered in earlier worksheets. Throughout the worksheet are pop-up help notes designated with red triangles in the top right corner of a cell for that cell.
To order a copy of this software go to the MSU Extension Bookstore website and type in DVD-029 in the "Search" box to begin your ordering process.
The authors will be offering a four-hour, hands-on workshop to teach you how to use this software at the MNLA Great Lakes Trade Expo in Grand Rapids, Mich. on Tuesday January 10, 2012. This will take place at the Devos Place from 8:00 a.m. till noon. For more details on the workshop contact: Tom Dudek by email or phone (616-994-4580) or the above website for the GLTE.
Did you find this article useful?
---