P is for powdery mildew on ornamentals
Know the ABCs of ornamental greenhouse diseases, including powdery mildew.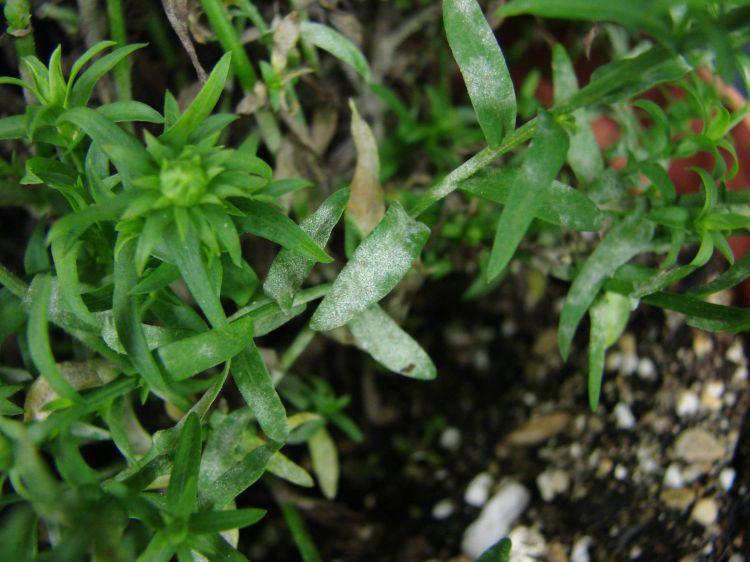 The white, talcum-like colonies of powdery mildew can start small, but can rapidly blight the leaves, stems and flowers of susceptible crops. Some powdery mildews can be specific to one type of plant while other powdery mildews, such as Golovinomyces cichoracearum, can infect many different annual and perennial flowers and vegetables. The abundant conidia (spores) give a white, powdery or fluffy appearance. There are times when identifying the disease can be difficult on some crops, as infection sometimes can only cause yellowing and withering of leaves and stunted plant growth (white colonies are absent).
High relative humidity can prompt epidemics. Some plant species such as asters (Photo 1), gerbera daisy (Photo 2), calibrachoa and verbena (Photo 3) are very susceptible and should be sprayed more frequently with the most effective fungicides. Other plant species (Photos 4-5) may not need frequent applications, but should be scouted regularly for signs of the disease. It should be noted that certain varieties of a plant species are more susceptible than others.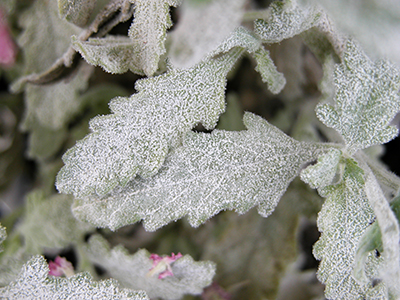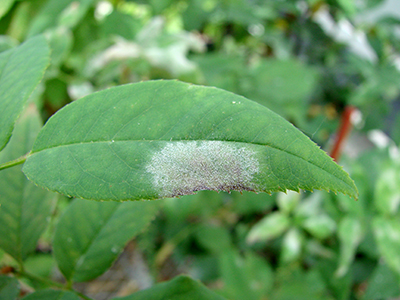 Growing susceptible ornamental crops can be a challenge, and fungicides have typically played a key role. The "A" and "A-/B" Team tables of recommended fungicides for powdery mildew on ornamentals are the result of multiple trials conducted at Michigan State University. The FRAC code is an alphanumeric code assigned by the Fungicide Resistance Action Committee and is based on the mode of action of the active ingredient. When treating for powdery mildew, rotate among products with different FRAC codes to reduce the possibility of resistance developing in the powdery mildew pathogen.
Ornamental products listed in the A Team table consistently provide effective control. Note that while all products listed for the A Team have different active ingredients, they all have the same FRAC code. These active ingredients all act on the powdery mildew fungus the same way and to lessen the risk of the fungus developing resistance, rotating among them is not recommended. A-/B Team ornamental products are a good rotational choice, especially when disease pressure is not severe.
Powdery mildews are tricky and have been known to adapt to overcome some of the most effective fungicides. You may want to start out with the most effective products, such as Eagle and Terraguard if you are growing an especially susceptible crop. Currently, there are several excellent products available (Insignia, Pageant, Tourney, etc.) to rotate with your best fungicides in a comprehensive spray program.
Powdery mildew A Team (ornamental recommendations only)

Product

Active ingredient

FRAC code

Eagle EW/WP

myclobutanil

3

Terraguard SC

triflumizole

3

Tourney

metconazole

3
Powdery mildew A-/B Team (ornamental recommendations only)

Product

Active ingredient

FRAC code

Compass O

trifloxystrobin

11

Heritage

azoxystrobin

11

Mural

azoxystrobin/benzovindiflupyr

11/7

Orkestra

fluxapyroxad/pyraclostrobin

7/11

Pageant Intrinsic

pyraclostrobin/boscalid

11/7

Palladium WDG

fludioxonil/cyprodinil

9/12

Strike

triadimefon

3

Strike Plus

trifloxystrobin/triadimefon

11/3
Learn more about the ABCs of ornamental greenhouse diseases
Acknowledgments. This material is based upon work supported by Cooperative Agreement 58-8062-5-036 with USDA ARS under the Floriculture and Nursery Research Initiative.