Pantry to preschool strengthens nutrition security for northern Michigan families
Through innovative thinking, MSU Extension and Father Fred Food Pantry are bringing food security to Michigan families.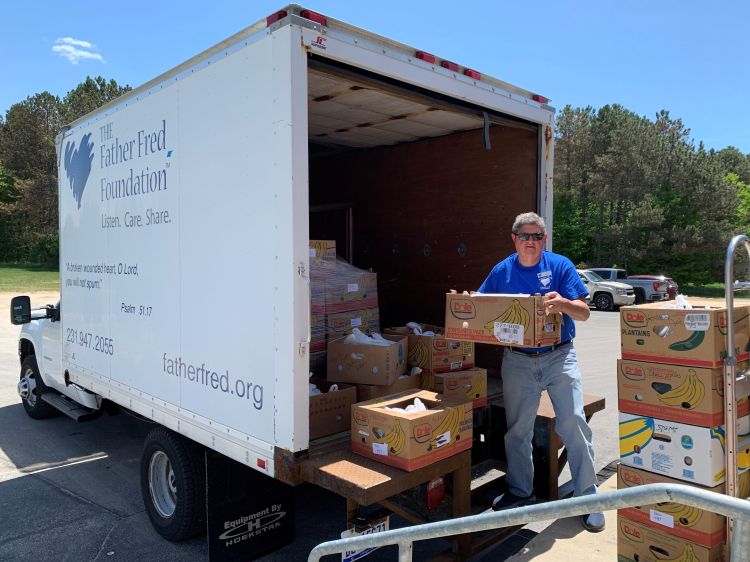 A few years ago, Les Hagaman was approached with a need from a local childcare provider. Michelle Stark of Pitter Patter Childcare was interested in increasing access for food support to her families enrolled at her daycare center located in southern Grand Traverse County, Michigan.
Hagaman, who has been serving as the operations director for Father Fred Food Pantry, was known for his commitment to nutrition education and forward action to increase fresh, nutrient dense food choices available to Father Fred food pantry guests.
"I knew there was an opportunity to focus on nutrition and a fresh product," said Hagaman. "We know from speaking with clients that distance and transportation is a continuous barrier. The Foundation regularly discusses if we're doing everything possible to maximize access."
Through a collaborative effort, the conversation grew and led to a pilot "pantry to preschool" project that launched in August 2020 at Pitter Patter. The work has since grown to include six more daycare sites, reaching approximately 140 to 150 families. In addition to supporting food and nutrition security among families, a goal of this effort has been to focus on outlying areas of the region.
The importance of nutrition
This local, innovative system example of connecting rural families to more fresh food and high-quality nutrition education aligns with priorities outlined by the Biden administration to improve health and wellness, reduce diet-related chronic disease and advance health equity. Nutrition security, a concept that builds on food security, can be defined as having not just enough, but the right type of calories of food to support optimal nutrition.
According to the U.S. Department of Agriculture, in 2020, nearly 11% of U.S. household were food insecure at some time. Households with children under six, homes with children headed by a single woman and in rural areas were among groups with higher rates of food insecurity when compared to the national average.
The importance of nutrition throughout the lifespan, and especially during early childhood is well understood. Poor nutrition during this critical period has been associated with impaired growth, reduced school readiness, adverse behavior and mental health and tooth decay.
Partnering for success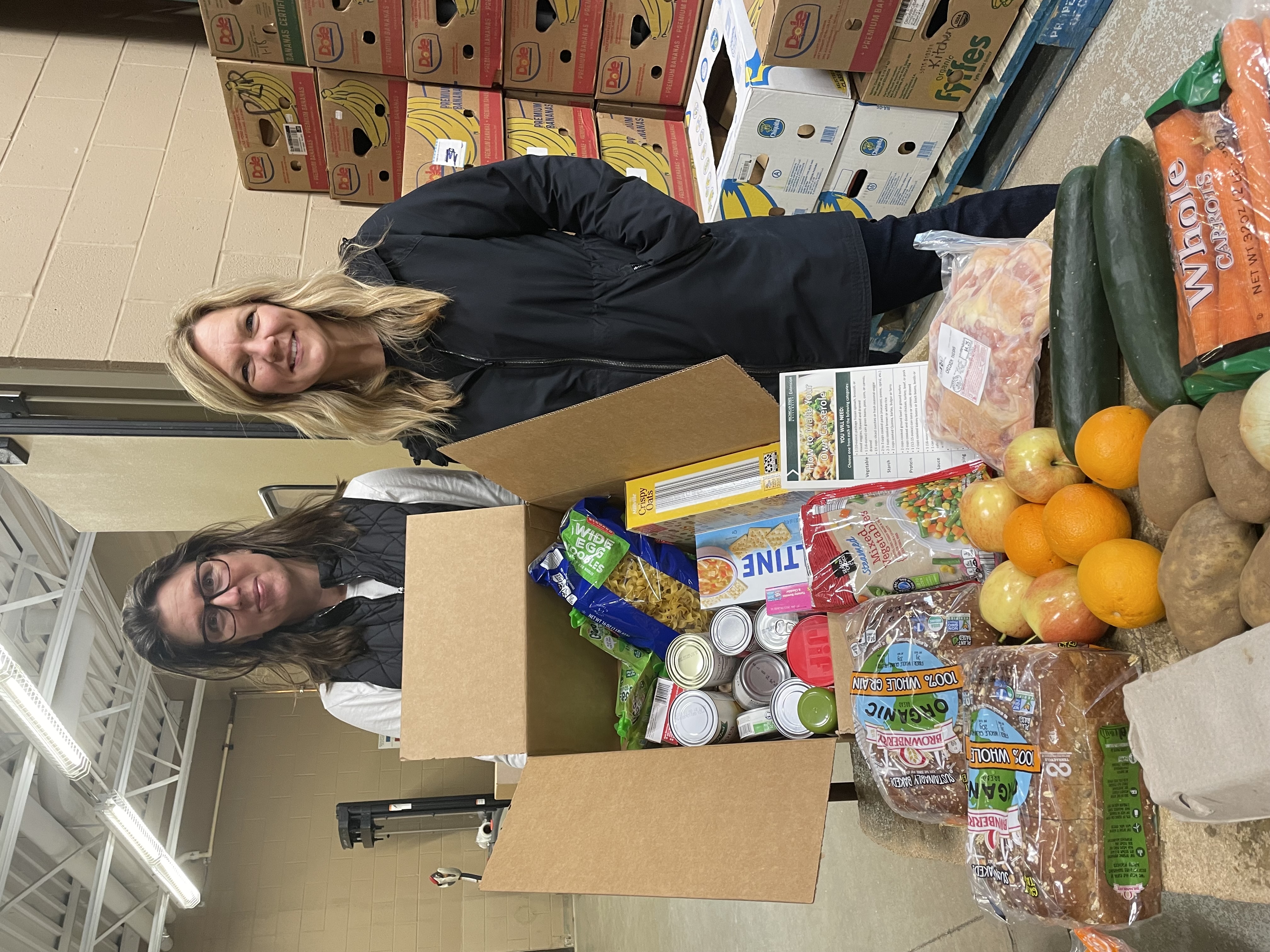 Jane Rapin, MSU Extension community nutrition instructor and long-time Father Fred Foundation partner, has played a key role in the development of food box contents and corresponding picture-based recipes. Rapin identifies and tests recipes using ingredients informed by conversation with Father Fred, drawing from her skill as a registered dietitian, a mother of three and as nutrition instructor funded by USDA SNAP Education to target communities and families experiencing economic hardship. Each box includes fresh and staple ingredients to create a meal for four along with a corresponding recipe. After feedback from Pitter Patter, Rapin supported the development of including photos to the recipes contained in each food box.
"I was asked if I could photograph or show how broccoli should look after it's cut up," Rapin said. "Our hope is that families with any level of cooking and reading skill and experience will cook and enjoy meals together as a family."
Pitter Patter childcare provider Mandy Stark has worked closely with Rapin and is equally passionate about increasing access to healthy food choices.
"As childcare providers, we get to know our families," said Stark. "We know what families need outside of our center so their child can continue to grow in our care. Good nutrition is foundational. If they aren't getting enough nutrition, sleep, or if there are stressors in the home . . . we know. We try hard to support our families."
Making an impact
Since implementing the program, Stark points to an increase in diversified food access and experiences trying new things.
"One of the main things I've noticed is families are gaining access to foods they haven't ever tried before, like lentil soup, for example," she said. "Jane sent home a recipe and they really liked it and were excited to have something new added to their repertoire at home."
Stark is increasingly interested in integrating food and nutrition education into the experiences she and others are providing. Pitter Patter has gardens at both of their current locations and plans to establish a garden at their newest center which is slated to open in the next few months. The garden grows herbs, potatoes, carrots, and tomatoes, although as Stark noted, "they rarely make it out of the garden though because the kids love to eat them".
The Father Fred Foundation Board has committed to help grow and sustain this initiative by budgeting to reach 200 families through targeted partnerships with daycare centers throughout the region. Hagaman believes that pantry to preschool has been the most effective model they've implemented to date at Father Fred, and is a good representation of their mission and commitment to food security.
"I think what we really stumbled on here is the dignity issue," said Hagaman. "With the pantry, you have to come in, stand in line, sit across from someone and ask for help. Nobody wants to do this. Daycare and preschools are a convenient place. It's a safe place to accept food and be introduced to food by people who families see every day, that they trust with their children."
Kristen Staggs, the current interim operations director at Father Fred is currently working with an eighth childcare site to bring meal boxes to more local families.
"What I love about this program is the accessibility," she said. "We are able to supply healthy food to the families with useful recipes and remove the transportation barrier. The peace of mind and that little bit of time that this saves a busy family is very worthwhile."
For more information
If you are interested in learning more about the pantry to preschool initiative, you can contact Kristen Staggs at 231-947-2055.
For resources on supporting food and nutrition security among children:
The Child and Adult Care Food Program is a federal program that provides reimbursement for nutritious meals and snacks to eligible children and adults enrolled for care at participating child care centers, day care homes, and adult day care centers. Contact your CACFP sponsor to learn more and to sign up.
WIC, Women Infants and Children, is a food and nutrition program that promotes good health and nutrition to pregnant, postpartum, infants and children under 5 years of age. Find a local WIC program here.
10 Cents a Meal for Michigan's Kids and Farms is a state program that provides schools and early childhood education centers with up to 10 cents per meal in match funding to purchase and serve Michigan-grown fruits, vegetables and legumes. This program is available to sponsors of early childhood centers that are successfully participating in the Child and Adult Cre Food Program.
Additionally, Michigan State University Extension partners with the Michigan Department of Health and Human Services to provide Supplemental Nutrition Assistance Program Education, or SNAP-Ed. SNAP-Ed focuses on good nutrition, stretching food dollars, living physically active lifestyles and engaging partners to build healthier communities. These efforts help to the healthy choice is the easiest choice to make where people live, work, shop, play, eat and learn.
You can also listen to MSU Extension's Neighborhood Nutrition podcast for information on healthy recipes, food budgeting and more, and subscribe to the MSU Extension MI Health Matters YouTube page for recipes and how-to videos.