Parenting during deployment: Children ages 0-5
Tips to help you support children ages 0-5 while their service member is away.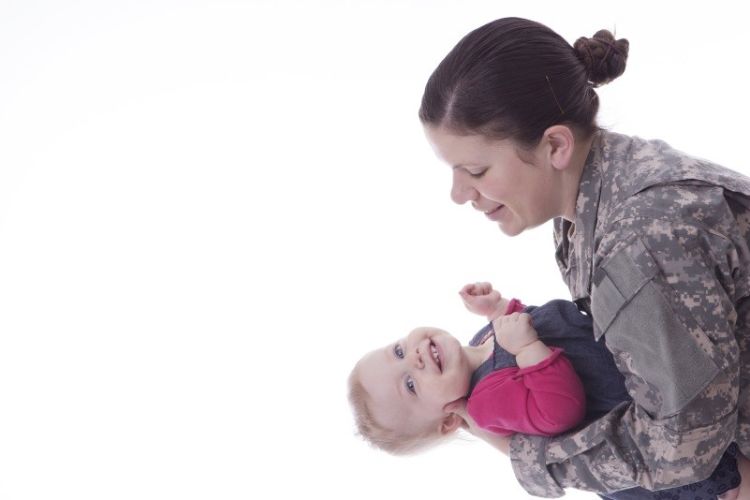 Deployments are a normal part of life for military families but they can still be hard to navigate. Experiencing the deployment of a service member can be a stressful time for children and family members. Oftentimes, young children are confused and don't always understand what is happening or why their service member is away.
It's important to remember each family and each child is unique in how they deal with deployment, not all children will show each reaction or some may show different reactions. Here are some common reactions and tips suggested by Operation: Military Kids, Ready, Set, Go Training to help children 0-5 during the deployment of a service member.
Infants and Children up to 5 years may show some of these common reactions:
Fussiness, uncharacteristic crying, neediness
Generalized fear or heighted arousal or confusion
Exaggerated responses
May regress to younger behavior
May have trouble sleeping or have nightmares
May have trouble talking about the deployment or expressing their feelings
Increased separation anxiety and clinging to caregivers
To help support children infants to 2 1/2 years, try the following:
Maintain a calm environment
Keep familiar routines
Avoid unnecessary separations from caregivers
Minimize exposure to media
Expect children to temporarily regress to younger behaviors – don't panic!
Help children give simple names to big feelings
Talk about the deployment in simple terms during brief chats
To help support children ages 2 1/2 - 5 years, try the following:
Maintain familiar routines
Don't introduce new and challenging experiences in the beginning of the deployment
Avoid nonessential separations from important caregivers
Listen to and tolerate retelling of events and facts
Accept and help them name strong feelings
Respect fears and give them time to cope, talk about
Expect regressive behavior or uncharacteristic behavior but maintain rules
Limit exposure to media
Provide support if having nightmares by explaining bad dreams aren't real and come up with a plan to help them through the bad dreams
This is the second article in the parenting during deployment series by Michigan State University Extension. Other articles in this series:
If you are interested in activities that can help your family prepare for an upcoming deployment, visit the MSU Extension website and take a look at the 4-H Military Family Book Sheets. These are helpful activities to help families during deployment all based around children's books. If you are looking for more articles about deployment support, check out "Finding support for children and youth with deployed family members" for a helpful checklist on who might support your child or youth during your service member's deployment, and "Deployment: The emotional cycle of military children" that explains each stage of the deployment cycle and gives helpful activities you can do to keep your family connected.. You can also find additional deployment support information on the Military OneSource website, the Operation: Military Kids website and the 4-H Military Partnerships website.