Parenting during deployment: Children ages 6-11
Tips to help support children ages 6-11 while their service member is away.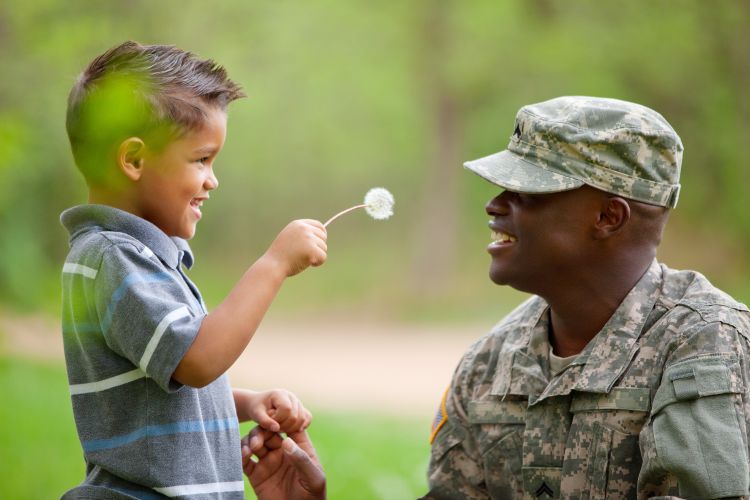 Deployments are a normal part of life for military families, but they can still be hard to navigate. Experiencing the deployment of a service member can be a stressful time for children and family members. Children ages 6-11 understand that their service member is gone, but they may not fully understand why they are gone and that can be confusing and scary for them.
It's important to remember that each family and each child is unique in how they deal with deployment. Not all children will show each reaction or some may show different reactions. Here are some common reactions and tips suggested by Operation: Military Kids, Ready, Set, Go Training to help children 6-11 during the deployment of a service member.
Children ages 6-11 may show some of these common reactions:
Changes in behavior or mood may be distracted.
Regress to behavior of a younger child (may be more moody, whiney, throw temper tantrums).
May show aggressive behavior or angry outbursts because of strong emotions.
May feel responsibility or guilt for service member leaving or having to go away.
Can sometimes show a preoccupation with making sure everyone is safe and keeping them out of danger.
May have trouble sleeping or have nightmares.
Can show physical signs of stress such as upset stomach, headaches, etc.
May become withdrawn or quiet, but can act out for attention.
May not fully understand why the service member is gone so they may make up stories to fill in gaps.
Older children may show a loss of interest in activities or want to avoid going to school.
Children may lose their ability to concentrate.
May experience separation anxiety from parents or family members at home, and can start showing worry and concern for other family members or service member.
To help support children 6-11 years, try the following:
Create a safe environment.
Listen to and tolerate retelling of events such as deployment ceremonies, letters received and phone calls with their service member.
Respect their fears, don't just dismiss. Give them time to cope with their fears and allow them to talk about their fears.
Try new routines or add in new aspects to old routines. For example, if the child develops a sudden fear of the dark, allow them to take a flashlight to bed or go and pick out a special night light they can use.
Talk about the situation in terms they can understand and that are appropriate. Try to put things into their perspective.
Provide them with reassurance and support.
Reach out to the trusted adults in their lives to let them know what's going on and how they can help support.
This is the third article in the parenting during deployment series by Michigan State University Extension. Other articles in this series include:
If you are interested in activities that can help your family prepare for an upcoming deployment, visit the MSU Extension website and take a look at the 4-H Military Family Book Sheets. These are helpful activities to help families during deployment all based around children's books. If you are looking for more articles about deployment support, check out "Finding support for children and youth with deployed family members" for a helpful checklist on who might support your child or youth during your service member's deployment, and "Deployment: The emotional cycle of military children" that explains each stage of the deployment cycle and gives helpful activities you can do to keep your family connected.. You can also find additional deployment support information on the Military OneSource website, the Operation: Military Kids website and the 4-H Military Partnerships website.