Peter "Wheat Pete" Johnson will present at Wheat Wisdom Webinar Series on March 17
Peter Johnson, formerly of the Ontario Ministry of Agriculture, Food and Rural Affairs, will talk about fine-tuning wheat.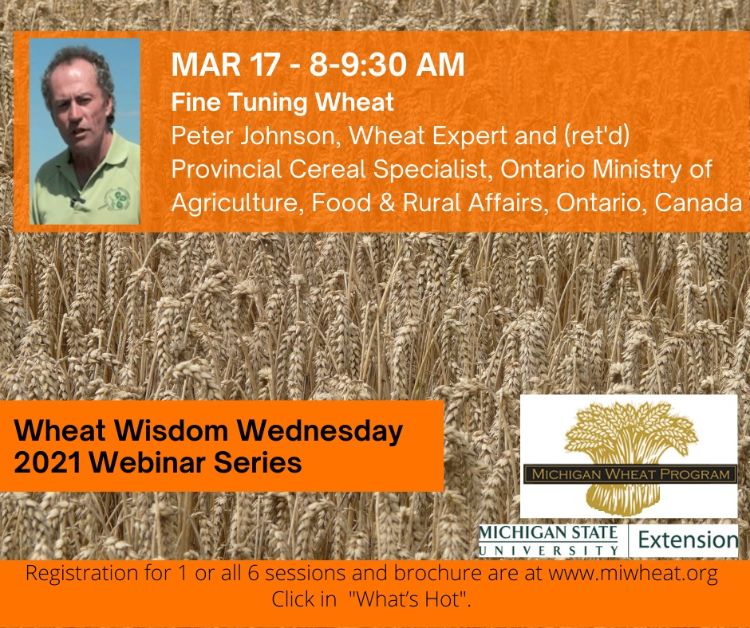 Michigan State University Extension and the Michigan Wheat Program's six-part Wheat Wisdom Webinar Series kicked off Feb. 17 via Zoom and Facebook live. Throughout the series, over a thousand people watched Angie Setzer, Phil Needham, Romulo Lollato and Pete Berry cover a series of essential wheat topics ranging from marketing to enhancing wheat yields.
The fifth webinar presenter on March 17 is Peter Johnson, and he will be talking about fine-tuning wheat. Johnson is the host of the Wheat Pete's Word at Real Agriculture. He retired as provincial cereal specialist with the Ontario Ministry of Agriculture, Food and Rural Affairs. He helped lead the Ontario Cereal Crop Committee, chaired the Wheat Technical Working Group and co-founded the Great Lakes Wheat Workers Group. Johnson also farms in Canada and consults on wheat production.
After a quick update on Michigan wheat happenings by Michigan Wheat Program executive director Jody Pollok-Newsom, Johnson will provide the keynote presentation followed by time for a question-and-answer session.
Each Wednesday webinar (schedule below) begins at 8 a.m. and runs 90 minutes. There are 1.5 CCA and 1 RUP credit for each workshop, so long as participants attend via Zoom and take the survey at the end to enter their information. To register for the Wheat Wisdom Webinar Series via Zoom, visit the Michigan Wheat Program website. Once registered, you will receive an email confirmation. The Monday before the webinar, you will receive a reminder email with the link and instructions to access the Zoom webinar. Participants located in Michigan will receive a free copy of "A Farmer's Guide to Wheat Diseases" ($36 value), compliments of the Michigan Wheat Program.
Thanks to a unique partnership, these webinars will also be available via Facebook for live viewing and interaction. Check in through your Facebook account and watch at Michigan Wheat or MSU Extension Field Crops. Thanks to our partnership with Terry Henne and WSGW, you can also watch by viewing the Facebook pages of WSGW Radio, Farm Service 790, and 94.5 The Moose. CCA and RUP credits are not available for the sessions viewed on Facebook Live. To get the credits, you must participate via Zoom.
The remaining schedule is as follows:
March 17 – Fine Tuning Wheat
Peter Johnson, wheat expert and retired provincial cereal specialist for Ontario Ministry of Agriculture, Food & Rural Affairs in Ontario, Canada
March 24 – Wheat Crop and Research Update
Dennis Pennington, wheat specialist, Michigan State University in East Lansing, Michigan
As is customary, the Michigan Wheat Program's 2021 Winter Wheat Wisdom Webinars will be free to Michigan wheat farmers and friends of the Michigan wheat industry. Advance registration is required if you plan to attend via Zoom so that you will receive the link the Monday before the event.
If you have any questions, please contact Dennis Pennington at pennin34@msu.edu or 269-832-0497.