Phytophthora can blight your peppers and your profits
Tips to control Phytophthora crown and root rot in Michigan peppers.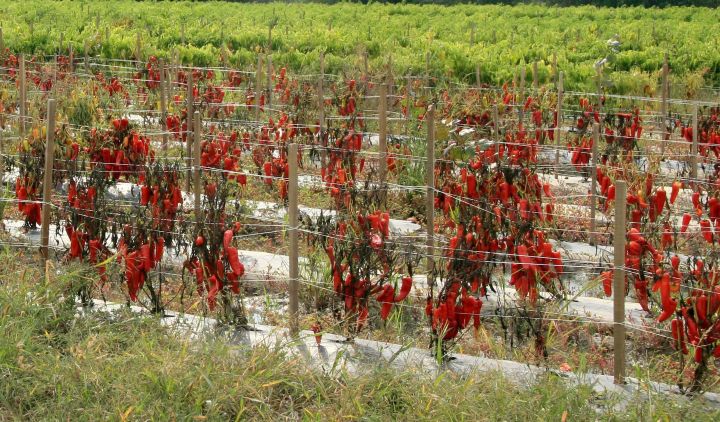 Phytophthora blight is a destructive disease of pepper that causes significant annual losses in Michigan. The primary symptom observed on Phytophthora-infected plants is wilt and plant death. Infected plants may have brown and rotted roots and necrosis at the crown and lower stem can occur at advanced stages of disease.
The pathogen produces an overwintering spore (oospore) that survives long term in soil and allows Phytophthora to persist in fields. When environmental conditions are favorable for plant growth, the oospore can germinate and infect crops. Sporangia and zoospores form on infected plants and are responsible for pathogen spread, especially during warm and rainy conditions.
Raised plant beds with or without black plastic have improved pepper yields and helped to limit Phytophthora root rot and black plastic reduces soil splash onto plants. Tractors and farm implements should be power-washed after use in infested fields, as Phytophthora can move from infested fields to clean fields via soil particles.
Phytophthora cultural management strategies
Plant into well-drained, tiled fields.
Use raised beds with plastic mulch and drip irrigation.
Avoid using surface water for irrigation.
Irrigate sparingly from a well, do not use surface water.
Rotate with non-susceptible crops.
Scout fields regularly for Phytophthora.
Remove any diseased plants and adjacent healthy plants.
Power wash equipment after it has been in infested fields.
Do not dump diseased culls in production fields.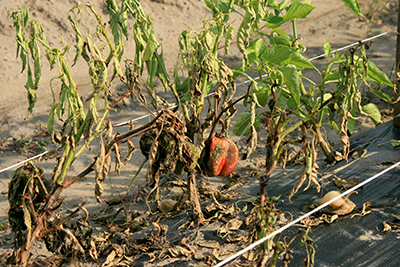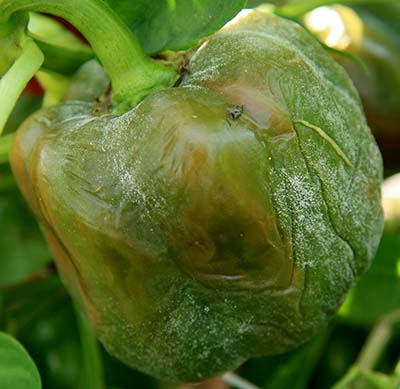 Plant resistance
Growing pepper cultivars with resistance to Phytophthora root rot is considered an optimal management strategy to increase yields and reduce fungicide usage. A recent Michigan State University study evaluated eight cultivars and breeding lines from Seminis Seeds Inc. for resistance to root rot.
'Turnpike' pepper was released as a result of the trial and was notable for its resistance and large fruit size compared to the other resistant cultivars. 'Archimedes' and 'Paladin' also performed well in the trial (see table).
Growing Phytophthora-resistant peppers can reduce the number of fungicide applications necessary per season, but depending on the level of Phytophthora in the field, the resistance may not be effective enough to protect the plant for the entire season.
Incidence of Phytophthora root rot in an MSU pepper trial at Southwest Michigan Research and Extension Center.

Cultivar

Seed source

Phytophthora resistance level

Disease incidence (%)

Camelot X3R

Seminis

Low

91.6

Aristotle

Seminis

Moderate

29.4

Turnpike

Seminis

Moderate-high

11.1

Archimedes

Seminis

High

4.3

Paladin

Syngenta

High

1.4
Dr. Hausbeck's work is funded in part by MSU's AgBioResearch.
---