Placemaking, World-Class Corridors & the Status of MI's Economy Highlight 2014 Showcase at MSU
The relationship between the built environment and Michigan's economy was the topic at the forefront of presentations at the 2014 Built Environment Showcase.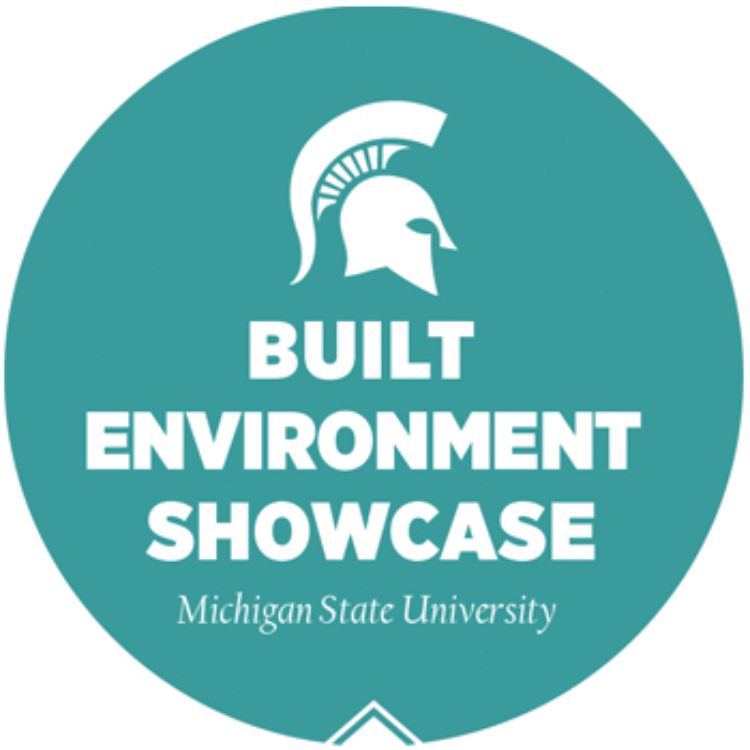 BY: SPDC Communications
The relationship between the built environment and Michigan's economy was the topic at the forefront of presentations as researchers, State agency representatives, local and federal officials, developers, MSU students and the public gathered for the 2014 Built Environment Showcase. The conference took place on Nov. 7 at Michigan State University (MSU) in East Lansing. This was the second time this conference was held. The first was in 2012.
More than 200 individuals attended the 2014 Built Environment Showcase. The conference was co-hosted by the MSU School of Planning, Design and Construction (SPDC); the MSU Land Policy Institute; MSU Auxiliary Enterprises; the Michigan State Housing Development Authority (MSHDA); the Michigan Economic Development Corporation (MEDC); and Prima Civitas.
Dr. Charles Ballard from the MSU Department of Economics at MSU, opened the conference by discussing the relationship between the current state of Michigan's economy and its relationship to the built environment. His data-driven presentation showed that although inflation-adjusted per capita income in Michigan has never been higher, it still lags far behind the U.S. average. He closed with a recommendation to improve this disparity: "Today, one of our top priorities for public policy in Michigan must be to repair our decaying infrastructure."
The importance of improving the quality of place to attract and retain talented workers by means of public policy changes was emphasized in the panel presentation on the MIplace Partnership Initiative and Placemaking Policy in Michigan. The panel featured Mark Wyckoff from the MSU Land Policy Institute (LPI), also the moderator; Katharine Czarnecki from the Michigan Economic Development Corporation (MEDC); and Jim Tischler from the Michigan State Housing Development Authority (MSHDA). The panel reviewed a number of different efforts underway in various State departments to support the creation of quality places through strategic placemaking. Tischler summarized the importance of some of the topics addressed by this panel in his attestation that "areas with higher Walk Scores have higher economic and social outcomes," demonstrating the critical importance of the built environment and placemaking efforts to the people of Michigan.
Ron Boji from the Boji group, an alumnus of MSU's Construction Management Program, elaborated on the topic of public-private partnerships by outlining the technical steps involved in establishing and financing these agreements. He emphasized that cooperation between public and private entities is "a way to show what people can do by working together . . . so that everyone prospers." This session was moderated by Joseph Maguire from Wolverine Development Co. and the Society of Environmentally Responsible Facilities.
Understanding the nature of the rapidly changing labor and housing markets is critical to fostering this prosperity. Vennie Gore from MSU's Auxiliary Enterprises provided an analysis of the generational preference differences between the Baby Boomers, Generation X and the Millennials. The societal and technological trends that have molded each generation's psychologies have also created disparities in housing demand and employment expectations. Gore demonstrated how MSU has accommodated these changing perspectives by ensuring that "buildings are a living laboratory," a model that other successful placemaking projects have also adopted.
Newly reelected Congressman Dan Kildee, serving the 5th District of Michigan in the U.S. House of Representatives, discussed the policymaking behind creating quality places, and he tied these actions to promoting sustainable prosperity in Michigan's urban and suburban areas. He maintained that it is ineffective and unjust "to blame the victims of economic failure for the failure itself," affirming that all Michiganders, constituents and policy makers alike, must work together to rebuild the state's economy. Congressman Kildee also lamented recent trends in budgeting: "What do we do? We cut communities," emphasizing that the only way to fix the state's and the nation's stagnant growth is to invest in people and places.
Michigan State University's President, Dr. Lou Anna K. Simon urged planners and developers to think ahead to the attributes of communities that people will desire in 15 years, underlining the "folly in our search for remnants of the past in our vision of the future." She advised considering the crossroads of history and innovation in forming the most accessible communities, among which she hopes Michigan cities will be counted. President Simon closed with a perspicacious reminder: "Every day you make decisions that make that future possible."
Measurable placemaking is key to monitoring results, and Christopher Coes from LOCUS underscored this importance in his presentation on Identifying and Developing Great Walkable Places. The metric on which he focused was walkability, since walkable urban office space in the 30 largest American metropolitan areas commands a 74% rent premium compared to drivable suburban places. Understanding where and why these walkable urban places, or WalkUPs, develop is critical to leveraging and cultivating their assets for the broader community. To accomplish this in Michigan, a partnership has been launched to empirically measure WalkUPs throughout the state, and its results are expected in the first half of 2015. Coes also articulated that although economic growth is important, "great quality places are inclusive to everyone," and the role of social equity in WalkUPs cannot be understated. This session was moderated by MSHDA's Gary Heidel.
Placemaking was also discussed in the context of creating world-class corridors, which are walkable places that incorporate commerce, residence and transportation. This topic was explored by Suzanne Schulz of the City of Grand Rapids, and the ensuing Q&A was moderated by Arnold Weinfeld of Prima Civitas. Schulz gave several examples of thriving corridors in Grand Rapids, many of which had to be redesigned to improve their walkability, while still accommodating commuter traffic. For example, Business Route 131 was repainted to include bike lanes and a left-turn lane, among other innovations, which resulted in many long-abandoned buildings being reopened as new businesses and residences. Through her case studies, Schulz demonstrated her central premise that focusing on corridors is the "best opportunity to create transformational change with limited resources."
Following Schulz's presentation, Jim Tischler of MSHDA returned to the podium to discuss Target Market Analysis. He echoed a theme of the conference in citing that 80% of Millennials want urban housing, and many Baby Boomers would like to downsize to urban living as they approach retirement. However, there is a "missing middle" in American housing: There is a large stock of single-family homes and plenty of multifamily complexes, yet very few intermediate housing options, such as row houses, townhomes, duplexes and mixed-use buildings, which tend to cluster in walkable urban places. Tischler showed how demand for this type of housing is assessed when he held up his credit card and proclaiming that "whenever we use these cards, we get tracked." Sophisticated algorithms use spending information to create highly specific and accurate profiles of consumer demand, revealing the current shortage of middle-ground urban rentals.
The conference concluded with a panel of local financial institution representatives: Renee Kent of PNC Bank, Christina Tracy of Huntington National Bank and Chip Windish of InSite Capital and the Lake Michigan Financial Corp. Together, they outlined the process by which financial institutions are investing in Michigan's cities and specifically in the placemaking initiatives that had been discussed throughout the conference. The discussion also referenced Boji's presentation by highlighting the potential for public-private partnerships in equitable urban development.
This event was filmed by Digital Spectrum Enterprises for Comcast channel 96, a government access channel for the City of Muskegon. Videos from this event will be broadcast later this month as a series, and they will also be made available on SPDC's YouTube channel. Once the broadcast dates/times are set an announcement will be sent out the attendees with the details.
To download the presentations and to learn more, visit 2014 Built Environment Showcase. Questions about the event can be directed to SPDC's Heidi Macwan at charron@landpolicy.msu.edu or call 517-353-4454.