Plant science at the dinner table: Asparagus
Michigan asparagus is tasty and high in many important vitamins and minerals.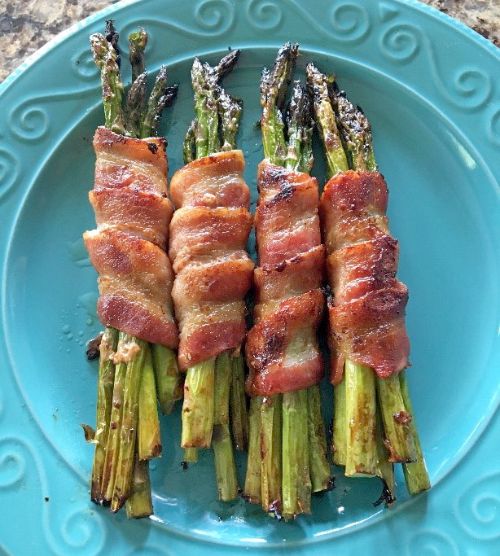 When I was young, I remember May was the only time of year we would eat fresh asparagus. Spring was the only time it was available fresh at the grocer, picked at a local asparagus farm or from wild patches along roadsides in the county. Now, thanks to Peru and other countries in the southern hemisphere, much or our produce, including asparagus, is available fresh throughout the year.
Growing up, asparagus was simmered or steamed and served with butter, salt and maybe a dash of pepper. I am happy asparagus has become a much more versatile vegetable. Asparagus can be eaten raw but is generally cooked. It can be roasted, sautéed, added to pasta dishes, soups and stir fries and even deep-fried. Asparagus is tasty and high in many important vitamins and minerals.
Here are a few facts about asparagus:
Asparagus is a member of the Liliaceae family.
It grows on a flowering herbaceous perennial plant.
Asparagus has been consumed for over 2,000 years, originating in the Mediterranean.
There have been wild varieties of asparagus discovered in Africa.
China is the world's biggest asparagus producer followed by Peru and Germany.
Michigan is the No. 2 producer of asparagus in the U.S.; California ranks No. 1.
Oceana County is the leading Michigan producer of asparagus.
Michigan celebrates asparagus at the annual Asparagus Festival in Empire, Michigan.
There are about 120 farmers in Michigan growing over 9,500 acres of this green gem.
Michigan asparagus is snapped (picked) by hand resulting in a product that is tenderer.
Forty percent of Michigan asparagus is sold fresh in May and June. The remaining crop is processed or frozen.
We eat the stem of the asparagus plant.
The red berries of asparagus are poisonous to humans.
Asparagus is very low in calories, there are only 19 calories in six medium spears.
Asparagus is an excellent source of many nutrients and vitamins including vitamin K, folate, copper, selenium, vitamin B1, vitamin B2, vitamin C and vitamin E.
It is also a very good source of dietary fiber, manganese, phosphorus, vitamin B3, potassium, choline, vitamin A, zinc, iron, protein and vitamin B6.
White asparagus is favored in Germany. To keep asparagus white, dirt is mounded around the shoots so sunlight never touches the plant and therefore the plant does not produce chlorophyll.
Asparagus is easy to grow if you have a sunny spot and some sandy soil. To help get you started, check out these Michigan State University Extension resources: "How to grow asparagus" and "Growing asparagus at home."
My go-to recipe for asparagus is simple: roasting it with a little olive oil and sea salt. However, I recently purchased some fresh asparagus and decided to research various recipes. I adapted a bacon wrapped asparagus recipe. Here is the final version after a few attempts.
Bacon-Wrapped Asparagus - 4 servings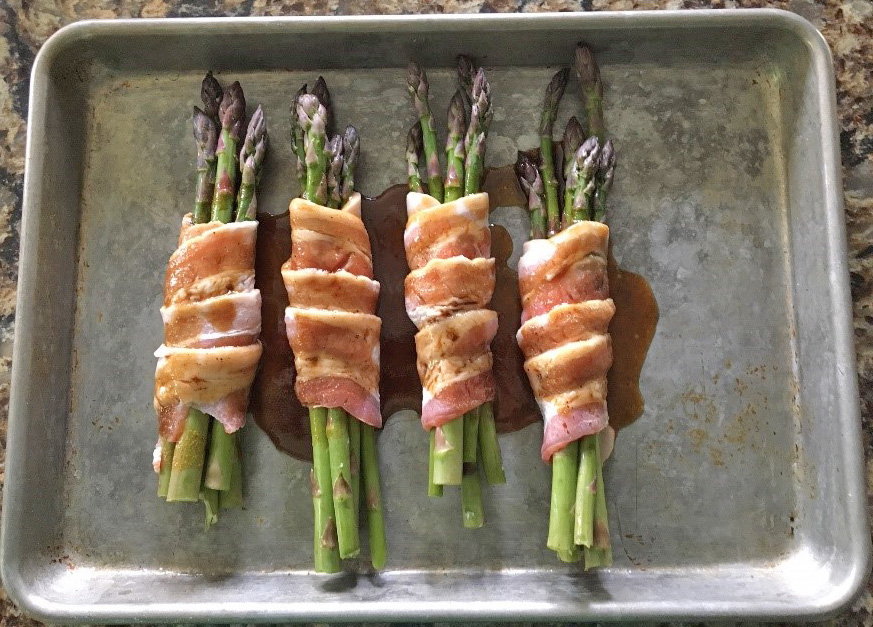 ½ pound fresh Michigan asparagus (I like very thin stalks)
4 slices thin-cut bacon
2 tablespoons butter
1 ½ teaspoons dark brown sugar
2 teaspoons soy sauce
1 teaspoon Worcestershire sauce
Preheat oven to 400 degrees. Divide asparagus into four bundles. Carefully wrap a piece of bacon around each bundle and secure with a toothpick. Place the bundles on a baking tray.
In a sauce pan, combine butter, brown sugar, soy sauce and Worcestershire sauce. Heat until sugar is dissolved and mixture is bubbly.
Pour this mixture over the asparagus bundles and place the dish in the preheated oven.
Bake for about 20 minutes, then broil for 5-6 minutes, watching carefully and turning often, until the bacon is crisp.