Plant science at the dinner table: Brussel sprouts
Brussel sprouts pack in 4 grams of protein per cup and are a good source of calcium, potassium and vitamins C, A and K.
Brussel sprouts—you either love them or you hate them. My family has decided they all love Brussel sprouts, so I started thinking about appetizers for our many gatherings. Last year I made stuffed Brussel sprouts that were tasty, but the prep work was just too time consuming. A friend shared a recipe with me that is easy, tasty and makes a great appetizer. If your family loves Brussel spouts too, try roasting a few with balsamic vinegar and honey while wowing them with some fun plant science facts.
Here are some facts to share about Brussel sprouts:
Brussel sprouts are from the Brassicaceae (Mustard) family.
The Brassicaceae family also includes cabbage, broccoli, kale and collard greens.
Brussel sprouts look like tiny cabbages.
Brussel sprouts are native to northern Europe.
Brussel sprouts get their name from the fact that they were widely cultivated around Brussels, Belgium, during the 16th century.
Brussel sprouts were introduced to England and France in the 19th century.
According to a 2002 survey, Brussel sprouts are the most hated vegetable in Britain.
French settlers in Louisiana introduced Brussel sprouts to America in the 1800s.
Commercial production of Brussel sprouts began in 1925 on the Louisiana Delta.
By 1939, Brussels sprouts were being produced in central California and is the top producer in the U.S.
Other top Brussel sprouts producers include Canada, the Netherlands, England and Germany.
The sprouts we eat are actually buds (small heads) that are produced in the leaf axils (the space between the base of the leaf and the stem above it).
The sprouts mature at the base of the stem and mature working upward.
Unlike most other fruits and vegetables, Brussel sprouts don't need to ripen before you eat them.
Some people have a gene known as TAS2R38 that makes Brussel sprouts and other cabbages taste bitter to them.
One cup of cooked Brussel sprouts has 56 calories.
Brussel sprouts pack in 4 grams of protein per cup—that is a lot of protein for a vegetable.
Brussel sprouts are a good source of calcium, potassium and vitamins C, A and K.
When picking out Brussel sprouts at the grocery store or farmers market, make sure the leaves are compact—not falling off from the stem—and the vegetable should be hard to the touch when you squeeze it.
The best tasting Brussel sprouts are grown in fertile soil with plenty of irrigation and harvested after fall frosts.
Brussel sprouts are hardy and can often be harvested well after frost sets in. As with its close relative broccoli, cold fall temperatures result in a milder, sweeter flavor.
If harvested on the stalk, keep Brussel sprouts in a 33- to 34-degree Fahrenheit basement or garage for a few weeks, depending on conditions. If plucked off the stem, keep them unwashed and untrimmed in plastic in the coldest part of your fridge (usually the bottom back shelf) for up to five weeks.
Below is my new favorite Brussel sprouts recipe, adapted from Kevin is Cooking. This is a super simple side or appetizer to make. I hope you and your family like these sprouts as much as I do.
Roasted Brussel Sprouts with Balsamic and Honey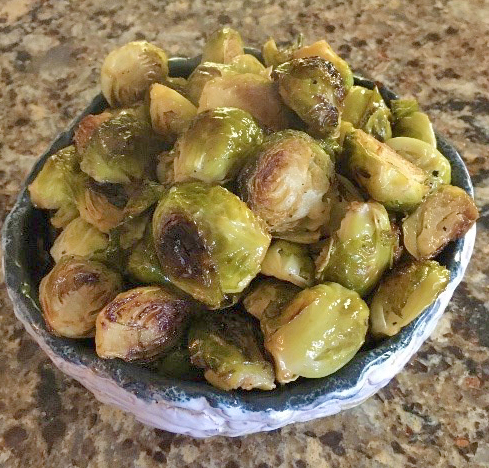 Ingredients:
1 ½ lbs. fresh Brussel sprouts
3 tbsp olive oil
¾ tsp kosher salt
½ tsp freshly ground pepper
2 tbsp balsamic vinegar
2 tsp honey
Instructions:
Preheat oven to 425 degrees Fahrenheit
Trim off outer leaves, cut the bottom off and slice sprouts length wise.
Toss sprouts, 2 tablespoons olive oil, salt and pepper, and coat thoroughly.
Roast on baking sheet 20-30 minutes or until tender and caramelized.
Toss with remaining olive oil, balsamic vinegar and honey, broil for a few minutes for desired crispness.