Plastic trash – the solution is in our own hands
Earth Day river cleanup highlights need for more personal responsibility.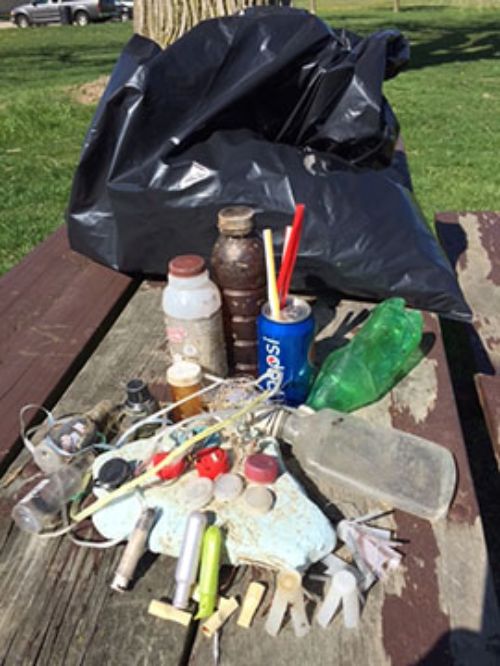 For several years my family has participated in a special Detroit River cleanup as part of annual Earth Day celebrations. The event, hosted by the Friends of the Detroit River and Detroit RiverKeeper, helps remove trash and other debris from the river as well as educate people about the RiverKeeper Program and the public's role in keeping our waters clean.
The day always begins at a local park where volunteers fill up boats and head out to several of the islands to collect trash that has washed ashore. Other volunteers collect trash along the mainland shoreline. When we first started attending the cleanup, we would find items such as couches, BBQ grills, and other large debris.
This year as we scooped up trash along the shore, my daughter and I began to see another pattern emerge. The items we found most often were plastic bottle caps, cigar tips, tampon applicators, shotgun shell pieces, strings from balloons, bottles, straws and Styrofoam. These are items likely end up in our waterways because they are not properly disposed of. They also take a very long time to decompose and can pose hazards to wildlife.
Recent studies and legislation around the use of microbeads has heightened our awareness of the impact of plastics in our Great Lakes. But my daughter and I only needed to look along the shoreline to find the evidence of plastic pollution there.
For 46 years, Earth Day organizers have implored people to get involved and help end pollution. Worldwide, millions of people participated in this year's Earth Day. This year I hope everyone who was involved continues to treat every day as if it were Earth Day. Be responsible with your trash and learn how to dispose of it properly. Not sure how? The Environmental Protection Agency has many resources to help you learn how to Reduce, Reuse and Recycle. Tips for travelers include:
When visiting beaches and parks, be sure to take back everything you bring in, so that you can leave places unlettered and undisturbed.
To pass the time on long drives or rainy vacation days, bring scrap paper for drawing and games.
Be sure to recycle your used drink containers. Consider putting a filter on your water tap and refilling bottles with the filtered water. Instead of buying many small drink bottles, buy drink mixes in bulk and fill your reusable bottles.
In the Detroit area, the Friends of the Detroit River citizens' advocacy group developed The Riverkeeper Program to help protect the interests of the river. The Detroit Riverkeeper – a paid staff member – actually patrols the river in a boat in order to get a first-hand view of whatever issues there might be. The Riverkeeper participates with many other groups and agencies to promote education, research and monitoring of the river and to serve as a protector of the Detroit River Watershed. Learn more about this program at the Friends of the Detroit River website.
Michigan Sea Grant helps to foster economic growth and protect Michigan's coastal, Great Lakes resources through education, research and outreach. A collaborative effort of the University of Michigan and Michigan State University and its MSU Extension, Michigan Sea Grant is part of the NOAA-National Sea Grant network of 33 university-based programs.