Obliquebanded leafroller management in tree fruits
Obliquebanded leafroller is a threat to apples and cherries. First generation larvae are expected in several weeks in southwest Michigan.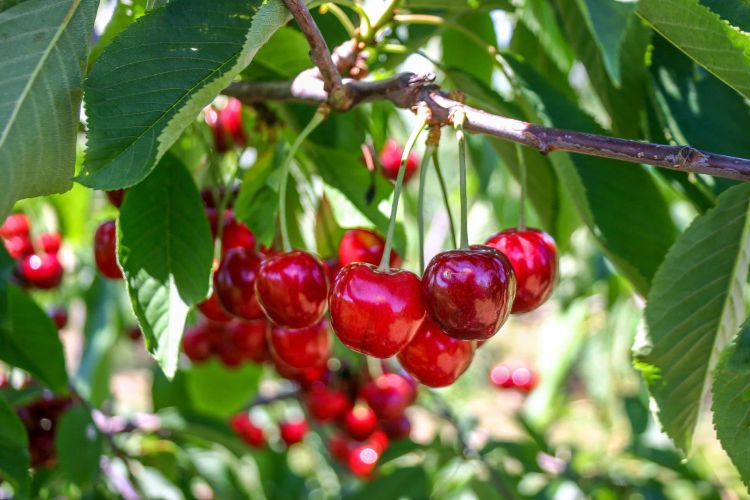 Michigan State University Extension set a June 12 biofix for obliquebanded leafroller (OBLR) at the Trevor Nichols Research Center in southwest Michigan, which was followed by two weeks of higher-than-normal adult flight. The first summer generation larvae are expected in several weeks (400 growing degree days base 42) in southwest Michigan and increasing thereafter. At the Northwest Michigan Horticulture Research Center, low numbers of adults were caught over the last week, and biofix is expected by June 19.
Obliquebanded leafroller is a threat to apples as a direct pest; the larvae feed on leaves and fruit in summer (July) and fruit in fall (September). In cherries, obliquebanded leafroller does not feed on fruit, but they can cause damage to cherry leaves, which can result in defoliation. The greater concern of obliquebanded leafroller in cherries is the threat as a contamination pest, as they can be found in cherry tanks if present in trees at harvest. Despite the fact the larvae are easily visible either in the tank or at the processor, growers need to take precautionary measures to prevent these insects from infesting harvestable fruit and contaminating cherry tanks. Growers with problem orchards risk having tank-loads rejected at the processor if obliquebanded leafroller larvae are present.
Organophosphate-resistance was documented in obliquebanded leafroller in Michigan apples in the early 2000s, and more recently in cherries in 2014. Pyrethroid and carbamate resistance have also been documented. However, there are several new insecticide chemistries that are efficacious against obliquebanded leafroller labeled for both apples and cherries. Optimized timing of any insecticide application against obliquebanded leafroller should consider the residual activity, recommended degree-day target and preharvest interval (Table 1).
Field scouts should use traps and the degree day model provided on MSU's Enviroweather system to set a biofix. After adult emergence, scouts should begin monitoring for summer generation larvae by examining 10 fruit clusters and 10 terminals on five trees per orchard each week. Using this method, an insecticide application is warranted if three larvae per tree are found.
For cherries, the insecticides with highest performance ratings for obliquebanded leafroller control at pre-harvest time include Delegate, Altacor, Exirel and Verdepryn, and for organic growers Entrust. All of these insecticides have shown to be excellent against obliquebanded leafroller.
Note the advantage of using biopesticides and organic products is that the pre-harvest intervals are typically 0. Biopesticides, such as Bts, are typically ingestion-active products, thus slower acting than most synthetic nerve poisons, and may not eliminate canopy infestation sufficiently to prevent contamination when applied near to harvest.
Table 1. Compound, chemical class, residual activity, pre-harvest interval (PHI) and standard degree-day (DD) timing of insecticides used for OBLR control.

Compound trade name

Chemical class

DD spray timing for OBLR

Residual activity

PHI (days) cherries

PHI (days) apples

Labeled for spotted wing Drosophila

Dipel*, Deliver*

Bt's

Biofix + 450 DD

5-7 days

0**

0

No

Spear-Lep

Peptide

Biofix + 450 DD

5-7 days

0

0

No

Grandevo*

Venerate*

Chromobacterium

Biofix + 450 DD

5-7 days

0

0

Yes

No

Altacor

Verdepryn

Exirel

Diamide

Biofix + 400-450 DD

10-14 days

10

7

3

14

14

3

No

No

Yes

Entrust*

Spinosyn

Biofix + 400-450 DD

7-10 days

7

7

Yes

Delegate

Spinosyn

Biofix + 400-450 DD

10-14 days

7

7

Yes

Proclaim

Avermectin

Biofix + 400-450 DD

7-10 days

7

14

No

Rimon

IGR

Biofix + 100-200 DD

10-14 days

7

7

Yes

Voliam flexi

Diamide + Neonicotinoid

Biofix + 400-450 DD

10-14 days

14

35

No
* Organic Materials Review Institute (OMRI) approved.
** Not recommended for pre-harvest sprays to prevent OBLR contamination in cherry because of slow action.