Rely 280 label for use in hops to control weeds and sucker growth
The Rely 280 label is good through Dec. 1, 2025, to help control several annual grasses and broadleaves and/or sucker growth in hopyards.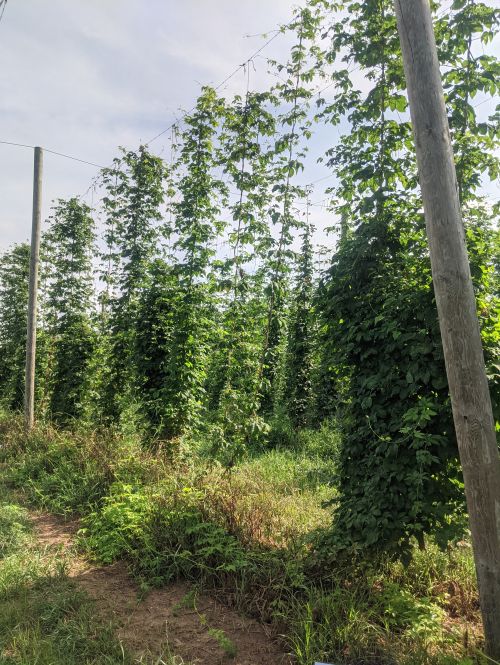 The U.S. Environmental Protection Agency (EPA) has approved a Section 3 Supplemental Label for herbicide Rely 280 (glufosinate) to use in hopyards. This label is effective until Dec. 1, 2025.
Rely 280 is a water-soluble non-selective herbicide for application as foliar spray for the control of a broad spectrum of emerged broadleaf and grassy weeds and/or hop sucker growth (Photo 1). Rely 280 may be applied in a single application or in sequential applications. It should not be used to burn back existing vines to obtain even emergence of subsequent vines, hop suckers prior to training, or applied on hops that are less than 6 feet tall.
Rely 280 may be applied in hop rows at the rate of 32 to 55 fluid ounces per acre (0.56 to 1 pounds active per acre) for weed and/or sucker control. Maximum of three applications or 165 fluid ounces per year may be applied during one growing season. Sequential applications should be made by at least 25 days apart. Do not apply more than 55 fluid ounces per acre of Rely 280 in a single application. Pre-harvest interval is 25-days.
For best results, Rely 280 should be applied to emerged, young, actively growing weeds. Warm temperatures, high humidity and bright sunlight can improve the performance of Rely 280. Uniform, thorough spray coverage of weeds and sucker is required to achieve consistent control. Weed control may be reduced when applications are made to weeds under stress including drought or cool temperatures. Regrowth of weeds may occur due to the weed stage of growth at application, low use rate, or environmental conditions at the time of application.
The label of Rely 280 is available on the CDMS website.