Researchers are asking for your help collecting deceased Mudpuppies in Michigan
Researchers are asking for help in collecting deceased Mudpuppies because they serve the ecosystem as 'bio-indicators' due to their sensitivity to pollutants and water quality.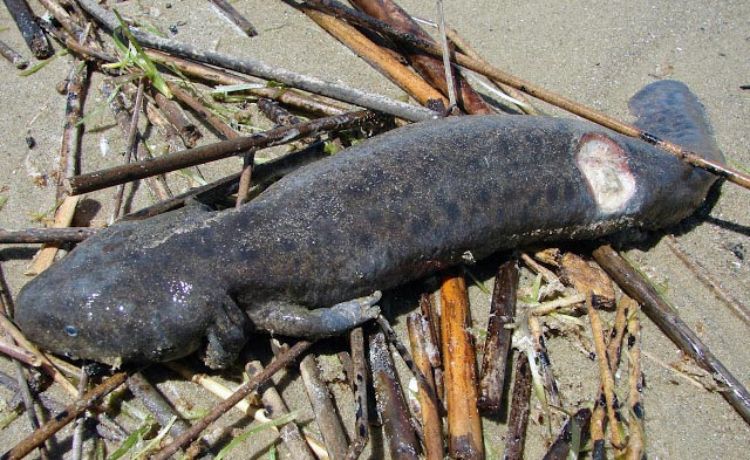 Mudpuppies are Michigan's largest, fully aquatic salamander. Often, they are referred to as 'bio-indicators' because they are sensitive to pollutants and water quality. These salamanders act as an early warning system for environmental problems. Unfortunately, the severe winter and heavy snow and ice cover of 2013-14 have created conditions that may result in die-offs of fish and other organisms including turtles, frogs, and Mudpuppies. The University of Michigan, Eastern Michigan University, and Herpetological Resource and Management in collaboration with the United States Geological Survey, United State Fish and Wildlife Service, Department of Natural Resources Fisheries Division,, Huron-Clinton Metropolitan Authority, Belle Isle Aquarium, Michigan Sea Grant, and other partners are looking at the conservation and management of Mudpuppies in Michigan.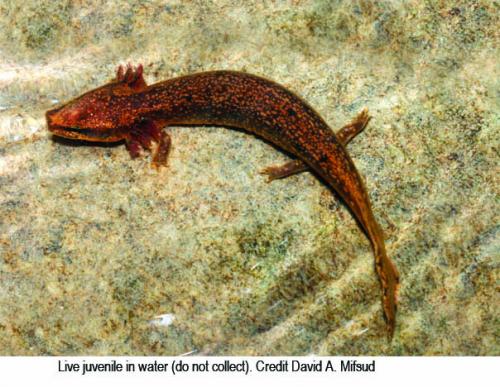 "This environmental indicator species is in decline and we are working on gaining a better understanding of their genetics, spatial distribution, population density and health, and threats. As part of this project, we are looking for specimens and/or tissue samples to help establish baseline data. The potential winter kill provides an opportunity to obtain data otherwise not available without having to destroy animals" said herpetologist, David Mifsud from Herpetological Resource Management, LLC.
The research partners are asking colleagues, friends, and concerned individuals to help them collect dead specimens of Mudpuppies so they may serve as a useful conservation resource. The emphasis is for southeast Michigan, particularly the Lake Erie Basin and Huron River, though samples from across the state area welcomed and appreciated.
How Can You Help?
If you come across a deceased Mudpuppy(s), place the whole specimen in a re-sealable plastic bag, seal, and freeze the bag. Include the following information on a 3x5 card placed within the bag (using pencil) and on the outside of the bag (using permanent marker).
1) Observer
2) Date
3) Precise Collection Location

Contact one of the following people to coordinate pickup of the specimen:
1) David Mifsud 517-522-3524 DMifsud@HerpRMan.com
2) Maegan Stapleton 517-522-3524 MStapleton@HerpRMan.com
3) Amber Stedman 815-761-8941 AStedman@EMich.edu
4) Greg Schneider 734-647-1927, 734-763-0740 GES@UMich.edu

Tissue sample instructions are also available for those familiar with the process.
Be sure to also contribute all amphibian and reptile observations to the Michigan Herp Atlas to help better protect and conserve Michigan's biodiversity! You can also enter data now using the new Herp Atlas smart phone app.