ReTain use to increase sweet cherry yields
The plant growth regulator ReTain has been known to increase fruit set and yield in Michigan sweet cherries.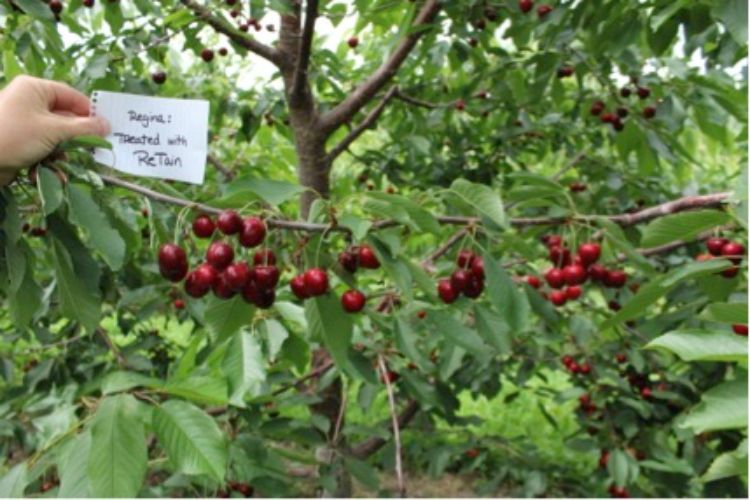 In recent years, many growers have started to use ReTain in their sweet cherry blocks to increase fruit set and ultimately increase their yields. ReTain is a plant growth regulator that has been shown to extend flower viability in cherries by reducing ethylene production in cherry flowers and delaying flower and stigmatic senescence. Due to this effect, flowers that last longer have a higher likelihood to be successfully pollinated, and increased pollination results in a higher yield. Research has shown that ReTain works best if used before poor pollinating conditions, including wet, cool, windy weather or low honey bee activity, or on varieties that tend to be shy-bearing.
Moderately cool temperatures are predicted to continue this weekend and into next week around northwest Michigan. Sweet cherries are currently at late side green to early budburst here at the Northwest Michigan Horticulture Research Center. However, some sweet cherry orchards around the region are further along. If the weather predictions are correct, we could be at bloom around May 5-7, and data shows that ReTain applications are more effective when applied early. With the predicted cool conditions, bee activity will likely be low, making ReTain applications particularly important this year.
We conducted a ReTain trial at three grower farms in 2014. ReTain was applied in two Balaton blocks and one sweet cherry variety Regina block. Each block was approximately 10 acres where half of the block was treated and the other half untreated. ReTain was applied at the recommended rate of 1 pouch per acre (11.7 ounces per acre) at popcorn to early bloom stage at 100 gallons per acre. No surfactants or fungicides were tank-mixed with the product. We found that ReTain significantly improved yields in the Regina orchard (see photos) and one of the Balaton orchards; in both of these trials, ReTain was applied at less than 10 percent bloom. In the second Balaton orchard, the ReTain application was made at 70 percent bloom, and the plant growth regulator had no effect on yield. Therefore, MSU Extension recommends making ReTain applications early: popcorn to first bloom.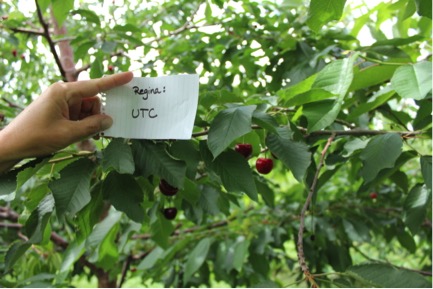 A team from Washington State University and Oregon State University has also conducted ReTain trials. ReTain was applied at four stages during bloom: popcorn, 10 percent full bloom, 50 percent full bloom and full bloom. The ReTain treatment at 10 percent full bloom gave as much as a 20 percent increase in fruit set compared with the control. That was a gain of almost 9 pounds per tree or 2 tons per acre. Tests with variety Tieton also resulted in significant increases in fruit set. However, unlike the results we observed in Michigan, the western team found that each of the application timings improved fruit set, though there was no consistent trend. They concluded that there could be a broad window when the treatment can be effective. Some of the variability in results could have been attributable to the weather at the time of or immediately after application as warm temperatures would have hastened the senescence of the ovule.
Although the results varied from our trials in Michigan, we are still recommending ReTain be sprayed early in the season, either popcorn or first bloom. The rate of ReTain is one pouch per acre (11.7 ounces per acre). The more tissue on the tree, the better the response, but the key timing is early based on our results and past recommendations by the Valent Company. The spray volume is recommended at 100 gallons per acre. ReTain cannot be used after petal fall, and it is not recommended if rain is expected within eight hours of application. Temperature should be monitored during application timing as the effectiveness of plant growth regulators decrease at low temperatures.
Also, we recommend applying ReTain under slow drying conditions. According to the Valent representatives, they have found that treating a larger block is more effective than treating rows within a block; the overall effectiveness of the active ingredient in ReTain is improved with broad coverage.