Return of the American elm
Elm trials encourage the return of the American elm to landscapes and street plantings.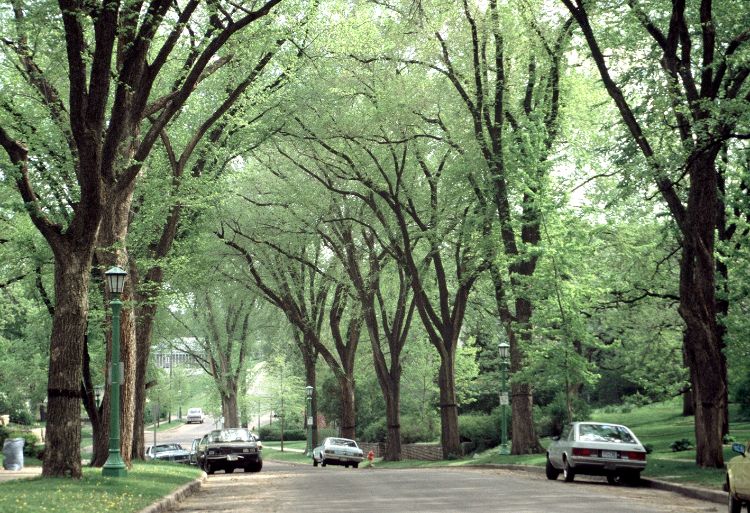 American elms were the dominate tree species along city and suburban streets across the Eastern United States through the first half of the 20th century. These graceful, towering trees with their vase-shape form created cathedral-like canopies. The American elm, Ulmus americana, also known as white elm, was prized for its fast growth that provided quick shade and for its ability to tolerate poor soil conditions along city streets.
Disaster struck when elm logs shipped from Europe to the United States released the European elm bark beetle, a small insect that carried a fungal disease of elms, Ophiostoma ulmi, commonly known as Dutch elm disease. This relationship between the fungus and the bark beetle helped to quickly spread the disease from tree to tree, leaving city streets lined with dead and dying elms. First found in Ohio in the 1930s, it spread from state to state and by the mid-60s it had killed millions of trees, leaving cities with the task of removing thousands of massive elms.
The loss of the American elm as a street tree left a hole that was difficult to replace. Maples and ashes were planted in larger numbers along streets to replace the elm, but ash tree populations were decimated by another introduced pest, the Emerald ash borer. Now many cities have a mix of linden, honey locust, sycamore, ginkgo, hackberry, zelcova, varying species of maples and oaks, and smaller trees like hornbeam, and crabapples. Yet none match the beauty that tree- lined parkways of American elms created.
The search for an elm resistant to Dutch elm disease that grows in the typical vase-shaped form has been going on for decades. Two promising American elm cultivars, 'Valley Forge' and 'New Harmony,' are showing good Dutch elm disease resistance. These American elm introductions were developed at the U.S. National Arboretum.
Other research efforts focus on developing hybrid elm trees to replace the American elm by breeding crosses of European and Asian elms. Currently a National Elm Trial is evaluating the use of Dutch elm disease-resistant American elms and hybrid elms. The study includes 17 resistant elm cultivars that are commercially available. The elm cultivars are being evaluated in 15 states under varying growing conditions and hardiness zones. A major goal of the study is to promote the use of disease-resistant elms. The research trials seek to demonstrate the merits of the resistant elms and this knowledge will lead to a return of planting a once hardy tree back into landscapes, streetscapes and parks. For the Great Lakes region, studies are being conducted at Purdue University, Ohio State University and Michigan State University.
A recent trip to Chicago's Morton Arboretum to view their extensive collections of elms developed through their breeding program brought nostalgia for a summer so long ago when graceful arching trees lined the streets of my hometown. Elm breeding programs like the one at the Morton Arboretum and research through the National Elm Trials will help to highlight the best of the elms available, demonstrating their disease and insect resistance, growth patterns and hardiness. Increase demand for these trees will grow when research shows these elms will survive disease pressure and once again can fill an important niche in landscapes that was lost to Dutch elm disease.
For more information on Dutch elm disease, contact Michigan State University Extension's Garden and Landscape Hotline at 888-678-3464.