Riley briefs the U.S. Ambassador to Sweden
Shawn Riley was in Stockholm to brief the U.S. Ambassador to Sweden on activities he's been engaged in as a Senior Fulbright Specialist.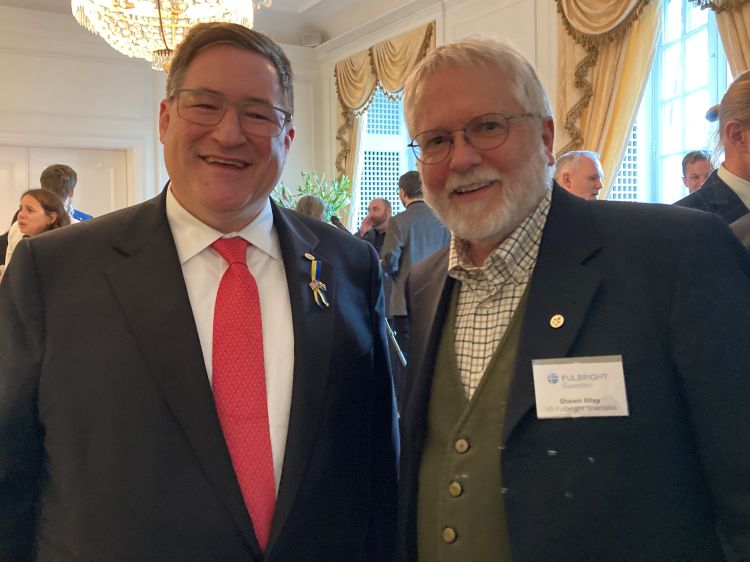 Shawn Riley, Parish Storrs Lovejoy Professor of Wildlife Management at Michigan State University (MSU), member of the MSU Fisheries and Wildlife faculty, and an affiliate of MSU's Center for European, Russian and Eurasian Studies, was in Stockholm, Sweden this month to brief the United States Ambassador to Sweden Erik Ramanathan and his staff on activities he's been engaged in as a Senior Fulbright Specialist.
Dr. Riley provided insights on emerging economic drivers in northern Sweden while emphasizing how important forestry, wildlife, and fish are to the culture of northern Sweden. One outcome of the visit is a planned field trip for the ambassador to Umeå and other communities in northern Sweden. Dr. Riley has been serving as an advisor to the Dean of the Faculty in Forest Sciences at the Swedish University of Agricultural Sciences in Umeå, which includes similar fields related to natural resources found in MSU's College of Agriculture and Natural Resources. His main focus for this advisory role has been to build capacity for international collaborations in research, outreach, and teaching.
Before returning to the MSU campus, Dr. Riley will also be visiting Helsinki, Finland to initiate collaborations related to wolf management with researchers at the Natural Resources Institute of Finland. He will be giving seminars on public perceptions of wolves and wolf management in Michigan at Tampere University and the University of Helsinki, while leading discussions about comparative governance of large carnivores between Finland and the United States.
Dr. Riley's recent activities in Northern Europe are just another example of how MSU Fisheries and Wildlife faculty are engaging in research, teaching, and outreach activities around the world.