2020 SAC staff survey report
This report details the results of the staff survey conducted during the first quarter of 2020. Please note, the survey results reflect attitudes and opinions of CANR staff prior to the COVID-19 pandemic.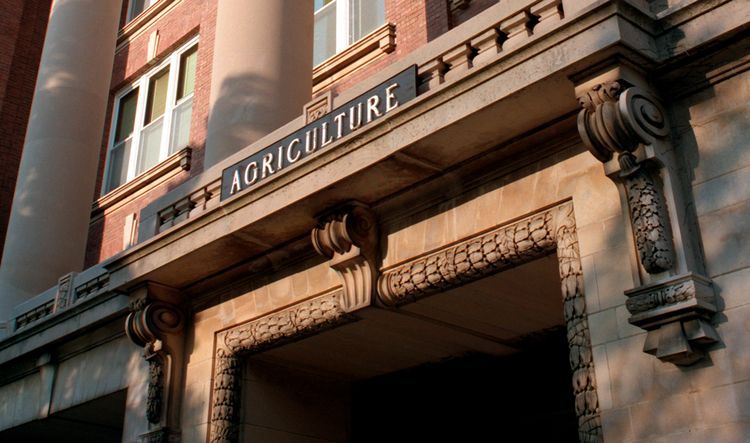 Overview
The CANR Staff Advisory Committee (SAC) is a group nominated by fellow CANR staff to serve as an advisory committee to the Dean. The SAC provides a direct communication link to the Dean regarding issues, concerns and opportunities of importance to CANR staff. "Staff" is defined as APSA, APA, CTU, 1585/999, off-campus and farm managers. Our goal is to have a pro-active, participating role in shaping our College now and in the future.
During the 2019-20 academic year, the SAC was charged by Dean Hendrick to conduct a full review and reorganization of the committee in order to best represent and serve the staff of the college. In early 2020, the SAC conducted a survey to help identify current attitudes and opinions among CANR staff. The goal of the survey was to get a current "snapshot in time" in three key areas:
Staff Morale – understand concerns and opinions relating to work duties, responsibilities and value
Workplace Environment – perceptions of and interactions with coworkers, faculty, and administration
Role of SAC – current staff understanding of the SAC and possible interventions and actions on how a reorganized SAC could provide the most impact for staff
Methodology
The SAC authored an anonymous survey that incorporated 17 questions with a variety of answer types including open response, multiple choice, and rank order. The survey was sent to all regular CANR staff. The survey was not sent to temporary or on-call staff. A total of 248 responses were received. This represents approximately 73% of the 340 CANR staff that were polled.

Results
The following are results by question. It is important to note that this survey was conducted prior to the COVID-19 pandemic and reflects attitudes and opinions pre-pandemic. Given the severe impact of the pandemic the SAC believes the relevance of this data may no longer represent the current state of staff opinions and attitudes.

Q1 - As a member of CANR Staff, do you feel you have an outlet to share your concerns, issues and successes to CANR Deans, Directors and Chairs?
Yes – 60%
No – 40%
Comments – 15% provided a written comment. Barriers to access include fear of negative response from immediate supervisor, lack of knowing who to contact, disconnect with off campus staff.

Q2 - How well do you feel that CANR staff needs, concerns and issues are addressed by CANR Deans, Directors and Chairs?
Well Addressed – 12%
Adequately Addressed – 28%
Somewhat Addressed – 46%
Not Addressed At All – 14%

Q3 - How valued do you feel by CANR Deans, Directors and Chairs?
Highly Valued – 12%
Valued – 34%
Somewhat Valued – 36%
Not Valued – 18%

Q4 - How valued do you feel by CANR faculty in your department/school/unit?
Highly Valued – 20%
Valued – 34%
Somewhat Valued – 38%
Not Valued – 8%

Q5 - How valued do you feel by your staff counterparts in your department/school/unit?
Highly Valued – 32%
Valued – 45%
Somewhat Valued – 18%
Not Valued – 5%

Q6 - Do you feel your direct supervisor's issues and concerns are supported by Deans, Directors and Chairs?
Direct supervisor is a Dean, Director or Chair – 17%
Yes – 59%
No – 24%
Comments – 12% provided a written comment. Many comments noted that they feel the answer to this question is somewhere in between yes and no and wish they were given that option. Many noted they were just unsure and didn't have the information to adequately answer this question.

Q7 - Are you aware of the CANR Staff Advisory Committee (SAC)
Yes – 71%
No – 29%

Only respondents who answered yes to Q7 were asked Q8-10

Q8 - How did you learn about the SAC? 10 multiple choice answers were provided – respondents were asked to submit one answer:
CANR staff HR orientation – 3%
SAC website – 1%
SAC committee member – 12%
Co-worker – 17%
Supervisor/Administration – 1%
Through SAC Staff Awards – 4%
Through SAC Fundraisers (MSU Safe Place/Toys for Tots) – 2%
Through SAC Events (Women's Basketball Ticket Giveaway) – 3%
Other – 5%
From email – 52%

Q9 - To best support staff, what do you believe should be the main focus of the SAC? Rank order of importance from most important to least important:
1. Provide opportunities for staff to interact with Deans, Directors and Chairs
2. Provide networking opportunities with other staff
3. Provide a direct link from staff to the Dean
4. Administer staff awards
5. Other

Q10 - Do you feel represented by the SAC?
Yes – 53%
No – 47%

Q11 - What is your opinion of the overall morale of the staff in your department/school/unit?
Good – 40%
Neutral – 38%
Not Good – 22%

Q12 - Would you agree or disagree with this statement, "The overall morale of staff in my department/school/unit has increased in last 12-18 months."
Agree – 36%
Disagree – 64%
If disagree can you list reasons why? 93 respondents gave a written response. Top responses included – increased workloads, too much change in leadership, small/lack of pay raises, lots of policy changes, open positions not being filled or eliminated, Nassar impact, pay disparity between job classifications.

Q13 - Would you be more likely to attend: Select as many as apply:
Small group one on one interactions with CANR Deans, Directors and Chairs e.g., – brown bag lunches, coffee break meetings, etc. by department/area – 27%
All-staff annual meeting – 30%
Networking opportunities with staff peers e.g., – admin social, lab tech coffee break, etc. – 25%
I am not interested in these types of interactions – 13%
Other – 6% items listed include short seminars but biggest comment was that these events are hard or impossible for off campus groups to attend.

Q14 - If you could ask Deans, Directors and Chairs one question, what would it be? 52 responded with a question for administration. Major topic areas included: work/life balance; staffing/pay; facilities and structures; pay equality; importance of staff input; how can we feel more connected, especially off campus positions and Extension

Q15 - Any additional comments you would like to share? 30 responded to this question. Many themes similar to ones noted above.

Q16 - How many years have you worked for CANR?
Less than one year – 8%
1-2 years – 20%
3-5 years – 27%
6-10 years – 46%
11-20 years – 12%
Over 20 years – 11%

Q17 - What is your position's classification?
APSA – 14%
APA – 44%
CTU – 18%
1585 – 1%
Off-campus – 20%
Unsure – 3%