Science students grow with gardens
Hands-on garden and plant activities supplement and enhance science curriculum at local Detroit Public School.
Michigan State University Extension, The Georgia Street Community Collective and Master Gardener volunteers have been working in collaboration with A. L. Holmes Elementary-Middle School to integrate hands-on plant and garden activities into the third, fourth and fifth grade science curriculum. These activities supplement and enhance the existing science curriculum with the goal of increasing interest and comprehension in the science concepts being taught in the classroom.
The gardens at A. L. Holmes were established with grants secured by MSUE Extension and A. L. Holmes along with donations from The Georgia Street Community Collective. Once a week the Garden Education team, which consisted of Master Gardener volunteers, community volunteers and MSUE staff, would take the students out into the garden for activities that emphasized what was taught during the week. We also grew seeds in the Garden Room inside the school for planting out in the raised beds and flowers for the students to take home for Mother's Day. During the last class we will harvest and taste the vegetables that we are growing, such as the lettuce, spinach, kale, radishes and collards. Pre- and post-tests are being administered to evaluate the impacts of the program.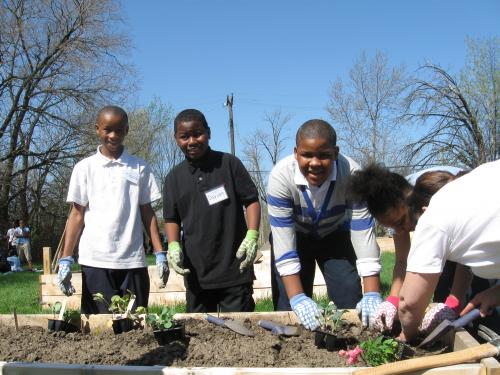 Teachers, students, volunteers and the administration enjoyed the program and thought it was beneficial to the students. The fifth grade science teacher Mr. Meriweather said the garden activities have made many students more interested in science. He went on to say that one of his less enthusiastic students was so excited about finding a worm in the garden that the student went home that night and researched worms on the internet. Mr. Meriweather was thrilled to hear his student excitedly tell him what he found out about worms the next day.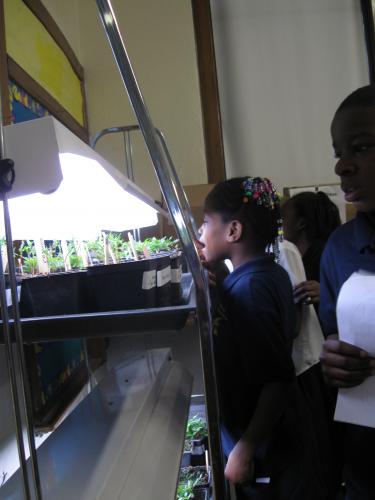 Students, staff and volunteers installed a new Pollination Garden behind the vegetable garden raised beds to assist in pollination and to attract beneficial insects that would aid in the control of pests.
These gardens provide clear, real life examples of the interdependent nature of our food ecosystem, and the valuable lessons of where our food comes from. While not all students will become farmers or even gardeners, all of them are eaters and make important food choices at least three times a day. What better, more practical way to make science apply to students' daily lives than through learning about their food system through hands-on growing experiences.
You Might Also Be Interested In