Severe Michigan winter could leave some diving ducks stranded on land
MDNR asks for public help if they see confused ducks in towns and neighborhoods.
A recent Michigan Department of Natural Resources press release asks the public to keep an eye out for stranded diving ducks. There are over 100 species of ducks in the world. In the Great Lakes region, duck species are often classified into dabblers or divers, based on their behavior used in getting food. Diving ducks that are stranded on land are unable to take flight because of where their feet are attached on their bodies. Because they eat fish, they require open water for survival and will likely starve if not returned to the open water.
According to the MDNR, "the exceptionally cold winter weather of the past few weeks has caused the bays and waters of the Great Lakes to freeze mu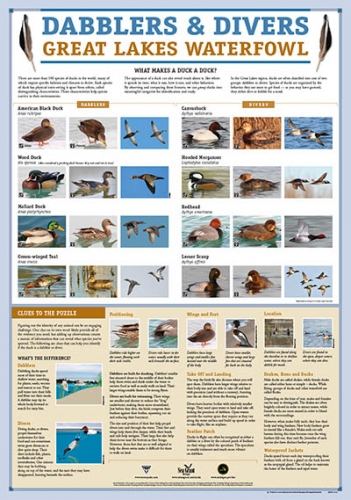 ch further into the center than in recent years. Rather than move far into the deep waters of the lakes, some waterfowl— including horned and red-necked grebes; common, hooded and red-breasted mergansers; and long-tailed ducks— are moving from the larger, freezing waters of the Great Lakes and are looking for open water bodies inland. In foggy, snowy, low-visibility conditions, these birds are mistaking icy roadways and driveways for inland water bodies and are becoming stranded on land."
Michigan Sea Grant's publication Dabblers & Divers: Great Lakes Waterfowl poster can help people identify.
The full-color poster features profiles of eight ducks—four dabblers and four divers—that are found throughout the Great Lakes. The profiles include the duck's common name and scientific name and show pictures of female and male ducks, as well as the duck in flight. Additionally, the poster provides the clues that anyone can use to figure out if a duck is a dabbler or diver, including the size and shape of their bodies and wings, and where their feet are positioned on their bodies.
The poster is a perfect resource for teachers, natural resource professionals, avid or novice birders, or anyone interested in learning more about the Great Lakes and the great species that call the region home. The poster is available for $8 through the Michigan Sea Grant bookstore. Bulk discounts are available; contact msgpubs@umich.edu for more information.

Poster Details: High-quality, full-color poster that measures 26 inches wide by 37 inches tall. Printed on 100% recycled, chlorine-free paper with vegetable-based ink. Features eight species of ducks and an overview on how to identify duck species.