Smart Gardeners mow leaves into lawn to bring green returns next year
Recycle grass and fallen leaves to invest in a greener lawn next year.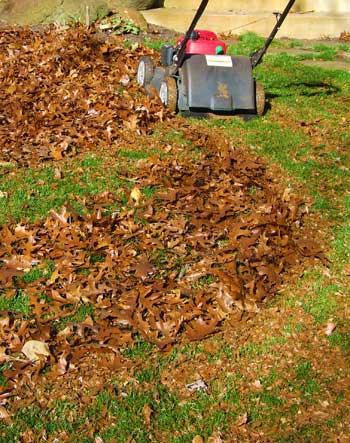 Mow, mow, mow your leaves, gently down into the lawn! Oh – that's not the way the song goes? As the leaves continue to fall and pile up on your beloved lawn, you might want to think about turning this natural resource into your ally against annual weeds like dandelion.
Over 20 years of turf research at Michigan State University has proven that fall is the optimum time to "invest" in the green you will enjoy next spring and the resource might be staring you right in the face – tree leaves. While we all know that heavy, wet leaves can spell disaster for the lawn next spring, chopping them up into small pieces has very beneficial effects.
Using a mulching mower or just mowing across the fallen leaves several times will dice them up small enough to "sift" down in between the grass plants, providing beneficial nutrients as they break down. To top it off, the tiny pieces of leaves also create a barrier to germinating weed seeds leading to less need for weed control next spring.
To read more about this subject, see the Michigan State University Extension tip sheet "Mulch leaves into turf for a smart lawn."
For more information on a wide variety of Smart Gardening tip sheets and articles, or to find out about Smart Gardening classes and events, visit www.migarden.msu.edu.
Photo credit: Rebecca Finneran, MSU Extension