Southwest Michigan fruit update – 2021 review
Repeated freezes in May damaged many crops. A dry summer kept disease pressure down in most fruits. Crop quality and volumes were generally good for early season crops, but a warm and wet October caused quality issues for some late crops.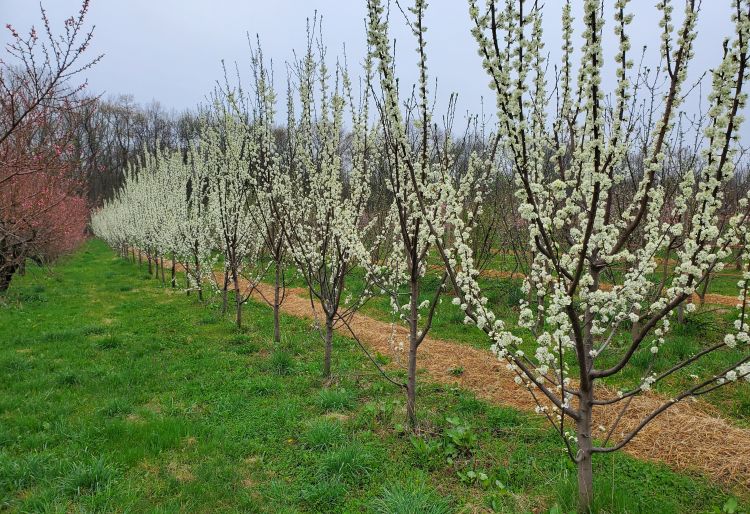 Weather
The winter of 2020-2021 was mild. Most of southwest Michigan rarely saw temperatures below 10 degrees Fahrenheit. Most plants completed their chilling requirements ahead of average—peaches and grapes by early January and apples, blueberries, cherries, pears and plums by late January. A single deep freeze event occurred over the morning of Feb. 17 where temperatures in the region got down to zero to minus 15 F. No significant damage was reported.
Early winter precipitation was above average. After the first of the year, however, precipitation trended significantly below average. Precipitation amounts for the first half of the year were 20-25% of normal. Soils were dry for much of the spring. Southwest Michigan was declared to be in some level of drought by the U.S. Drought Monitor through July.
March was warm, pushing plant development. April started with a classic radiation freeze, which are characterized by clear skies, little wind, temperature inversion and low air temperatures that fall below 0 degrees Celsius during the evening and are above 0 C in the day. This freeze occurred on Friday, April 2, 2021, and affected many fruit crops, mainly in areas away from Lake Michigan.
Another round of damaging freezes that impacted the entire region came on April 21, 2021, and April 22, 2021. The first two weeks of May saw a series of frost and freeze warnings, mainly for growers away from the lake. Strawberries were in bloom and therefore, the most impacted by these repeated frosts and freezes.
June saw a return of hot, dry conditions. A series of soaking rains at the end of the month signaled an end of the drought for most growers. The remainder of the summer saw near normal temperatures and rainfall. October was the exception, being hot and humid much of the month.
Overall, southwest Michigan saw a summer that was warmer than average compared to recent seasons.
Southwest Michigan Research and Extension Center growing degree day (GDD) summary from March 1 – Oct. 1, 2021

Year

GDD 42 F

GDD 45 F

GDD 50 F

2021

4,440

3,904

3,065

2020

4,143

3,628

2,821

2019

4,030

3,508

2,698

2018

4,240

3,740

2,938

2017

4,196

3,640

2,773

Average of 5 years

4,210

3,684

2,859
Precipitation was 20-25% of normal through June. Even with the slightly above average precipitation later in the year, we never caught up to our five-year average.
Southwest Michigan Research and Extension Center rainfall summary from March 1 – Oct. 1

Year

Rainfall (inches)

Hours with rain

2021

17.51

198

2020

17.61

256

2019

24.68

327

2018

24.54

314

2017

16.89

264

Average of 5 years

20.25

271.8
Tree fruit
The warm weather in March sped up development. Many crops bloomed ahead of their average bloom dates. Some crops that were at or near bloom by the freeze on April 2 were damaged. The late April freezes had wider impact on many tree fruit in bloom.
Apricot bloom began on April 1. Impacts from the spring freezes varied among sites. Harvest began the last week of June. Overall, the crop was average to below average, depending on site.
Early peach varieties showed pink on April 1. Bloom began on April 10. The April 21 and 22 freezes caused widespread damage, significantly reducing crop on some peach varieties while leaving others untouched in a few locations. As a result of the freezes, the peach crop was light to average across the region. Harvest of earliest varieties started the third week of June. Harvest of Redhaven peaches was very close to the predicted date of July 31 for central Berrien County. Sunny and warm conditions were great for size, color and flavor. Peach leaf curl was a significant problem on some farms in spring 2021. Bacterial spot and brown rot were generally minor problems. Fruit quality was generally good.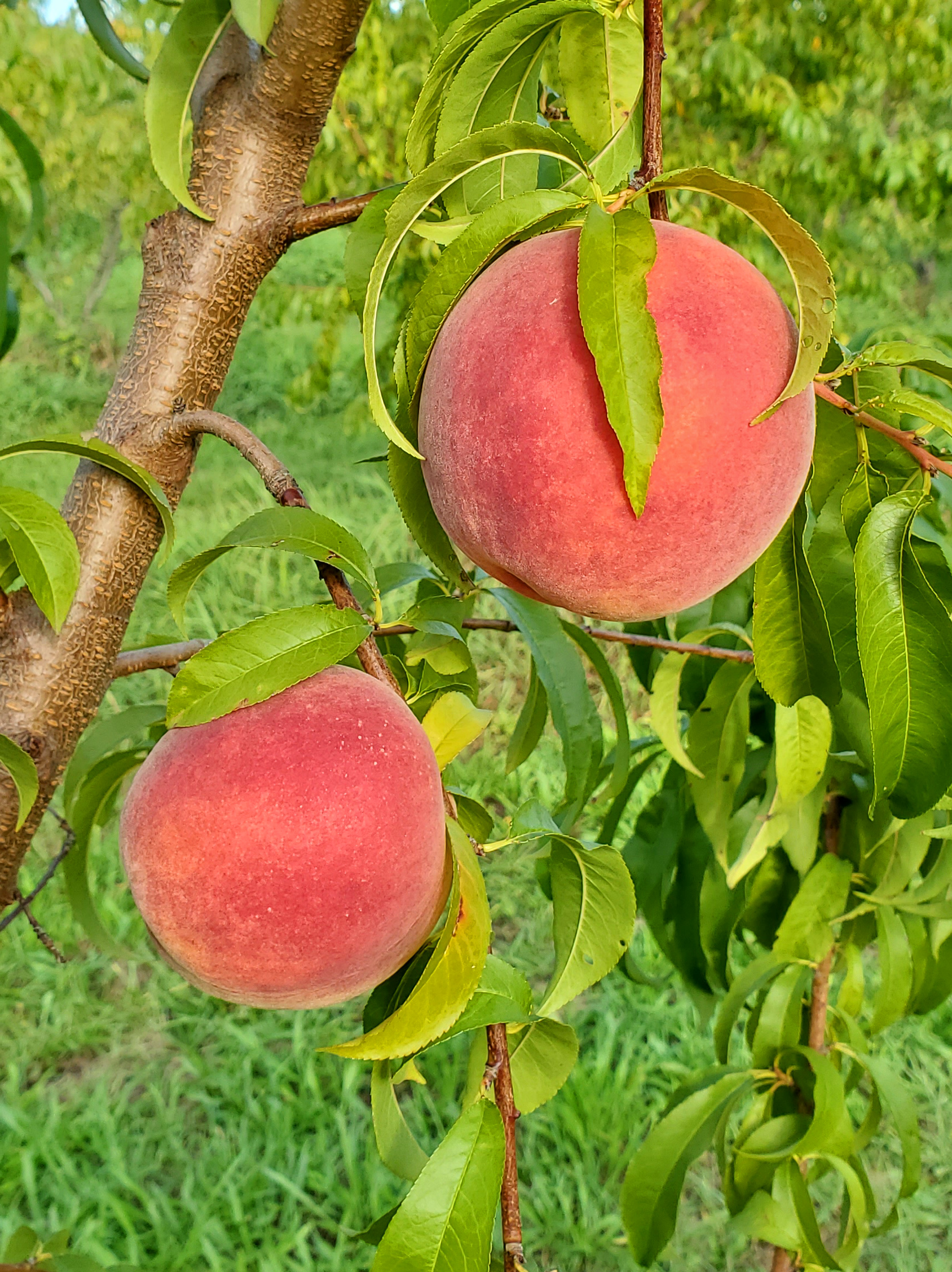 The April freezes caused moderate to severe damage to cherries. The damage varied significantly around the region with some sites losing most of their crop while leaving nearby orchards untouched. Sweet cherries bloomed during second week of April. Tart cherries started bloom on April 20. Sweet and tart cherry crops were variable, with some sites close to a full crop. Even with low crops, many growers still picked due to high local demand or high prices from processors. Sweet cherry harvest started the second week of June. Tart harvest started July 1.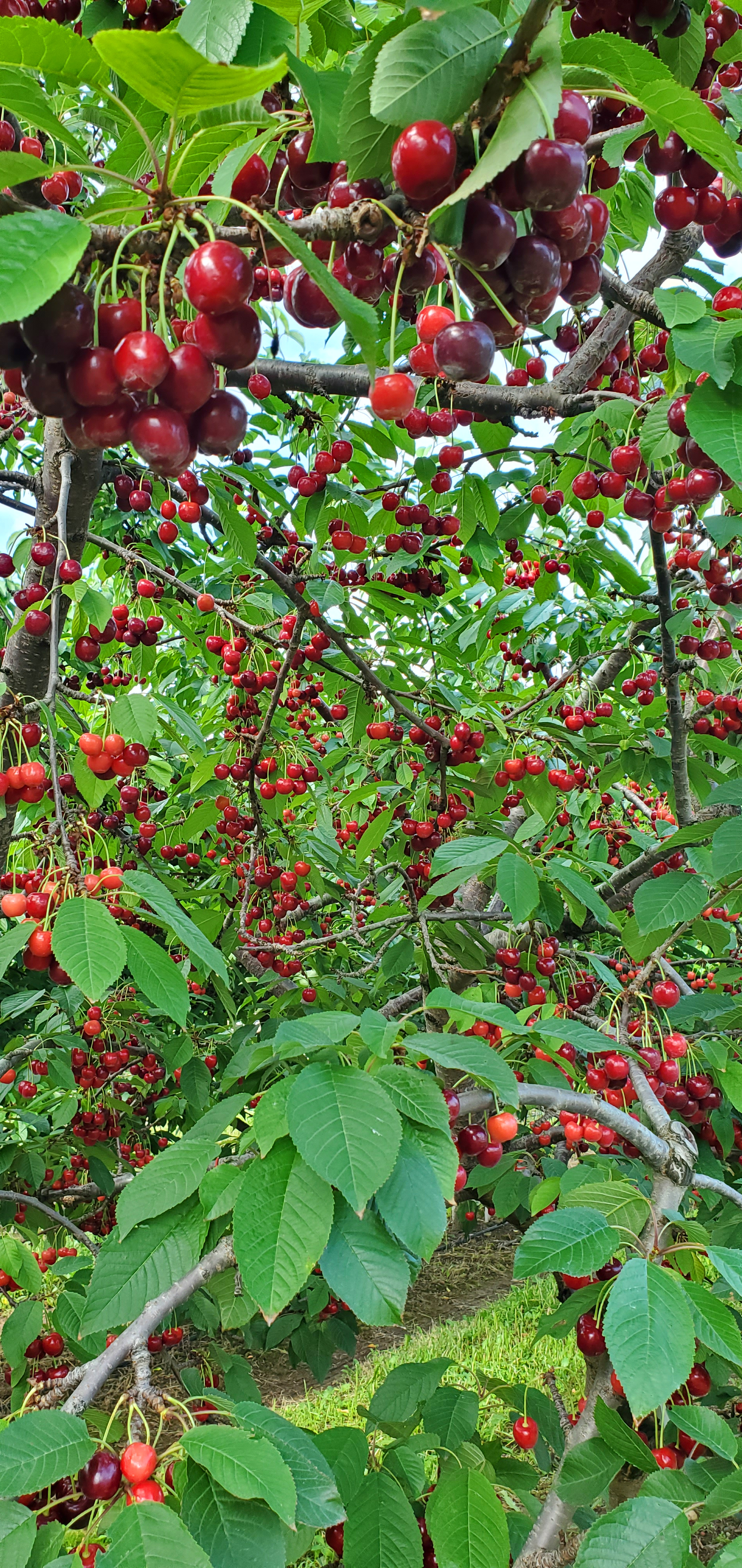 Japanese plums bloomed during the first week of April. European plums started blooming the second week of April. Harvest started second week of July. Japanese plums were more affected than European plum by the spring freezes. Overall, plums had light to average crops, depending on variety.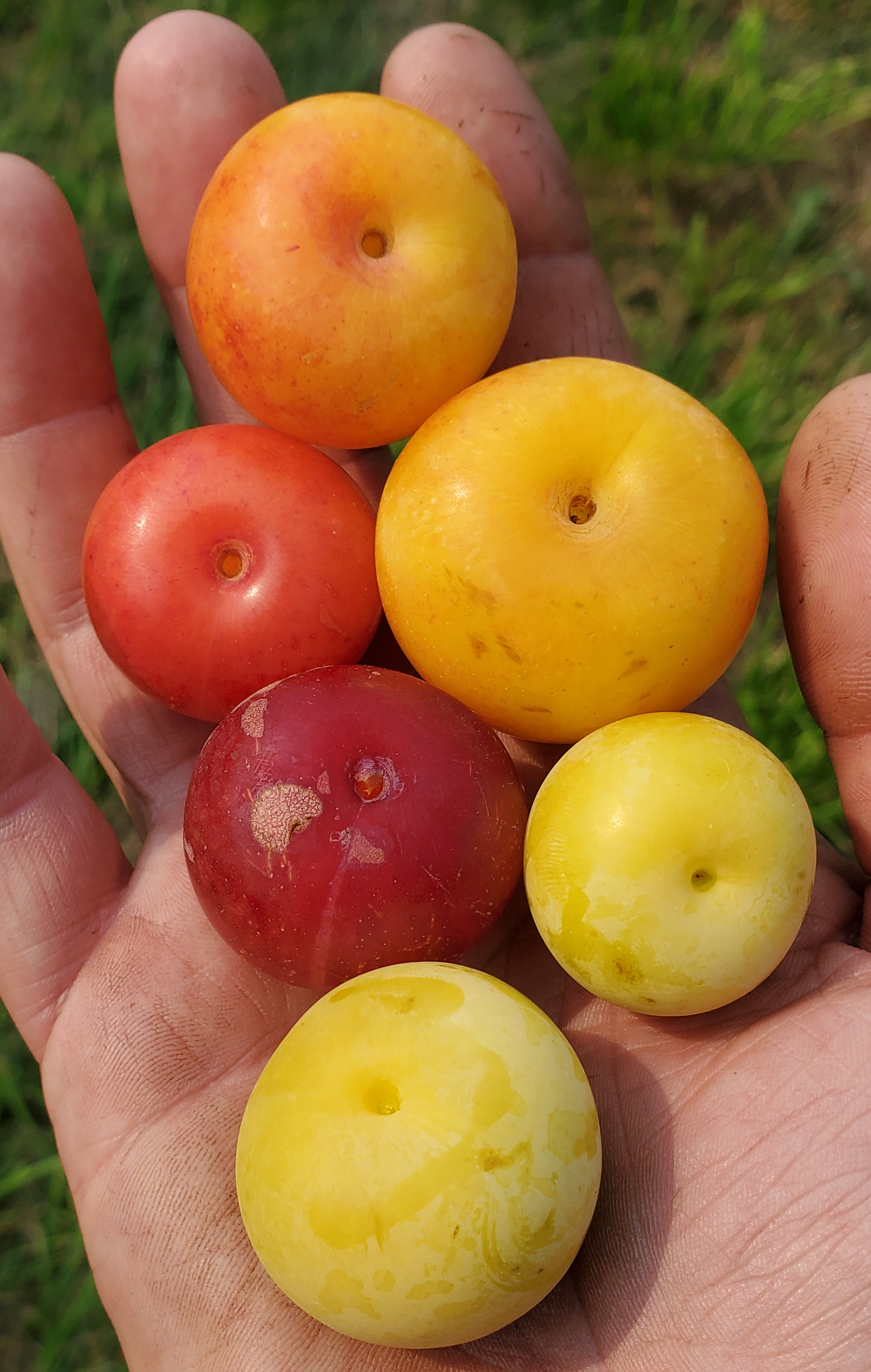 Apples were less affected than stone fruit by the spring freezes. Some damage from the first freeze was reported in susceptible sites. The impact of the second April freeze was more widespread. Early varieties began blooming around April 27. Michigan State University's Enviroweather predicted several fire blight infection events the last week of May near the end of bloom, but growers did a good job maintaining protection. Very few fire blight symptoms were seen in the area.
The hot, sunny weather in June and July caused noticeable sunscald and lenticel damage to susceptible, generally lighter-skinned varieties, resulting sometimes in shorter storage life. Predicted peak harvest dates were two to three days ahead of normal for most varieties. Due to the summer weather conditions, many varieties were a few days ahead of their predicted dates.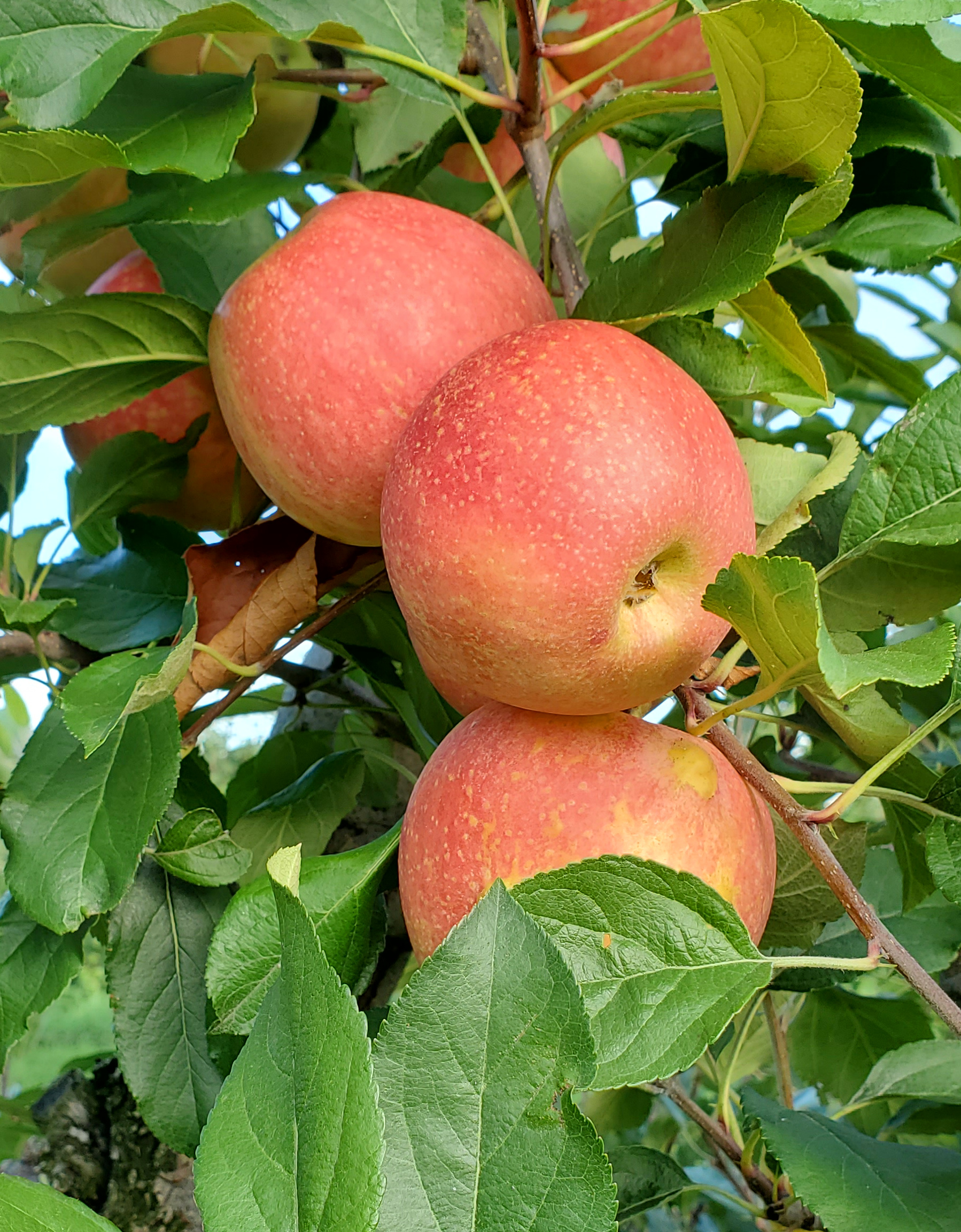 Early pear varieties were blooming by the third week of April. As with apples, the April freezes were variety- and site-specific. Fire blight warnings were issued by Enviroweather, but growers maintained coverage. Harvest of the early varieties started around the third week of August, as predicted. Overall, pear harvest was average.
Small fruit
The April 2 freeze had little impact on berries and grapes. The April 21-22 and early May freezes caused damage to grapes, blueberries and strawberries. Spotted wing drosophila (SWD) were first caught around July 1. SWD numbers were relatively low at most sites all year.
Grape bud swell began for Concord and Niagara juice grapes around April 10. The April 21-22 and May freezes caused damage to Concord and Niagara in frost prone sites, especially sites inland. Little to no damage was recorded on other grape varieties. Bud swell for vinifera grapes was first seen on April 20.
Wild grape bloom was between around May 25-28 in much of southwest Michigan. Wild grape bloom is used as biofix for grape berry moth egglaying and treatment. Trap catches of grape berry moth were unusually low for all four moth generations. Increased damage, however, was seen later in the season that was likely late third generation or fourth generation grape berry moth.
Marquette, Frontenac and Niagara were the first varieties to bloom the last week of May. Veraison of Marquette started the first week of August. Concord veraison started three weeks later. Marquette, Frontenac and Foch harvest started the last week of August. Niagara harvest was early and occurred Sept. 20-25. Concord harvest was late, occurring Sept. 30-Oct. 14.
The hot, humid weather in September and October caused significant late losses. Most was caused by vinegar flies and rapid disease development due to the ideal conditions. Crop volumes were average for wine grapes, below average for a lot of juice grape production.
The later spring freezes caused isolated damage to blueberries in cold locations and early blooming varieties. Bloom started May 1 for early varieties. Harvest started last week of June. Fruit size was good for first pickings of most varieties, but later pickings varied dramatically. The hot, dry weather of June and July resulting in small berries in non-irrigated sites.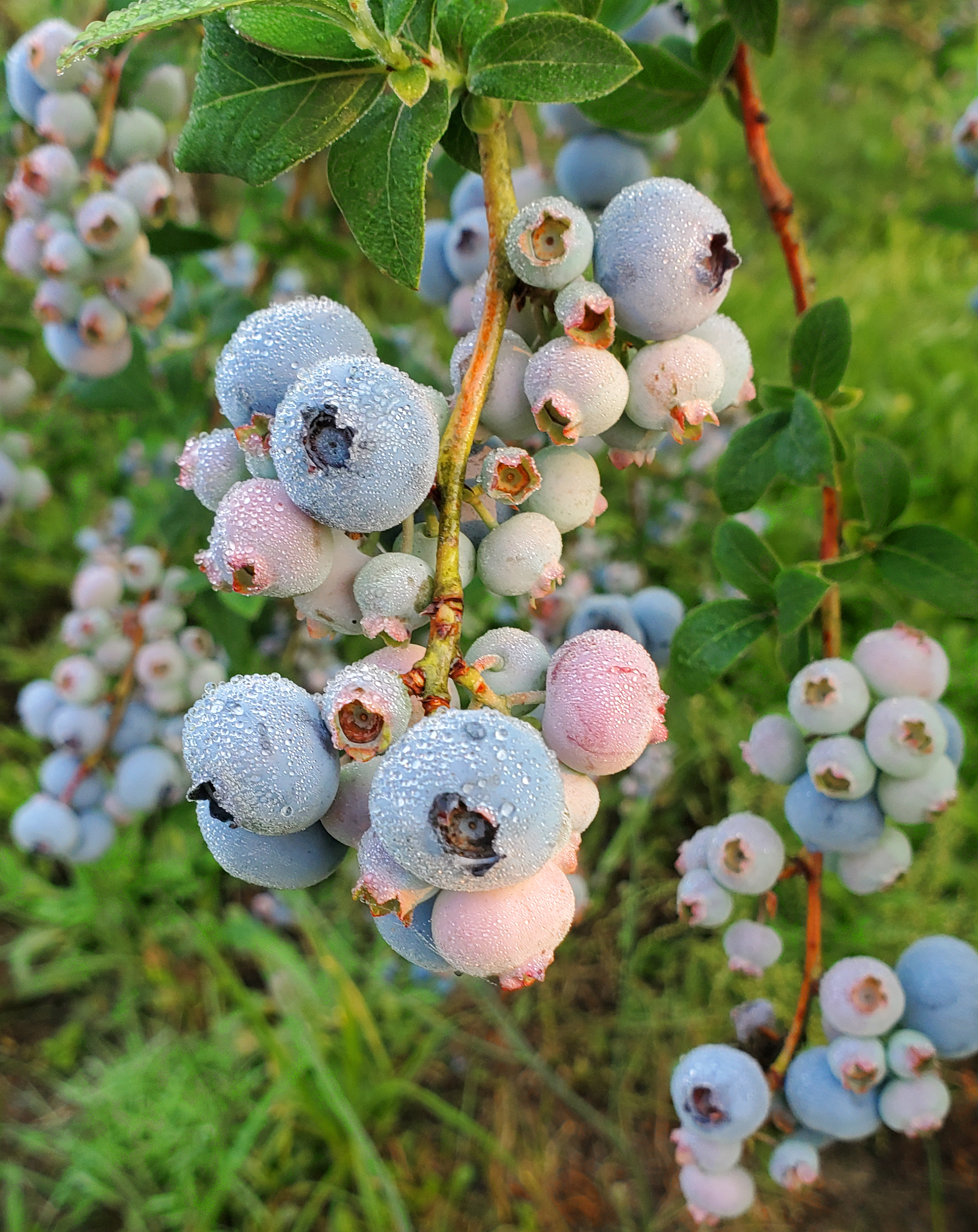 Strawberry buds emerged from crown the third week of March. Bloom began around May 1. Many growers used sprinklers to protect their fields from the May freezes. Some growers had to run frost protection every night for two or more weeks. Disease management was difficult under those conditions. Significant losses occurred at some locations. Strawberry harvest started June 1. Berry size and quality were generally good, but harvest was short due to the hot, dry June.
In brambles, raspberries and blackberries were unaffected by the spring freezes. Bloom began the third week of May. Harvest of summer bearing raspberries started in the third week of June. Overall, crop quality and volumes were average to above average in most areas.