Southwest Michigan fruit update – August 22, 2023
A heat advisory is in effect for parts of this week, but cool weather returns by the weekend.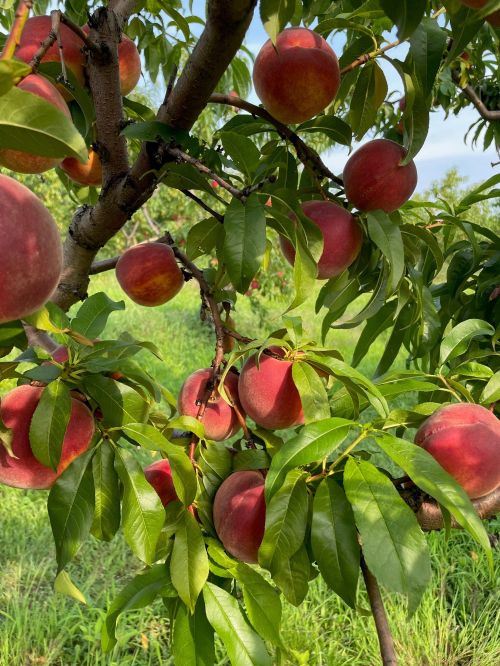 Weather
The last two weeks have been cooler than average. High temperatures rarely climbed out of the 70s. Last week on Monday and Tuesday, Aug. 14 and 15, we had the most significant rains of August. Over those two days, the region saw close to 2 inches of rain. Northern and western weather stations recorded the most precipitation.
Over the past week, we collected 176 growing degree days (GDD) base 42 and 119 GDD base 50, respectively. We are now a few days behind our long-term average.
Southwest Michigan GDD summary from March 1 – Aug. 21, 2023

Station

GDD 42 F

GDD 45 F

GDD 50 F

Benton Harbor (SWMREC)

3077

2675

2057

Lawton (Lawton)

3070

2668

2049

Fennville (TNRC)

2864

2473

1876

Average for the SW region

3006

2607

1998

Average last week

2830

2453

1879
Much of the region is under a heat advisory this week. A heat dome is centered around the center of the country. Southwest Michigan is on the northeast part of this dome. Wednesday and Thursday, Aug. 23 and 24, will potentially be the hottest days of the year so far. Locations near the Indiana-Michigan border and inland are expected to see high temperatures in the mid-90s. Near the lake, temperatures may be up to 10 degrees cooler.
Friday, Aug. 25, will be a transition day back to cooler than average temperatures. Expect highs back in the 70s by the weekend. No rain is in the forecast.
Tree fruit
The Trevor Nichols Research Center trap lines are showing decreasing catches of oriental fruit moth, apple maggot and San Jose scale males. Brown marmorated stink bug juveniles are becoming much easier to find in area orchards. Japanese beetle numbers seem to be on the decline.
Apple varieties Zestar and early season strain Premier Honeycrisp are being harvested in area orchards. Red blush color development is very good on these and Gala. Predicted apple harvest dates for 2023 are available online. Leaf bronzing due to both European red mite and heat-related phytotoxicity are being noticed in some area orchards. Green apple aphid colonies on leaves are a problem in some varieties. Other insects of concern are Japanese beetles, oriental fruit moth, codling moth, San Jose scale, woolly apple aphid, apple maggot and the summer generation of brown marmorated stink bugs. Diseases of concern continue to be sooty blotch and flyspeck, and the summer rots—bitter rot, black rot and white rot.
Peach harvest continues with Glowingstar, Contender, Coralstar and others in this group about 18 days after the Red Haven group. Certain varieties have distorted fruit, including button fruit and less than full yields—these problems trace back to frost damage that occurred to some early blooming varieties in late April. Red blush and sugar content development has been good in recent days. Brown rot control has been more difficult in orchards where insect damage to fruit has occurred.
Cherry defoliation due to cherry leaf spot continues in some area tart cherry orchards. Chlorothalonil and Captan are the primary fungicides used for post-harvest cherry leaf spot control. The label does not allow more than 14.0 pounds Captan active ingredient per acre per season (from pre-bloom to post-harvest).
Plum harvest of Castleton European plum is underway with Stanley harvest to start in a week to 10 days. Recent rains caused split fruit on some varieties such as Alderman. Brown rot and codling moth continue to be the major management concerns. Spotted wing Drosophila can be a problem in soft plums.
Small fruit
Grapes are in the middle of or have completed veraison, depending on cultivar. Leaf pulling, shoot thinning and hedging should be complete. Early varieties show sugar levels of 15-20 brix. Acidity levels are around a pH of 2.9-3.2. Due to the good weather over the next week, wineries that are harvesting early are looking to push into next week before they start.
Several people have been reporting damage to grape clusters over the last few weeks. A series of rain/sun events occurred over the last couple weeks of July and early August, resulting in wet berries experiencing high sun load. This resulted in significant sun damage. In most cases, the berries look sunken or shriveled and eventually completely dehydrate and harden. Symptoms can be confused with black rot infection or pesticide injury, but close inspection shows the damage to be mainly on the tops of exposed clusters, especially in leaf-pulled blocks.
Biofix for grape berry moth flight (50% wild grape bloom) was approximately May 25 in Berrien County. The MSU degree day model for grape berry moth predicts peak egglaying for the third generation 1620 GDD after biofix for the third generation, which was approximately Aug. 7 for Berrien County. This generation emerges over a long period of time and can cause considerable damage. Treatments over the next week or two that target the second half of this generation are recommended. Avoid spraying over the next couple days to avoid the heat. Coverage and pesticide longevity are compromised under high temperature conditions.
Foliar downy mildew and powdery mildew infections are still possible. Botrytis and sour rot infections are now being seen on early ripening varieties. Maintain fungicide and insecticide programs to protect against the pathogen and flies responsible for spread of sour rot.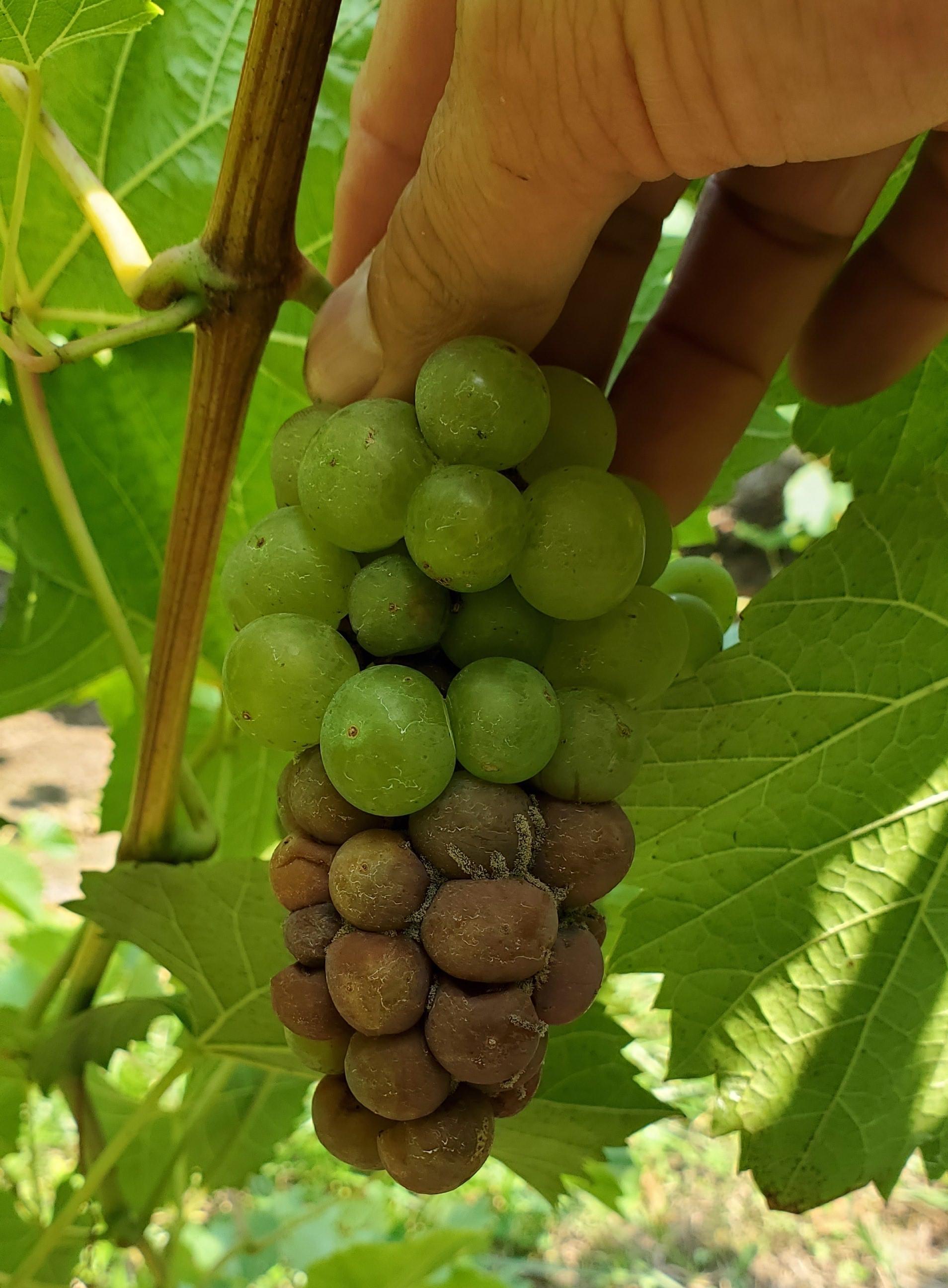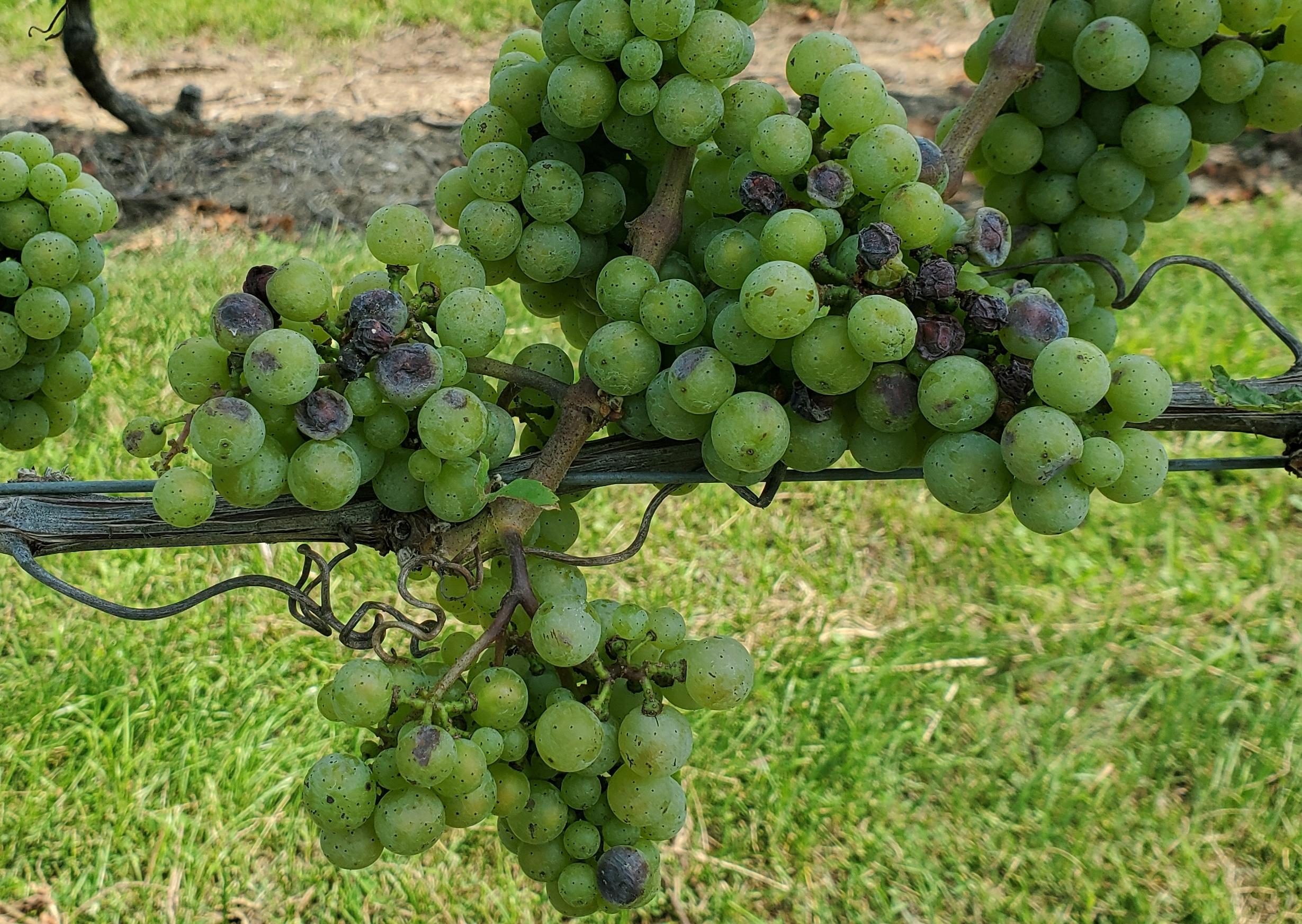 Blueberry harvest is still in full swing. Earlier varieties are complete. At this time, the focus is on harvest of late varieties. Disease control focuses on protecting fruit from anthracnose and alternaria. Protecting green fruit is easier than stopping infections on blue ripening fruit.
Spotted wing Drosophila numbers are still high. Growers should trap for spotted wing Drosophila in fields that are being harvested or soon-to-be.
Brambles: Blackberry harvest continues. Bloom is underway or finishing on the primocanes in fall bearing varieties.
Hops are in the middle of harvest. The rains over the last month have been especially troubling for hops. Halo blight and other pathogens have caused significant damage to cone quality as growers were approaching harvest.
Announcements
If you'd like more blueberry information in your inbox, sign up for Blueberry Bites! New this year, Blueberry Bites is a blueberry-focused, bite-sized, weekly update from the blueberry team at MSU. Sign up for Blueberry Bites.
On Wednesday, Sept. 6, 2023, the Michigan State University Extension blueberry team will host their second annual Blueberry Field Day at the Trevor Nichol's Research Center in Fennville, Michigan, from 10:30 a.m. to 3 p.m. The event is free for attendees and includes lunch and light refreshments. This event will be packed with hands-on educational content focused on commercial blueberry producers. Presentations by experts from the Michigan State University campus and around the state will join us to share their knowledge and what they have been working on for the past few seasons. Sign up for the Blueberry Field Day. Four RUP credits will be offered.
This work is supported by the Crop Protection and Pest Management Program [grant no 2021-70006-35450] from the USDA National Institute of Food and Agriculture. Any opinions, findings, conclusions, or recommendations expressed in this publication are those of the author(s) and do not necessarily reflect the view of the U.S. Department of Agriculture.