Southwest Michigan fruit update – September 5, 2023
Peaches and blueberries are winding down and grape growers are getting ready for harvesting.
Weather
On the whole, the last couple of weeks have been cool and dry. High temperatures mostly stayed in the mid-70s. Some locations have recorded a few overnight lows in the upper 40s indicating fall is right around the corner. The region did see a couple hot spells, notably on Aug. 23 and 24, then again over the last couple of days finishing on Sept. 5.
Rain has been scarce. Small amounts have been recorded at some locations on Aug. 25 and four days later on Aug. 29. Total rainfall amounts for the last two weeks are between a tenth and a half inch. This is below normal.
Over the past week, we collected 175 growing degree days (GDD) base 42 and 150 GDD base 50, respectively. We are now a full week behind our long-term average.
Southwest Michigan GDD summary from March 1 – Sept. 4, 2023

Station

GDD 42 F

GDD 45 F

GDD 50 F

Benton Harbor (SWMREC)

3474

3030

2342

Lawton (Lawton)

3334

2900

2243

Fennville (TNRC)

3237

2804

2138

Average for the SW region

3387

2947

2269

Average last week

3212

2793

2149
Small amounts of rain are expected in the next couple of days as we transition back to cooler temperatures. By Thursday, expect highs to be back in the 70s, maybe even struggling to climb out of the 60s as the cold front passes through. Predictions are for a quarter to half inch of rain the next couple of days.
The monthly outlook is for above average temperatures and below average precipitation for the month of September. A high-pressure ridge similar to what the region has experienced the last few days is expected in the second half of the month. This will bring warm, dry weather.
Tree fruit
The Trevor Nichols Research Center trapline continue to show relatively low catches of oriental fruit moth, apple maggot, codling moth and San Jose scale males. A range of growth stages and sizes of brown marmorated stink bug from juveniles to adults are roaming area fruit plantings. There have been numerous reports of suspected spotted lantern flies, but none have proven to be correct so far this season. Collect a specimen, if possible, and contact your local Extension office if a suspicious insect is spotted.
Apple ripening of mid-season Gala varieties is proceeding rapidly. Detailed apple maturity reports are available online. In general, apples are predicted to mature a few days earlier than last year and up to a week earlier than the long term average. Empire and Jonathan are being harvested for taffy apples and Macs for sauce. Insects of concern on apples are mainly oriental fruit moth and codling moth, plus apple maggot and the summer generation of brown marmorated stink bugs. Diseases of concern continue to be sooty blotch and flyspeck, and the summer rots—bitter rot, black rot and white rot.
Peach harvest has been winding down with the post-Cresthaven group of varieties such as Summerfest, Selena, Flame Prince, PF27 and early skim picks of Autumn Star. Color and sugar content continues to be good. The skin of some fruit are marked with remnants of earlier rusty spot infections. These do not greatly affect the taste but can provide an avenue for rot organisms. Growers need to be aware that some firm late season peach varieties can be picked and/or stored too late such that the interior flesh can become poor quality.
Pear harvest of Bartlett is generally done except for local market sales. The Harrow Sweet variety will be ready for harvest this week in some sites. At the Southwest Michigan Research and Extension Center on Sept.1, this variety tested an average of 17.5 pounds firmness using a 8 millimeter diameter tip on flesh with a thin layer of skin removed. A reading of 8 to 9 pounds indicates they will be ripe in three to five days. A pear is fully ripe and ready to early it tests approximately to 3 to 4 pounds firmness. Yellowjacket wasps and bees are being attracted to overmature fruit and to honeydew on leaves from pear psylla infestations.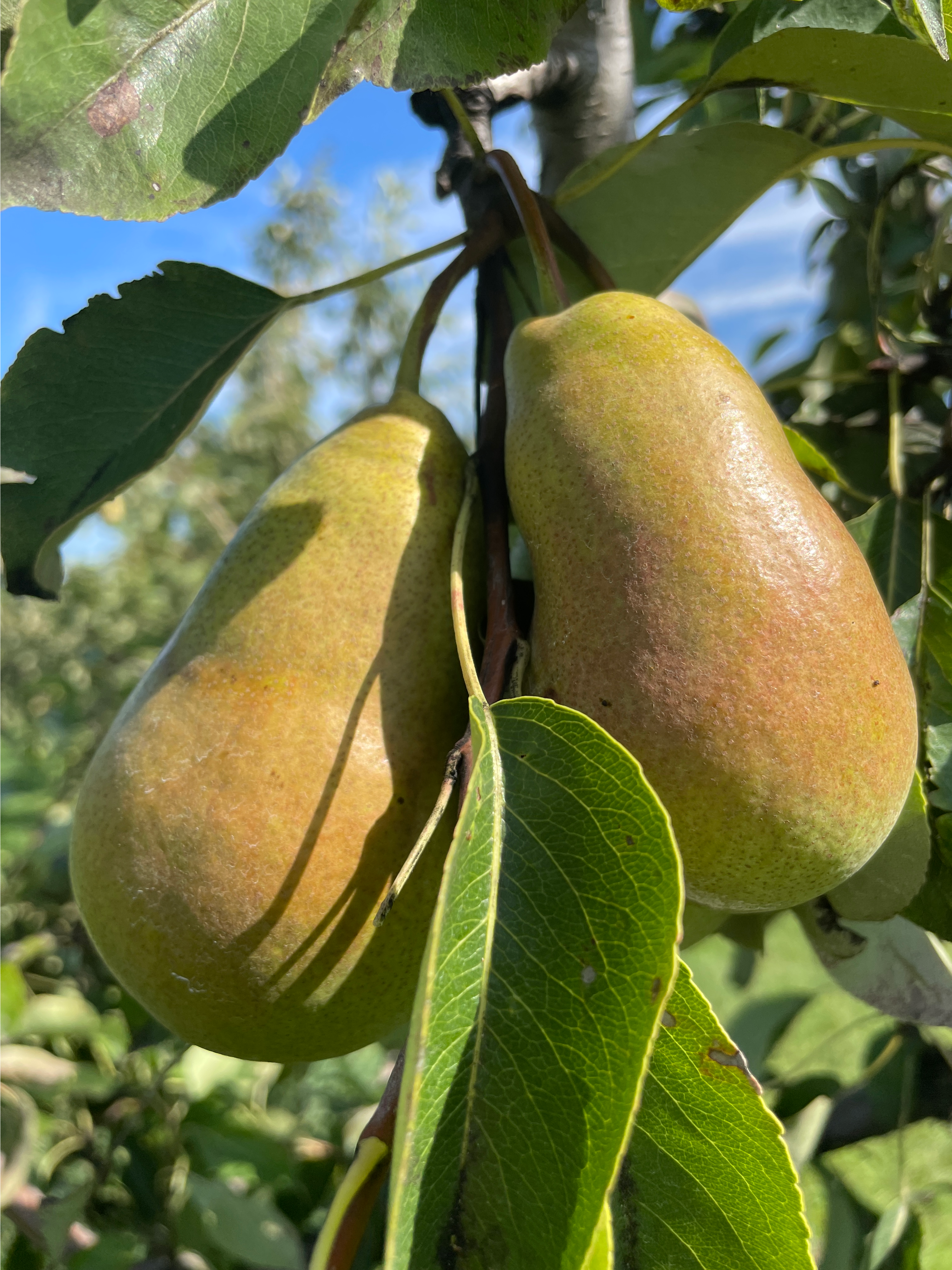 Plum harvest of Stanley, Valor, NY9 and Longjohn plums are underway or finished in area farms. Crop loads of Stanley are generally down this year.
Small fruit
Grape harvest is underway. We are beginning the second week of harvest for some early varieties and wineries. Hybrids and other varieties being used for sparkling and rose wines are the focus now. Mainstream varieties such as Sauvignon Blanc, Pinot Gris and Chardonnay will begin to be picked starting later this week or next week. National Grape Cooperative is expecting Concord harvest to begin Sept. 25 with Niagara harvest after. No split Niagara harvest is expected this year.
Powdery mildew has been showing up more consistently the past few weeks. Downy mildew is still not common this year despite the warm and wet weather the month of July and early part of August. Sour rot is becoming more common as more grapes pass through the 14 brix threshold where they become more attractive to flies and conducive to disease development as sugar accumulates.
Biofix for grape berry moth flight (50% wild grape bloom) was approximately May 25 in Berrien County. The MSU degree day model for grape berry moth predicts the start of fourth generation to begin around the middle of next week for much of the region. Michigan State University Extension is not predicting a heavy fourth generation of grape berry moth this year. If the third generation development timing is late enough in the summer, many of the developing larvae will use the shortening day length as a trigger to go into overwintering mode instead of developing into an adult this season. In past years when the trigger for fourth generation has been this late in the year, the later portions of the third generation have gone straight into overwintering mode. Regular scouting and maintenance is still recommended for locations with large populations and areas that were early on insect development.
Blueberry harvest is finished in most places up through Van Buren County.
Brambles: Blackberry harvest continues. Bloom is finishing on the primocanes in fall bearing varieties.
Announcements
If you'd like more blueberry information in your inbox, sign up for Blueberry Bites! New this year, Blueberry Bites is a blueberry-focused, bite-sized, weekly update from the blueberry team at MSU. Sign up for Blueberry Bites.
This work is supported by the Crop Protection and Pest Management Program [grant no 2021-70006-35450] from the USDA National Institute of Food and Agriculture. Any opinions, findings, conclusions, or recommendations expressed in this publication are those of the author(s) and do not necessarily reflect the view of the U.S. Department of Agriculture.