Southwest Michigan field crop regional report – May 15, 2014
Recent heavy precipitation and severe weather missed Southwest Michigan. Plan to attend our next St. Joseph County IPM Breakfast meeting May 27.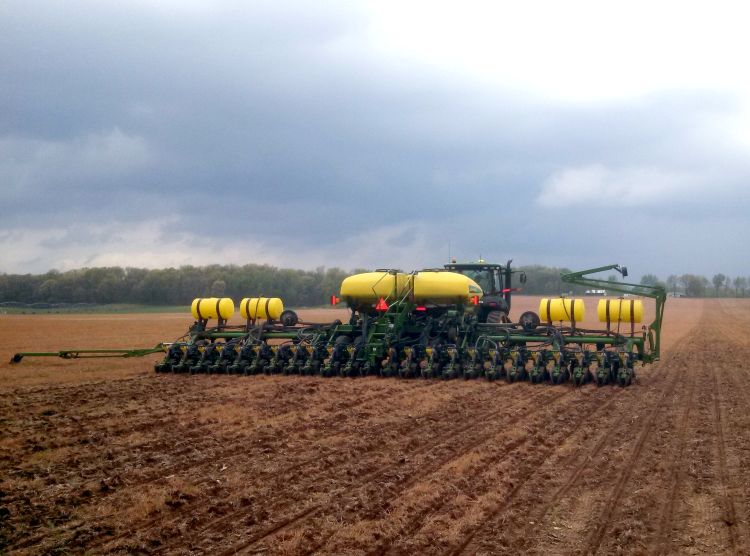 Weather
Thunderstorms rolled across portions of Southwest Michigan on May 12-13. Most of the heaviest precipitation and severe weather missed the southwest corner of the state, but pounded many regions that have already been wet for the last several weeks. We should count our blessings as significant planting delays have occurred in a wide swath of Michigan farmland, including Gratiot County and much of Michigan's Thumb region. Additional rainfall over the last several days will add to the planting woes in those regions.
Growing degree days (GDD)
GDD heat accumulation has been moving ahead rapidly with the return to warm weather. Michigan State University Enviro-weather stations around the area show that we have received around 120 GDDs base 50 since May 1. We normally accumulate 9.6 GDDs base 50 per day over the next five days, May 15-20, and 11.8 GDDS base 50 per day during May 20-25.
Rainfall
As of Tuesday morning, May 13, rainfall totals over the last two weeks were 0.75 inches in Constantine, Michigan; 0.54 inches in Mendon, Michigan; and 0.64 inches in Coldwater, Michigan. More recent rainfall totals added an additional 1-1.5 inches of precipitation.
Crop reports
Commercial corn planted 10 days to two weeks ago is at spike. Some corn that was planted three weeks ago has yet to emerge, potentially due to imbibitional chilling effect on seedlings. The group estimate is that around 50 percent of the commercial corn acres are planted right now in St. Joseph County and surrounding counties. Windy conditions have impeded spraying operations. For fields that did not receive burndown applications of herbicides, giant ragweed and several other annual species have emerged with the warmer weather. Watch for Asiatic garden beetle white grub activity and be prepared to put down soil insecticides if grubs are being flipped to the surface during tillage.
We have had a good solid week of excellent seed corn planting conditions. Some blocks of production may be as much as one-third planted at this time. Be prepared to monitor fields that have cereal cover crops for armyworm in the future. Also, be aware that elevated cutworm moth catch has been reported in Indiana. With the strong push of southern air in these thunderstorms, be prepared to scout fields that had high levels of winter annual weeds by Mother's Day weekend.
The other pest that may impact seed corn fields is corn flea beetles. Normally we would expect the low winter temperatures would have greatly reduced their numbers. However, with the consistent snow cover across the region, there was a thick blanket of insulation that could have helped protect the insects from the cold temperature over most of the winter. When seed corn emerges, keep an eye out for these pests to reduce the potential impact from Stewart's wilt.
Soybeans are between 20 and 30 percent planted in the area. Lots of acres went in over the weekend. Some early planted soybeans are emerging. Most early soybeans were planted on extremely light soils.
Potatoes may be as much as 80 percent complete in planting. About 35 percent of the planted acreage has emerged. Planting has been intentionally slowed to match processing plant capacity in some cases.
Wheat is green and growing rapidly. Advanced wheat is at Feekes stage 6. This is the cutoff window for 2,4-D and Banvel. Review herbicide options for wheat in the Michigan State University Extension bulletin E-434, "2014 Weed Control Guide for Field and Forage Crops." See Figure 1 on page 105 for more information.
Irrigation has been run in some fields where it has been dry. A field we examined this morning, May 15, near Decatur, Michigan, had dry soil just below the root zone of the wheat despite the recent rainfall. Growers that are raising irrigated wheat should begin to monitor soil moisture levels as the rapidly developing crop's evapotranspiration levels begin to increase.
Some winter damage to alfalfa has been showing. Alfalfa has been growing rapidly. GDD base 41 is at 447 on average across the region. Remember, high quality dairy hay first cut is normally scheduled at 750 GDDs. Some fields have been treated for alfalfa weevil already. Growers should check their fields for tip feeding from small alfalfa weevil larvae.
Two cucumber companies are scheduled to begin planting at the end of the week, weather permitting.
Tomatoes are just getting underway. A few fields have been transplanted to date.
Palmer amaranth watch: Be on the lookout for young Palmer amaranth weed seedlings in your fields. A small protruding spike at the leaf tip of Palmer amaranth seedlings is often one of the most distinguishing characteristics that can be used in identifying this species. Be prepared to control this species early, before the weed reaches 3 inches in height. For more specific recommendations from MSU weed control specialist Christy Sprague, see "Multiple herbicide-resistant Palmer amaranth in Michigan: Keys to management in soybean, corn and alfalfa."
Climatology report
The period from November 2013 to March 2014 was the coldest five months in over 100 years in Michigan. A number of records were set for extreme cold temperatures, heavy snowfall and the duration of snow cover. Impacts from the cold winter vary and range from cold injury to some overwintering annual and perennial crops to normal to above normal soil moisture levels at the beginning of the growing season.
The latest short range forecast guidance suggests variable temperatures and at least normal precipitation totals, which will complicate spring field work activity across the region. In the short-term, look for a cooler, unsettled pattern that will slow germination and early season growth rates. Medium range guidance, however, is calling for the establishment of an upper air ridge across the Midwest, which could lead to above-normal temperatures in the one to two week forecast time frame. Long-term outlooks for the Midwest continue to call for cooler than normal mean temperatures with no forecast direction on precipitation totals.
The official NOAA long-lead outlook for the upcoming summer months also calls for no direction for either mean temperatures or precipitation totals. Historical observations, however, suggest that mean temperatures during the next few months may continue to average out cooler than normal. Of the five winters in the past in which the Great Lakes were 80 percent or more ice-covered, all following summers were cooler than normal. Similarly, of the 11 years since 1895 in which all five months, November through March, were colder than normal, nine of the subsequent summers were also cooler than normal.
Further ahead, the forecast guidance suggests the future development of an El Nino event in the equatorial Pacific. Should this occur, it would increase the odds of a milder and drier winter in Michigan next year.
MSU Enviro-weather report
The MSU Enviro-weather network consists of 79 automated weather stations located throughout Michigan and the Door Peninsula of Wisconsin. Weather stations continually collect weather information and transmit it to a server on the MSU campus, where the weather data is checked for accuracy, organized and archived. Users throughout Michigan can access Enviro-weather data through its website: www.enviroweather.msu.edu.
The website provides access to everything from current weather observations via the home page, to weather tables and summaries via its station page. To view current weather conditions, simply use the mouth pointer to move to each station (yellow dot on the home page) and a window will pop up with the latest weather observations for that station. Weather tables and summaries as well as GDD summaries are viewable by selecting a station (double click on the appropriate yellow dot), and you will be taken to the station page. From here, there are a number of summaries you can choose from including hourly overnight temperatures, daily soil temperatures and soil moisture levels, and regional GDD accumulations and forecasts for corn (86-50 method) and alfalfa (base 42).
At the bottom of the station page under "Water-use tools" there is a potential evapotranspiration summary that shows daily temperatures, reference potential evapotranspiration, cumulative evapotranspiration, and rainfall for that station. An additional evapotranspiration estimation tool can be accessed by clicking on "field crops" from the light green bar at the top of the screen, then selecting either "corn" or "soybeans" from the list on the left. Under "Crop development," select "Crop ET estimates" and you will be able to view a table that displays temperature, GDDs, precipitation, reference potential evapotranspiration, crop coefficient and potential evapotranspiration, based on the growth stage of the crop.
Additional Enviro-weather tools for field crops include models that predict the presence of alfalfa weevil and seed-corn maggot and predicted for cutting date for alfalfa.
If you have suggestions for how to make the existing tools easier or more useful, or if you have ideas for other online tools, please feel free to contact Beth Bishop, Enviro-weather coordinator, at 517 432-6520 or eweather@msu.edu.
Special thanks to the St. Joseph County IPM Breakfast Group and Kent Feldman of Co-Alliance for excellent discussion and significant contributions to this program.
Upcoming programs
The next St. Joseph County IPM Breakfast is scheduled for Tuesday, May 27 at the Royal Cafe Restaurant in Centreville, Michigan, from 7-8:30 a.m. There is no registration fee; breakfast is on your own. Royal Cafe Restaurant is located at 701 E. Main Street, Centreville, MI 49091.
Other Michigan State University Extension field crop regional reports from this week: