IAT introduces new approach for program coordination at Muskegon Community College
Muskegon Community College models different IAT roles for their campus program coordinators to reach students in new ways.
During the fall 2018 semester, Muskegon Community College (MCC) launched a different approach to its Institute of Agricultural Technology (IAT) program coordination.
Lee Andrews and Clarence Rudat both stepped into supporting IAT positions sharing the responsibilities of the program coordinator position that usually is one person with the other IAT partner community colleges.
Advising and recruitment
Andrews has been serving in more of an advisor role assisting students with their IAT courses and schedules, as well as helping recruit future students to the IAT program at Muskegon Community College.
He is able to be in the office most of the time taking care of the day-to-day responsibilities and is available to students whenever they have any questions. He also has been scheduling monthly update meetings with all of the students to make sure they are on track with their courses and any other concerns.
"I have the ability to know how they are doing in their classes, concerns they have, assist with financial aid and scheduling of classes so they are taking what they need when it is offered," Andrews said regarding those meetings. "I am very confident this will help with recruiting and the growth of our program." Andrews is less familiar with the IAT program than Rudat. He expects his responsibilities will grow based on his familiarity with the IAT partnership and the different certificate programs offered at MCC.
Workforce development
As Andrews guides students academically, Rudat helps them build relationships with the local agriculture industry to set up for the internships that are part of the IAT curriculum. He also looks for different scholarship and tuition reimbursements programs for the students.
With the addition of Andrews as an advisor, Rudat has more time to focus on these endeavors.
"I look forward to reaching out to more students, counselors and career advisers to incorporate awareness of the foods, agriculture and natural resources," said Rudat. "That foundation is important for recruiting students into an industry that has a significant shortage for the skilled talent that IAT develops."
Some of the companies that Clarence works with to create this opportunities include Revolution Farms, Windmill Island Gardens, Wilber Ellis, Double L Landscaping, Hortech, LiveWall, LiveRoof, US Forest Service. They even currently have some out of state internships set up with Woodmont Country Club and Greystone Cattle Company.
About IAT programs at MCC
MCC offers IAT certificate programs in Agricultural Operations, Fruit and Vegetable Crop Management and Landscape Management. The diversity of these programs, the location near West Michigan industry groups and its advising/industry coordinator roles creates a unique experience for IAT students attending MCC.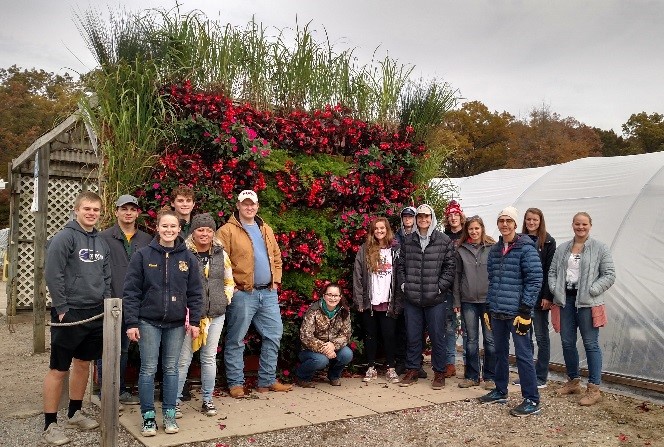 The campus works with Hortech quite often for internships and other opportunities. Hortech is an innovative Midwestern wholesale nursery that was founded in 1983. They are unique in the fact that their plants are grown and evaluated in their own trial garden before being put on the market to be sold. In fall of 2018, some students took a tour there and were able to create their own green wall system with famous Spartan block S. Green wall systems incorporate plants, greenery or some type of growing medium in a vertical space, or a wall. A LiveWall is a product made by a division of Hortech. It's a type of green wall made by Hortech that is different from others because, plants are left to their natural orientation instead of being forced to grow in an unnatural position.
A division of Hortech called LiveRoof also installed a Green Roof at MCC which teaches students about different energy-saving initiatives and provides MCC's campus with a unique space. A Green Roof is similar to a living wall system but on a roof instead. Students are able to help sustain and preserve this space, using the skills that they are learning in class.
Muskegon and its surrounding areas offer diverse agricultural crops and landscaping opportunities including asparagus, apples, honey bees, Christmas trees and many others. These really help the program stand out in terms of the opportunities that they have to offer students.
The campus in cooperation with the Collegiate Farm Bureau and their Agriculture and Garden Club have a small apiary and 16 raised beds for vegetable and herb growing. These resources provide the students in the program hands-on experience and allow them to take the lead on a project of their own.
Students in the IAT program at MCC are also part of Project EverGreen which provides lawn and landscape services for military families with a deployed family member. Not only is this a great service project and helpful to the community but, it gives students in the landscape management program a chance to work and improve on the skills they are learning in class.