Southwest Michigan fruit regional report – April 1, 2014
After a cold winter, fruit crops in Southwest Michigan are off to a slow start.
Weather
The winter of 2013-2014 will be remembered for a long time as extremely cold with a lot of snow. Temperatures were below freezing for most of the winter and lows below zero were common. There were several distinct episodes of cold during the winter (see Michigan State University Extension's "Winter weather update for 2013-2014"). The coldest winter temperatures occurred in early January. Low temperatures to -12 were common in good fruit sites with good air drainage (Fig. 1). Colder temperatures near -20 were common in cold pockets (Fig. 2). Extremely cold temperatures in February and March were almost as cold as January and may have caused a little more injury, but most of the damage probably occurred early and later cold events only added a little to the total.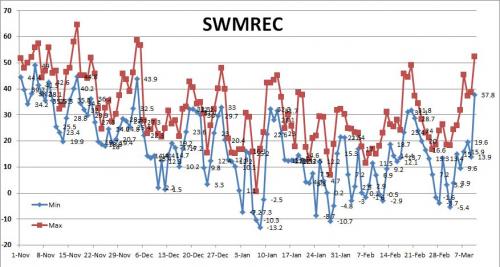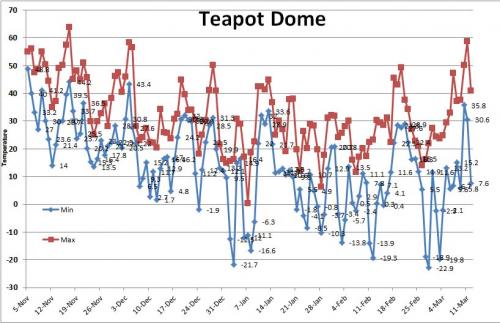 We expect different forms of winter injury to be widespread. Injury may be severe in some cases, especially in poorer fruit sites. We do not expect total crop failures from winter cold for any of the fruit crops grown in Southwest Michigan. Losses will be severe in a few areas, but not across the region. Now that most of the snow has melted, the assessment of winter damage is just beginning.
High temperatures during the winter were seldom above freezing until mid-March. Maple sap flow, which usually begins in mid- to late February, did not begin until the above-freezing temperatures began in mid-March. Comparing the growing degree days for the last five years at SWMREC shows that we are well behind normal and colder than any of the last 15 years.
| | | | |
| --- | --- | --- | --- |
| Year | Base 42 F | Base 45 F | Base 50 F |
| 2014 | 16 | 6 | 1 |
| 2013 | 48 | 29 | 10 |
| 2012 | 393 | 324 | 228 |
| 2011 | 51 | 31 | 14 |
| 2010 | 94 | 60 | 24 |
| 2009 | 138 | 97 | 48 |
| 2008 | 54 | 35 | 16 |
| 2007 | 195 | 148 | 92 |
| 2006 | 92 | 61 | 27 |
| 2005 | 63 | 46 | 26 |
| 2004 | 139 | 99 | 53 |
| 2003 | 125 | 91 | 50 |
| 2002 | 85 | 50 | 18 |
| 2001 | 31 | 15 | 3 |
| 2000 | 258 | 193 | 112 |
| Average | 119 | 86 | 48 |
Most fruit crops are just beginning to break dormancy. Warm temperatures of 60 on Monday, March 31, were the warmest temperatures since November. During the last two weeks, temperatures have risen slowly from lows well below freezing to lows around freezing and highs in the 40s. This has allowed a lot of the snow to melt, giving growers better access to their plantings.
This week will continue cool with temperatures below freezing at night which will hold back growth. Rainy weather is forecast for later in the week. The long-term outlook is for continued cooler than normal weather, so plant development will continue to be slow. There is a still lot of time to finish pruning before applying dormant treatments to protect crops from overwintering insects and diseases.
Tree fruit
Growth is just beginning. At this stage of development it would require extremely cold temperatures to damage the tree fruit buds (see "Freeze damage depends on tree fruit stage of development"). Some growers and especially homeowners have reported damage from rabbits, and some have reported mouse or vole injury. Given the long time that we had of about 2 feet of snow on the ground, more injury can be expected. Many growers have also reported deer damage on apple fruit buds. All this animal injury is scattered with many growers reporting no or little problems.
Given the extremely cold temperatures during the winter, we can expect winter injury on young trees and for the more cold tender fruits (see "How cold is too cold for Michigan fruit crops?"). This damage will be more severe in lower, colder sites and away from the moderating effects of Lake Michigan. Further north and closer to Lake Michigan, cold temperatures in February and March were more severe as Lake Michigan froze and the ice provided less protection than open water. It is really too early to estimate the total impact on the region, which will be easier to assess as we approach bud burst and many trees can be quickly surveyed rather than collecting and cutting individual buds.
Apricots show no movement at all. Apricots are considered extremely cold hardy in the winter, but a little damage to fruit buds has been reported.
Peaches are one of the most cold tender tree fruits and flower bud loss is expected when temperatures fall below -10. Most injury occurs between -13 and -16 F. Some growers report significant losses and others report they still have a good crop potential. Peach trees can lose many peach flowers and still have a good crop. Many growers feel they will not need to do a lot of bloom thinning.
In cherries, sweet cherries also show damage to the fruit bud with less damage in good cherry sites. Tart cherries mostly show some little damage in the colder sites; generally a single dead floret in the flower cluster bud with not all cluster affected. These levels of damage would be similar to a light frost during bloom or a wet, rainy day during pollination at bloom.
Damage is expected in Japanese plums. Japanese plums are less cold hardy than European plums, which should show less injury.
Apples show little movement. A little damage to flower buds was found near Teapot Dome in Van Buren County, the coldest site monitored in Southwest Michigan. Damage will be much easier to assess as the trees reach tight cluster.
Pears show no movement and should not be greatly impacted by the cold. A more accurate assessment can be made at bud burst when whole orchards rather than individual buds can be assessed.
Small fruit
Grapes show no movement. A very heavy crop in 2013 and a cool fall stressed many plantings. There is little damage in Concords with more damage in colder sites. Damage to Niagara is widespread and varies a lot between sites. Damage to wine grapes also varies a lot between varieties and different fruit sites. Many grapes have secondary shoots that vary in their fruitfulness and accurate crop assessments need to wait until we see how fruitful the secondaries are.
Blueberries show no movement. Initial bud assessments indicate light damage close to the lake and more damage away from the lake in cold sites. The damage takes two forms: withered shoots tips that dried from cold winds and subfreezing conditions, and dead flowers in the flower cluster bud. Generally, what we are seeing is one or two dead florets per bud, which is not really a significant loss.
Strawberries are greening up, but there is no hint of new leaves. Overwintering mulches should be removed and raked between the rows.
Brambles show no movement. Dormant pruning cutting back last year's primocanes should be completed soon. Fall bearing raspberries should be cut or mowed to the ground. Lime sulfur treatments for anthracnose can be applied.
Upcoming meetings
Our regular Monday fruit IPM meetings start on April 14 at Fruit Acres Farms, 3452 Friday Rd., Coloma, MI at 5 p.m. Michigan pesticide applicator recertification credits will be given for these meetings.