Southwest Michigan fruit regional report – May 6, 2014
Sweet cherry bloom has begun. Warm weather should bring a growth spurt this week.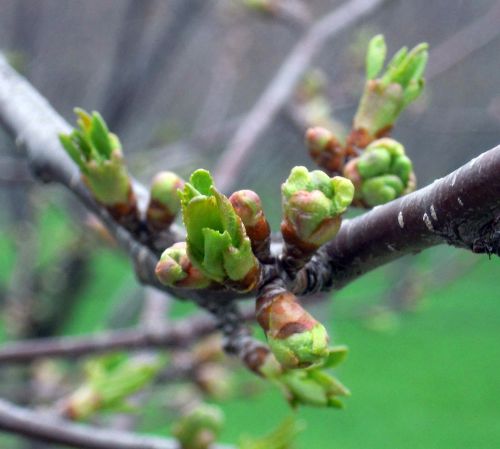 Weather
Last week was cool with highs generally in the 50s and 60s and lows in the 40s. Warm temperatures (about 70) on Tuesday, May 29, were followed by cool, cloudy weather and scattered showers. Buds are opening and exposing leaves and flowers, so rains can be infection periods for early season diseases. Rainfall across the region over the last two weeks as of May 6 has been a little over an inch. Soils are generally moist and soil temperatures are about 50.
Warmer temperatures are forecast for this week and we should see rapid movement as many plants put on a growth spurt. Rainy conditions are possible late in the week. We are about 10 days behind normal. We are nearing the end of the spring frost/freeze season. For most of the region, there is less than a 10 percent chance of a freeze down to 28 degrees Fahrenheit according to long-term records.
Comparing the growing degree days (GDD) for the last five years at the Southwest Michigan Research and Extension Center shows that we have fallen behind last year, but are still similar to 2011, which was the coolest year in the last five years.
Southwest Michigan GDD summary from Jan. 1 to May 4, 2014
| | | | |
| --- | --- | --- | --- |
| Station | GDD 42 F | GDD 45 F | GDD 50 F |
| Benton Harbor (SWMREC) | 260 | 187 | 104 |
| Fennville (TNRC) | 198 | 136 | 69 |
| Average for the region | 256 | 183 | 100 |
Tree fruit
Growers are still assessing the effects of the winter on tree health and fruit bud survival for the various fruit crops. Cool weather last week halted the movement of tree fruit through bloom and contributed to poorly colored foliage. Stone fruit growers are reminded that Michigan State University Extension has found that brown rot resistance to sterol biosynthesis inhibitor fungicides (FRAC code 11) is becoming more prevalent in the area. Berrien County is the most advanced region in Southwest Michigan due to its location in the extreme southwest portion of the state.
Apricots are in bloom to petal fall in Berrien County. The recent cool weather has prolonged the bloom. Temperatures have been below the optimum for brown rot infection of blossoms, but this disease could be a concern with the warm temperatures and rain forecasted for later this week.
Peach fruit buds are at red calyx for the non-showy types and pink to first bloom for peaches with showy blooms in Berrien County. Growers continue pruning their peaches. They had delayed pruning and were waiting to see what the crop potential was. Reapplication of copper for bacterial spot is not needed until after significant amounts have been removed by rainfall. Pheromone disruption dispensers and traps for oriental fruit moth should be deployed in orchards now.
In cherries, sweet cherry bloom began over the weekend. Early blooming varieties and those on dwarfing rootstocks are ahead. In Berrien County, buds are at first white to full bloom, depending on the variety. Trees with root problems such as crown gall, borers and Phytophthora crown and root rot are showing poor foliage development.
Tart cherry buds are still at bud burst to tight cluster, about the same as last week. First white can be found on a few trees. There is still time to apply copper to reduce bacterial canker in tart cherries.
Japanese plums are at full bloom in Berrien County. European plum buds are at open cluster. Black knot and brown rot are the diseases of concern now during bloom.
Apple bud development ranges from tight cluster in Golden Delicious and Honeycrisp to first pink in Zestar and McIntosh in Berrien County. Apple scab ascospore catch increased sharply with rains last Friday, May 2. One to two scab infection periods, depending on the site, occurred late last week. Copper applications should not be used for fresh market apples once the flowers buds are exposed at tight cluster to avoid russetting of the fruit finish. The most important period for control of powdery mildew in apples starts at pink and continues until terminal bud set.
As we approach bloom, growers should scout for fire blight. Look for last year's fire blight infections and remove affected branches that are greater than 0.5 inch in diameter. The advent of bloom and hot temperatures forecasted for the rest of the week could build quickly into a fire blight risk situation. Check the nearest MSU Enviro-weather station to seek estimations of fire blight risk.
Pears are at open cluster. Pear scab control is needed as susceptible green tissue emerges. Pear psylla management begins at the white bud stage if it was not done with oil earlier.
Small fruit
The impact of winter cold will become more noticeable with warmer weather and increased bud development. Southwest Michigan suffered cold temperatures below -10 F several times across the region and lows near -20 F have been reported by growers. This is well into the range where we would expect to see damage in small fruit. Differences in growth between varieties that were able to withstand the cold and those that suffered damage are becoming apparent and will become much more noticeable as growth continues.
Grape bud swell is underway and we should see color in the buds this week. Damage will be more apparent soon as green shoot growth begins. When flower clusters are exposed, it will be easier to estimate crop and loss.
Southwest Michigan GDD summary for grapes from April 1 to May 4, 2014
| | |
| --- | --- |
| Station | GDD 50 F |
| Benton Harbor (SWMREC) | 97 |
| Lawton | 100 |
| Fennville (TNRC) | 64 |
| Average for the region | 95 |
The window for dormant sprays to reduce inoculum of phomopsis, anthracnose, black rot, powdery mildew and downy mildew is closing as buds develop. Climbing cutworms and grape flea beetles will be the insect pests to scout for in the upcoming week. These pests have not been numerous in the last several years. Growers have generally finished pruning, tying and applying preemergence herbicides.
Blueberry flower buds are bursting slowly across the region. In many sites, flower buds seem to be moving slowly, which could indicate winter injury to buds. Dead and shriveled shoot tips are also an indication of winter injury. Green leaf tissue is out and leaves should unfold this week with warm weather.
As leaf tissue emerges, mummy berry infections are possible. Growers should be scouting for mummy berry mushrooms. Scouts report increased numbers of mushrooms as leaf buds began to grow. Spores are generally released under dry conditions, but rain is required for infection and we had several infection periods last week. See "Understanding mummy berry shoot strikes" for more information. Freezes increase the susceptibility of tissues to infection, so protectant materials should be applied before freezes while systemic materials should be applied quickly after a freeze.
Strawberries moved very little last week. Flower trusses are still visible in the crown. With warmer weather this week, flower trusses should emerge from the ground. Exposed flower clusters can be damaged by temperatures below 20 F, so irrigation systems should be set up to protect against hard freezes and frosts.
Bramble winter injury is easier to see as growth begins. Leaves are unfolding on floricanes and new primocanes are emerging from the ground. Raspberries and blackberries protected by floating row covers are more advanced than those in the field.
Upcoming meetings
Our next weekly Monday fruit IPM meeting is May 12 at Fruit Acres Farms, 3452 Friday Rd., Coloma, MI at 5 p.m. Two Michigan restricted use pesticide (RUP) applicator recertification credits will be given for these meetings.
Early season blueberry meetings are Wednesday, May 7, in Van Buren and Ottawa counties. There is no fee to attend these meetings and they are open to all blueberry growers. The agenda is the same for both meetings with topics including a winter injury update, blueberry pollination, early season insect control, early season diseases, irrigation and other topics.
The Van Buren County meeting is from 1:30 to 3:30 p.m. and is hosted by MBG Marketing, located at 4726 County Road 215, Grand Junction, MI 49056. The meeting is in the MBG Conference Room located on the south side of the building and accessed from the south entrance. MBG asks that you use the parking area south of their building and enter the building through the south side entrance.
The Ottawa County meeting is from 6-8 p.m. at the Olive Township Hall, located at 6480 136th Ave., Holland, MI 49424.
Please let us know if you need special accommodations. For the Van Buren County meeting, contact Mark Longstroth at 269-873-8983 or longstr7@msu.edu. For the Ottawa County meeting, contact Carlos Garcia at 616-260-0671 or garcias4@msu.edu.