Southwest Michigan fruit regional report – September 2, 2015
Peach harvest is winding down and apple harvest is just beginning.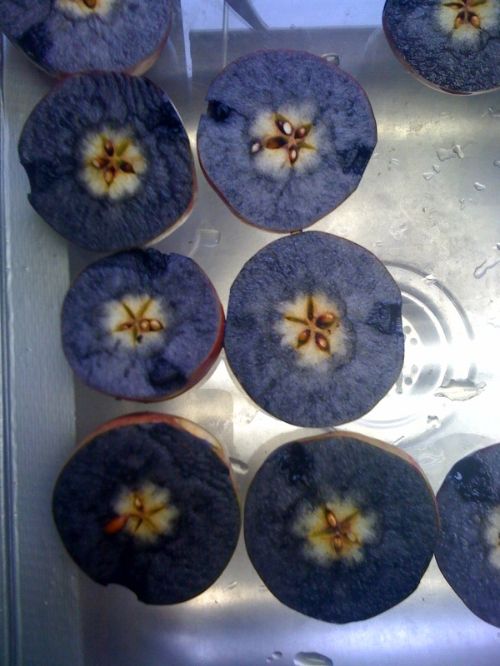 Weather
Last week was cool with high temperatures in the 60s and 70s and lows in the 50s. Showers crossed the region Saturday morning, Aug. 29, and dropped varying amounts of rain. Most areas received one-third to two-thirds of an inch, but a few areas received less than a tenth. In August, most growers have received 2-5 five inches of rain. The day length is rapidly decreasing, so evapotranspiration in August was about 1.6 inches. Evapotranspiration this coming week will be just over an inch with 0.15 to 0.17 inches of water a day.
Weather for the week will be much warmer with a chance of thunderstorms. The week will be warm and wet with highs 80's about 10 degrees above normal. Last week our daily growing degree day (GDD) accumulation was about 18 GDD base 42, 16 GDD base 45 and 11 GDD base 50 per day. This week our daily GDD accumulation will be twice that at about 30 GDD base 42, 27 GDD base 45 and 22 GDD base 50 per day. We are lagging a week or two behind normal in heat accumulation and some growers are complaining fruit is not ripening.
Station

GDD 42 F

GDD 45 F

GDD 50 F

Benton Harbor (SWMRC)

3354

2921

2249

Lawton (Lawton)

3306

2874

2200

Fennville (TNRC)

3092

2674

2024

Average for the region

3272

2839

2166

Accumulation last week

127

109

76
Tree fruit
Oriental fruit moth larvae from current generation are various sizes up to 2/3 inch in length, with increased trap catch signaling the start of the third generation flight. Obliquebanded leafroller adult flight of the second generation has increased with the recent warm weather. Larvae from the second generation can be a threat until they reach the third instar in late August to early September. San Jose scale adult male trap catches are continuing to be high in the Trevor Nichols Research Center (TNRC) traps. Sprays to control crawlers are timed approximately 150 GDD51 later, or Thursday, Aug. 20, for the southwest region.
Detection of brown marmorated sting bug (BMSB) juveniles has increased in the Stevensville area in Berrien County near the area where the pest was first detected in the region. Adult BMSB developing from these juveniles increase their feeding in late August and September, preparing for overwintering. Adults will soon begin clustering on buildings.
Peach harvest this week includes Gloria, Cresthaven, PF25 and PF28. Most of the peaches harvested in southwest Michigan from now until the end of the season will be for direct sales markets. Current problems in peaches include oriental fruit moth entries in fruit near the tops of trees with reduced spray programs and brown rot in fruit damaged by insects. Some growers experienced problems controlling brown rot with less than full rates of DMI fungicides (Indar, Orbit, Elite and Rally). This could indicate building resistance of the pathogen. Growers should rotate fungicide types and modes of action to avoid fungicide resistance problems with brown rot. The relative level of bacterial spot symptoms has decreased as infected leaves drop from trees.
Oriental fruit moth trap catches continue to be high in some orchards, but are generally declining. Spotted wing Drosophila (SWD) is a potential problem in peaches picked on the mature side of ripe trees. Infested harvested fruit may be stored at 35 degrees Fahrenheit or lower for at least 96 hours to kill developing eggs, larvae, pupae and adults. Lorsban trunk sprays for peachtree borer can be done post-harvest and still provide yearlong protection against this insect according to work at Cornell University.
Sweet cherry growers need to maintain protectant fungicide coverage to reduce cherry leaf spot. Modest pruning on mature trees after harvest is best done before mid-September so that trees have time to recover before cold weather arrives.
Tart cherry trees exhibiting wilting or poor vigor foliage should be examined for gumming, sawdust-like frass and chewed areas due to American plum borer and peachtree borer larvae feeding on the trunk at or slightly below the soil line.
Plum harvest of Bluebyrd and Early Italian is underway, with Stanley about five to 10 days off, depending on the site and crop load. Apple maggot, oriental fruit moth, codling moth and obliquebanded leafroller can infest fruit if it is not protected. Spotted winged Drosophila is also a potential problem for thin skinned plums picked tree ripe. Young plum trees should be examined for potato leafhopper, an insect that can build quickly and stunt growth. Brown rot is the primary disease problem for plum fruit requiring control now.
Apple harvests of Jonamac and a few Gala in southern Berrien County are underway. Michigan State University Extension recommends starch and pressure tests for maturity to insure Galas are really ready for harvest. A starch test reading of 3 using the Cornell University scale is recommended as the minimum for fruit picked for immediate sales and consumption. Some spot-picking of Honeycrisp will be done later this week, but most will not be ready until next week. View a more detailed list of apple variety harvest dates for west central and southwest regions. In general, apple finish and size looks very good. Stop-drop sprays are a necessary tool for managing harvest.
Apple maggot adults continue to be caught in good numbers for the fifth week at the TNRC. Growers need to include fungicides in some of their cover sprays to control sooty blotch and flyspeck. Growers should reapply fungicides for these two diseases whenever the hours of leaf wetness exceed 250 since the last fungicide application. Growers with a light crop or with bitter pit-susceptible varieties should include calcium in their cover sprays to reduce bitter pit. In orchards where apple scab is present on fruit and leaves, growers should consider beefing up fungicide coverage shortly before harvest to help prevent pinpoint scab showing up in storage. Black rot symptoms are showing up on leaves and fruit in orchards with fruit mummies and in older orchards with dead wood that wasn't pruned out. We are still catching good numbers codling moth adults of the second generation flight. Oriental fruit moth trap catches are high in some orchards. Growers should be scouting for obliquebanded leafroller larvae.
In Pears, Bartlett harvest is still underway in some orchards. Gem harvest is expected about five to 10 days after Bartlett and Harrow Sweet about 15 days after Bartlett. As pears ripen and soften, they need to be protected against codling moth and oriental fruit moth. See a good fact sheet on harvest and storage of pears from Ontario.
Small fruit
Japanese beetles are scarce. Spotted wing Drosophila (SWD) is common in southwest Michigan with southwest region traps last week averaging 50 flies. Soft fruit or quickly ripen fruit is an excellent indicator you have SWD. Our traps are catching flies and trap numbers rise and fall depending on the availability of fruit, especially wild berries near commercial fruit plantings. SWD is a pest of ripening fruit and numbers increase as wild berries ripen and the fly moves from one ripening host to another. It has multiple generations every year so the population increases through the growing season.
Grape veraison is over. Concord harvest is should begin towards the end of September. The third generation egglaying of grape berry moth is winding down. Grape berries are resistant to fungal disease infections at this time, but downy mildew can infect the leaves and defoliate the vine. Growers need to protect the leaves of susceptible varieties. Wine grape growers should apply a botrytis fungicide if we get wet conditions. In wine grapes, scout for potato leafhoppers.
Blueberry harvest is ending in southwest Michigan. 'Elliott' harvest is winding down. SWD numbers are high. Growers finished for the season are applying long last materials such as chlorothalonil. New shoot growth can be seen in fields where soil moisture is good. Fruit buds are starting to form.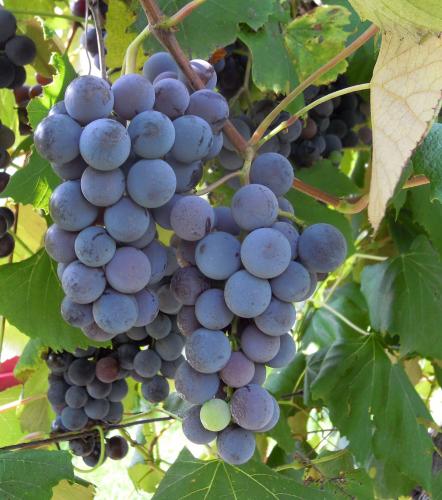 Strawberry fields look good. Protect the leaves against potato leafhopper and foliar diseases.
Raspberry harvest of fall bearing red raspberries and primocane bearing blackberries is underway. Raspberries and blackberries are very attractive to (SWD) and growers need to pay close attention to this pest. Growers with ripening fruit need to time their SWD controls with harvest and pay close attention to the pre-harvest intervals (PHI) on the pesticide label. See the SWD recommendations for caneberries at the MSU Spotted Wing Drosophila website.
See also