Southwest Michigan fruit regional report – September 6, 2016
Drier weather has allowed growers to get a good jump on apple harvest.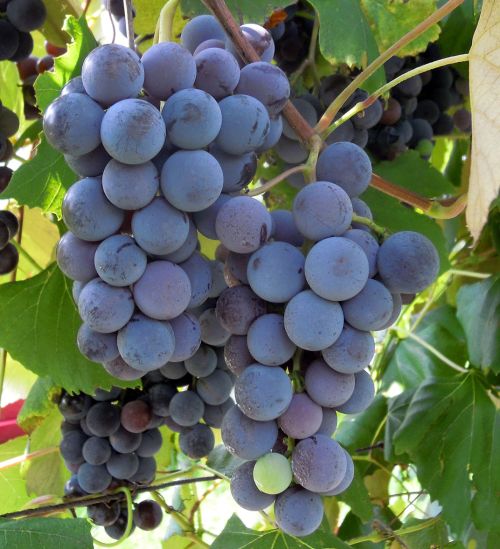 Weather
Last week was cooler and drier than July and August. High temperatures fell through the 80s and lows fell into the mid-40s. The week was generally fair and dry. Scattered rain fell Tuesday morning, Aug. 30, but only a few areas received significant rain. The air is still humid and we have heavy dews in the mornings. Rainfall for August totaled 5 to 8 inches.
Potential evapotranspiration rates are about 0.15 inches per day and soils are becoming dry. We are about two weeks ahead of normal for heat accumulation.
This week will be hot and humid with a southwest flow. High temperatures will be close to 90 degrees Fahrenheit. There is a good chance of showers through the week with a cooler weekend. The long-term forecast is for a warm fall.
Station

GDD 42 F

GDD 45 F

GDD 50 F

Benton Harbor (SWMRC)

4,009

3,528

2,788

Lawton (Lawton)

4,030

3,543

2,796

Fennville (TNRC)

3,564

3,104

2,395

Average for the SW region

3,759

3,285

2,562

Accumulation last week

188

166

132
Tree fruit
Trap catch numbers for oriental fruit moth are up. Codling moth numbers are generally down. Obliquebanded leafroller trap catch numbers are up in some orchards. A third generation of San Jose scale sometimes appears in September.
We are still waiting for the upsurge of brown marmorated stink bug; numbers have increased slightly lately. Last year, brown marmorated stink bug numbers increased sharply in mid-August in southern Berrien County. Damage to fruit from brown marmorated stink bug feeding can be confused with several disease or nutrient deficiencies, depending on the particular fruit that is affected.
Spotted wing Drosophila (SWD) numbers are high across southwest Michigan and we are catching flies in most traps. Fruit left on the tree to soften are very attractive to SWD infestation.
Peach harvest of late-season varieties such as PF28-007 and Autumnstar continues. Fruit rots such as brown rot, rhizopus rot and anthracnose rot are more common. Rainy, moist conditions make these diseases harder to control. Oriental fruit moth flight is strong in some orchards with considerable damage in some locations. Trapping is necessary so growers can judge which blocks have high moth pressure (more than approximately 20 moths per trap per week). We see more than 100 oriental fruit moth adults caught in a single night in some traps. High trap counts may indicate insecticide resistance and lack of control with the materials used.
Constriction canker (phomopsis) is causing gumming of branches and terminal decline. Brown rot control programs should rotate among the different classes of fungicides to stave off resistance problems. Save the most effective fungicides for when ripening fruit are coloring and most susceptible to infection.
Cherry leaves should be protected from cherry leaf spot all season. Keep the foliage in good shape through September. Cherry leaf spot disease pressure has been relatively light in most tart cherry orchards due to relatively dry conditions in the early season.
Plum harvest of Stanley, NY9 and Valor are underway in central Berrien County orchards. Bacterial spot and brown rot are the primary fruit disease disorders and there is some obliquebanded leafroller feeding damage. Growers should tighten up brown rot spray programs as fruit start to color and ripen. Brown rot infected fruit should be knocked off the tree to reduce future disease problems.
Apple harvest dates estimates are available from Michigan State University Enviro-weather stations across Michigan. Gala harvest is underway in some orchards. Apple orchards near peach orchards may need additional protection against oriental fruit moth adults. Oriental fruit moth adults can easily fly 0.25 mile. Fruit entry holes from codling moth or oriental fruit moth larvae are easy to find in unprotected fruit.
Obliquebanded leafroller trap catch for the summer generation numbers have been strong over the past month and larvae are webbing leaves and feeding on fruit. Apple maggot trap catch numbers continue to be significant. With the loss of board spectrum insecticides, growers should choose materials carefully. See "Managing apple maggots with insecticides" by MSU Extension for more information.
Sooty blotch and flyspeck disease symptoms are common in unsprayed apples. A general rule of thumb is to reapply fungicides for these diseases after an additional 220 hours of leaf wetness, or 2 inches of rain has occurred following the last application.
Pear harvest in the region continues with the variety Harrow Sweet. This variety has better storage life and field resistance against fire blight than Bartlett. Pears are generally ready for harvest when the stem separates easily from the branch by twisting the fruit up 45 degrees to a horizontal position. Pear maturity is often determined by pressure testing the fruit flesh. Use a penetrometer fitted with a 5/16-inch diameter tip and remove the skin of the fruit. European pears testing 19 to 23 pounds are hard ripe, 17 to 18 pounds are firm, and 15 to 16 pounds are firm ripe. Pears that are left on the tree too long tend to ripen from the outside in.
Small fruit
Spotted wing Drosophila (SWD) numbers are high in southwest Michigan. Growers with ripe berries should be protecting against this pest.
Grape veraison has occurred in many varieties. Growers are continuing with vineyard canopy (leaf pulling) and crop load management practices. The crop looks good, perhaps too heavy in some vineyards.
Pressure from grape leafhoppers, potato leafhoppers and Japanese beetles remains low in most vineyards. Fourth generation flight of grape berry moth has begun. An insecticide spray at 2,430 growing degree-days (GDD) base 50 after wild grape bloom may be needed. This window opened on Aug. 28 in Benton Harbor, Aug. 31 in Lawton and Sept. 2 in Berrien Springs. Contact insecticides can still be used to reduce the damage from this generation; some growers are using border sprays of low pre-harvest interval materials.
Botrytis and sour rot infections are expanding in vulnerable varieties; early harvest may be necessary in some cases. Leaf diseases remain low in most vineyards.
Blueberry harvest is winding down. Elliott harvest continues close to Lake Michigan and in the north. Most growers have finished harvest. SWD and lack of labor were major problems for many growers. We still see high SWD numbers in our traps. See the current recommendation for SWD control in blueberries.
Strawberries are beginning to set flower buds for next year and irrigation may be necessary to maintain good growth. Growers should protect leaves from potato leafhoppers, leaf diseases and leaf-feeding insect pests. Day-neutral strawberry growers should protect their fruit against SWD.
Bramble harvest continues with fall red raspberries. Ripening raspberry fruit is very attractive to SWD. Growers should pick every two days to avoid SWD. See the current recommendations for SWD control in raspberries and blackberries.
See also