Southwest Michigan fruit update – May 23, 2017
With wet conditions, post-bloom insects and diseases should concern growers.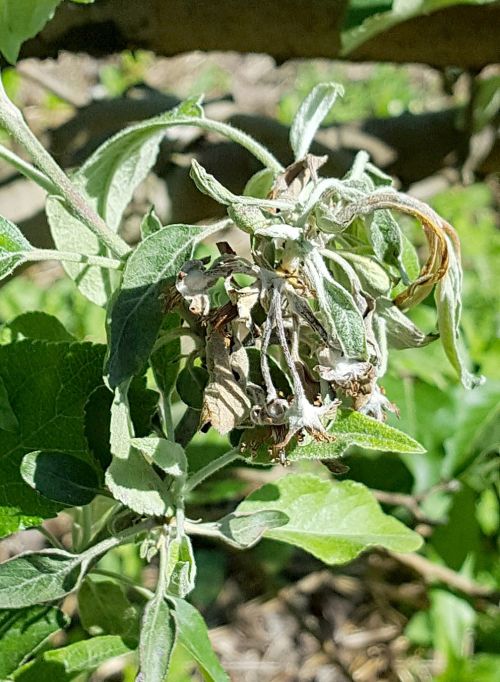 Weather
Last week started warm with highs in the 80s through Thursday. A cold front crossed the region late Thursday. This front dropped Friday's high into the 50s. Rain began Friday evening and continued into Sunday. Rainfall totals for the region ranged from under a half inch to an inch and a half. Most of the region received about 0.8 inches of rain.
The weekend rains were a significant disease infection period. Soils are wet. Soil temperatures are in the 60s and field crops are emerging rapidly. The weather this week will be cool and wet. Highs will be in the 60s and lows in the 50s. There is a good chance of rain into Friday. The weekend will be warmer with highs into the 70s and a chance of rain during the weekend. Warm conditions have moved plants quickly. We are about a week ahead of our heat accumulation for this date.
Southwest Michigan GDD Summary from January 1 through May 21, 2017

Station

GDD 42 F

GDD 45 F

GDD 50 F

907

712

457

751

582

365

680

521

323

Average for the SW region

787

613

389

Ave from March 1

691

546

356

Accumulation last week

152

132

100
Tree fruit
High winds on Wednesday and Thursday last week (May 17 and 18) have increased concerns about bacterial diseases on both pome and stone fruit. We found plum curculio egg laying scars on stone fruit last week. Tarnished plant bug is a potential problem on young developing fruit. The warm weather brought out many insects.
The Trevor Nichols Research Center traps for insects weekly and posts the trap information on their Resource page. Trevor Nichols reports first catch of San Jose scale males on pheromone traps this week – scout for crawlers about two weeks from now, depending on the temperature. The heavy rains during the weekend were a significant disease infection period for numerous diseases. The impact of the May 8 freeze is more apparent.
Apricots are 18 to 25 mm in diameter. The crop is generally light.
Peaches and nectarines range from a 0.5 to 0.75 inch in diameter. Crop potential ranges from fair to very good. Insect activity resumed with warm weather. Based on trap catch at Berrien, Van Buren and Allegan counties, Oriental fruit moth (OFM) biofix ranged from April 21 to 24. The Michigan State University Enviroweather Oriental Fruit Moth model has insecticides targeting larvae timed for May 10 to 15. Treatment for tarnished plant bug, plum curculio and rusty spot is needed now that the fruit is no longer protected by the shuck. Long episodes of wetting and temperatures above 50 degrees Fahrenheit favor bacterial spot. After shuck split, Mycoshield is preferred over copper to suppress bacterial spot.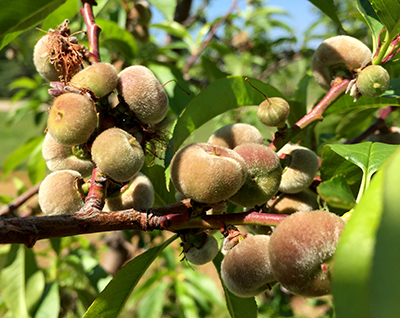 In cherries, sweet cherry fruit are about 14 millimeters in diameter and the pits are hard. Montmorency tart cherries fruit are at 10 mm and pit hardening has begun. The tart cherry crop potential looks very good in some areas of southwest Michigan and average in others. Protect cherries from plum curculio for the first four to six weeks after petal fall. Cherry leaves are susceptible to cherry leaf spot infection at all times. The forecast for a rainy week means growers need to be sure their orchards are covered. There has been only one significant cherry leaf spot infection period this year.
In plums, Japanese plum varieties fruit range from 14 to 16 millimeters in diameter and European plum 11 to 17 millimeters. Crop loads are spotty in Japanese plums varying between varieties and sites. Crop load seems generally light for European plums. The black knot season runs from early bloom to shortly after shuck split when wet periods coincide with temperatures above 55 F. Plums also need to be protected from plum curculio.
Apple fruit size ranges from 12 to 14 millimeters for King fruit of most varieties. Early bloom varieties such as Zestar and McIntosh are up to 17 millimeters. Apple fruit set is light due to poor pollination or damage from the May 8 freeze. The lack of fruit in the lower canopy in many orchards shows how widespread the damage is. A significant fruit drop is underway. The crop will be more apparent as the surviving fruit continues to size.
Temperatures this week will be relatively cool, making thinning sprays less effective. Growers should assess their crop to determine fruit set. The Cornell University apple carbohydrate model for timing thinning sprays and rates is available in the Fruit page of Enviroweather. Currently, this model indicates growers need to increase their thinning rates by 30 percent.
The Enviroweather apple scab model shows that all the apple scab ascospores are mature but not all have been discharged. Apple scab ascospore trap catches were still significant with last weekend's rains. Spore discharge should continue through May into early June. Apple scab symptoms continue to show up. Growers need to continue protection for apple scab through May. Continue powdery mildew management on susceptible varieties until rapid leaf growth ceases. Fire blight blossom blight and young terminal shoot growth were detected May 22 and likely trace back to the fire blight infection on April 26. High winds on May 17 and 18 were sufficient for a trauma blight infection—symptoms from this event will take about 10 days to appear, depending on this week's temperatures. Watch for bloom on newly planted trees – it may be worthwhile to pick off flowers to avoid fire blight problems.
Codling moth were trapped across the region last week. The regional codling moth biofix for southwest Michigan was probably May 18. Growers can use the codling moth model on Enviroweather to time their sprays. Other insects of concern are plum curculio and tarnished plant bug. Scout for spotted tentiform leafminer, aphids, white apple leafhopper and European red mites. Wooly apple aphid has become a problem in many Michigan apple orchard in recent years.
Pear fruit range from 10 to 12 mm in diameter. Fruit at this stage is particularly sensitive to chemicals and weather conditions that can cause skin russet. Growers should check their trees for fire blight from the April 26 infection periods. Streptomycin should not be used for fire blight post bloom unless there is hail or strong winds. The first generation of codling moth are not a problem in pears. Fungicide applications for pear scab are ongoing—the other concern is pear psylla, which can build up on succulent leaves.
Small fruit
Grape shoots are 6 to 12 inches long. The flower clusters are elongating and separating in Concord, Niagara and early hybrid varieties. Later hybrids and vinifera grapes have 1-5 inches of shoot growth with flower clusters exposed on the longer shoots. Vineyards have different levels of damage from the May 8 freeze. Vineyards of both juice and wine grapes were injured by the freeze. In labrusca and hybrid grapes, secondary shoots are beginning to grow now. Some vineyards with significant primary shoot loss will have many secondary shoots. This complicates vineyard management: two bloom periods, and two flushes of crop. Growers need to protect against shoot infections of phomopsis and leaf infections of black rot. In powdery mildew sensitive varieties, protection against leaf infections of powdery mildew should be included in your sprays.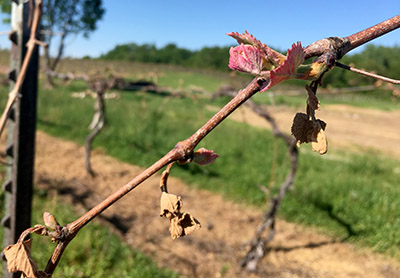 During the next two weeks, growers should note the beginning of wild grape bloom, and record the date that it starts, to use in the Grape Berry Moth model. No bloom was noted on Monday, May 22. We are on track for bloom in Concord to begin the first week of June. During the pre-bloom period, clusters become vulnerable to fruit and rachis infections of black rot, downy mildew, powdery mildew, and phomopsis. Growers will be protecting with all of these diseases in the week leading up to bloom.
Blueberry bloom is ending. Early varieties such as Bluetta and Duke are at green fruit. Bluecrop and Elliott are at late bloom and Jersey is at full bloom. Lots of bee activity and petals on the ground indicate we have had good pollination. Damage from the May 8 freeze seems minor. Growers with mummy berry shoot strikes in their fields should maintain fungicide protection against mummy berry in the fruit. Pollinators carry the spores from the shoot strikes to the open flowers infecting the flower. Flowers are most susceptible to infection soon after opening. Growers should use caution when applying fungicides during bloom. Avoid spraying during the day when bees are foraging. As we move into late bloom and the green fruit stage, the focus of disease control shifts from mummy berry to anthracnose and phomopsis. Be sure to change the mode of action of your fungicide to include these diseases and reduce the likelihood of fungicide resistance occurring in blueberries. Growers can use the Enviroweather Anthracnose fruit rot prediction model to assess their risk of infection. Cherry fruitworm and cranberry fruitworm adults were both caught last week.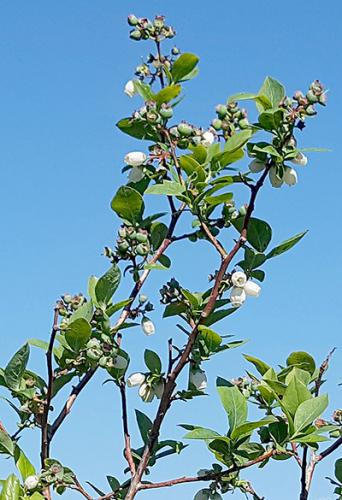 The cool weather of the last few weeks had shut down cherry fruitworm trap catch and the cranberry fruitworm flight had not begun. Growers and consultants should trap for fruitworm in their fields. This allows them to set biofix in their fields. Regional biofixes for these two pests would be early (May 15) for cherry fruitworm and later (May 17) for cranberry fruitworm. Growers can use the Cherry fruitworm and Cranberry fruitworm models on Fruit pages of Enviroweather to target their control sprays.
Gall wasp are emerging in the northern growing areas. Gall wasp is not a major problem in Van Buren County. It is a problem in Allegan and Ottawa counties and other northern areas. Sprays to reduce gall wasp populations are applied after bloom. Any bee hives should be removed before these sprays are applied. For more information see the MSU Extension article "Gall wasp management guidelines in blueberries for 2017".
Strawberry bloom continues. The largest fruit are about a half inch in diameter. Growers need to protect the fruit against tarnished plant bug. The cool wet weather forecast for this week may cause a problem with angular leaf spot. A bacteria rather than a fungus causes this disease so fungicides are ineffective. Growers should use copper products to reduce this disease.
Bramble flower clusters are exposed and bloom has begun on early varieties. Fungicides can harm the health of beehives. Use caution when applying fungicides during bloom. Avoid spraying during the day when bees are foraging. Primocanes are about 6 inches high. Scout for orange rust, sprays to reduce it spread should be applied now.
Cranberry uprights have started growth and the elongating shoots are in the roughneck stage.
Upcoming meetings
There is no Monday fruit IPM meeting on May 29, Memorial Day. Our next Monday fruit IPM meeting is Monday, June 5 at Fruit Acres Farms 3452 Friday Rd, Coloma, at 5 PM. Two Michigan RUP applicator recertification credits are available at these meetings.
See also