SPDC Builds Sparty's Cabin
Professor Pat Crawford, PhD, SPDC associate director, and graduate student Rohit Menon talk about the "tiny home" movement and the fruition of Sparty's Cabin.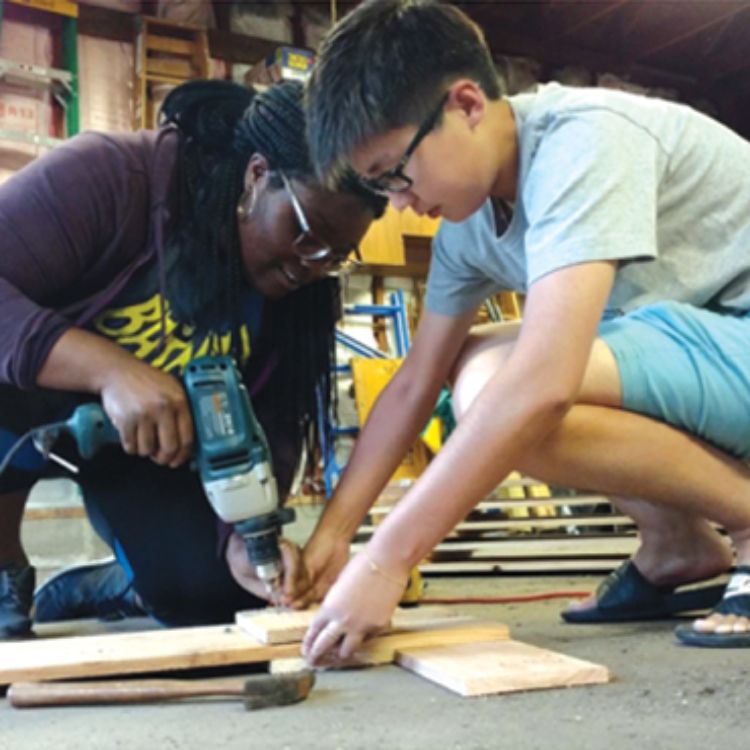 A trending concept in the U.S. and abroad is "tiny homes," with a focus on living simply and leaving behind smaller footprints. The tiny home movement reflects lifestyle choices such as living in smaller places and keeping possessions to a minimum, in order to unlock the necessary time and resources for desirable experiences.
Students and faculty across all four School of Planning, Design and Construction majors came together to build Sparty's Cabin: A 177 square foot tiny home built on a custom-made trailer for mobility and flexibility. The Cabin includes a porch, living area, kitchen, bathroom and loft bedroom. The cabin took shape over a six-week period inside the MSU Surplus Store and Recycling Center, allowing for work through the March and April Michigan weather. A collaborative, self-motivated and hands-on learning experience led to the successful completion of the build.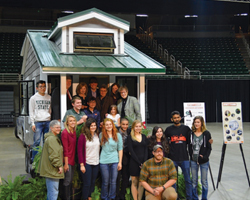 In the fall of 2015, a core group of students approached me with the idea of building a tiny home on campus. This initial conversation gained momentum and support from a wide range of donors, professionals, and MSU administration and management. Through the dedication of the 60-person volunteer crew, the cabin was completed on schedule. The tiny home was officially opened at a ribbon cutting ceremony on Earth Day, April 22, 2016 by President Lou Anna K. Simon and Provost June Pierce Youatt.
The experience improved confidence in the design students as professionals. "I now know the whole process, and know what to do," says Hanbing Liang, a student in the dual degree BLA/ MED program.
She also worked with "MSU Shadows," an Urban Wood program in the department of Forestry, to produce the door, ladder, kitchen shelves and counter.
Hanbing never wasted a second on her shifts. While building Sparty's Cabin, she learned from professionals, professors and people from different disciplines. "They value different things, and view problems differently," she said. "Curiosity is what kept me going. I knew that after all this was done I was going to be proud of what we built."
On the build, she operated power tools under the watchful eye of faculty, and helped install insulation. "I didn't realize how important management was before this experience, because a lot of people showed up and it was really hard to divide up work," she said reflectively. She has also participated in presentations that spread the word about Sparty's Cabin and introduced the concept of tiny homes to other people. Understanding how to work with a variety of disciplines was the key takeaway for Hanbing and many of the other student volunteers.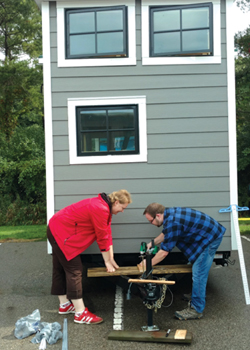 Dr. Robert Dalton's expertise supported the tiny home project both on and off site. "It's quite fun working with the other majors. We definitely have our own ways to approach problem solving and our own ways of speaking. Luckily, the students who come out on site are the hardest working and most open-minded. After all, they are here volunteering to augment their classroom learning. It makes it so much easier when that type of attitude comes to the work site, because they genuinely want to learn from each other."
When asked about his key takeaways, Dr. Dalton responded by saying, "It has been amazing seeing Dr. Crawford at the build site. She is there with the student volunteers every day leading by example. She teaches me so much about teaching, because she is so patient, calm and flexible to allow students to build. She takes on the hardest tasks and allows each student to work on something that matches and enhances their skill set."
Stephanie Onwenu, a senior in the landscape architecture program, said, "One my life goals is to build my first home, so I learned a lot on this project from Dr. Crawford and will definitely use it in the future." She said the project was a great way to meet people from different programs in the department, and to have the opportunity to learn and work with them.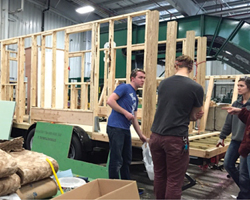 Alyssa Alvarez recruited volunteers and coordinated build scheduling. Her presence was crucial to the lively, energetic atmosphere on site. While on the job, she coordinated with the professionals who installed the roof and the cabinets, faculty at SPDC who handled communications, and volunteers from the department of Horticulture, Neuroscience and Kinesiology.
"My biggest goal [at the time] was to see this through," said Alyssa. The pace at which things were moving on site meant that she had to learn quickly or hold up the team. "I learned so much about communication, how important it is to send that email, and how that can be applied through a better work ethic," she said. When asked about what she had learned, she emphasized collaboration, time management, work ethic, and a better understanding of built systems.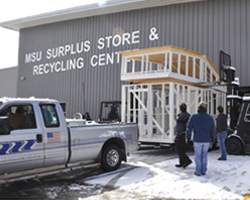 Kyle Goodrich, who graduated from the Construction Management program this spring, said, "I had to learn on the spot, while working on tasks that I'd yet to be exposed to." Kyle was a part of the core team that met every Monday to discuss the strategy for the coming week. He recalled how, even though the team had attended workshops on tiny home construction before the build, the reality of the endeavor hit when the first batch of materials were delivered on site.
He observed that the diversity of disciplinary backgrounds, coupled with passion in the team who volunteered on the build, were key to completing Sparty's Cabin on time.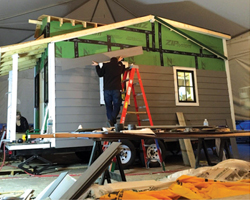 Ryan Daniels, a junior in the civil engineering program, said, "Perhaps the most important aspect of this project is the educational value it brings to anyone involved in the process, from planning to building." Ryan found that volunteering on the build was an opportunity to meet like-minded people, a valuable experience independent of career paths.
"It doesn't have to be a big idea in size to have an impact on the University," said President Simon at the ribbon cutting. "Small things can reflect big ideas." These words ring true about all aspects of the experience. Sparty's Cabin started with a conversation and ended with triumph. The power of collaboration was key to this triumph.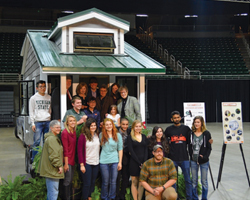 Building the tiny home blended all the disciplines, making it difficult to distinguish among landscape architects, interior designers, urban planners and construction managers, because everyone was willing to help and learn together. The biggest motivation of all was making a difference in the world. Sparty's Cabin, while small in size, is evidence that the idea of thinking about lifestyle choices differently is attainable, and has been reached by Spartans.