Sporecaster informational meeting planned July 17
Join us in Kingston, Michigan, to learn about a new smart phone app for white mold management in soybeans.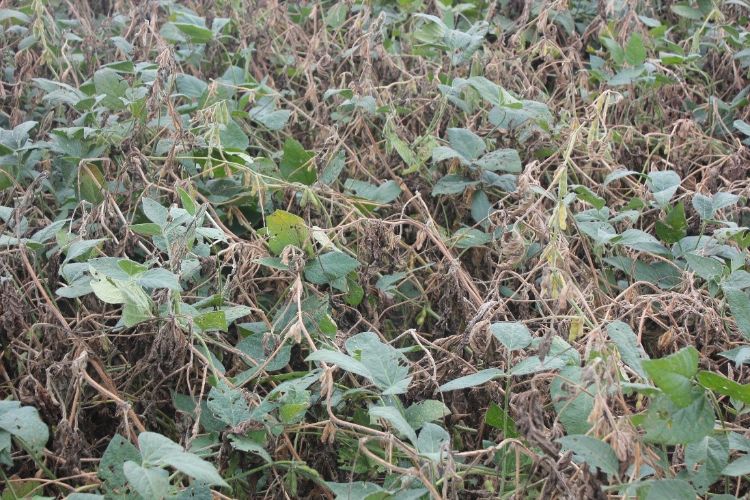 If your soybean fields have ever been devastated by white mold, you know how difficult it is to predict and control the disease. Fortunately, plant pathologists have been working on a white mold prediction model that is available to download on your Android or iPhone smart phone.
Sporecaster is a smart phone app designed to predict the probability of white mold apothecial presence (presence of white mold mushrooms) in a field. It can be downloaded from the Apple Store or Google Play. The app allows the user to locate and setup multiple fields and run the apothecial risk prediction model using weather data from a third-party provider (Dark Sky API).
Fungicides for soybean white mold management should be applied at or between the R1 (beginning flowering) and R3 (beginning pod development) growth stages. However, we have noted that in some years, later or earlier applications within this window favor disease management. The variation in responses to fungicide timing from year-to-year is driven by the presence of apothecia.
To learn more about Sporecaster, see this Michigan State University Extension news article published May 2018, "Sporecaster: New white mold risk prediction smartphone app now live."
An informational meeting about Sporecaster is planned for 6 p.m. July 17, 2018, at Rich D'Arcy farm, 6750 McAlpine Rd, Kingston, MI 48741. The D'Arcy farm is located half-mile north and half-mile west of the corner of M-46 and M-53, 4.5 miles east of Kingston. The meeting is hosted by MSU Extension and will feature Marty Chilvers, MSU Extension plant pathologist. He will take participants through using and understanding the Sporecaster app.
Two RUP credits are available to meeting participants.
Pre-registration is requested. Register for the program by calling the Tuscola County MSU Extension office at 989-672-3870.