Specialty cut flowers a highlight of 2023 Michigan Greenhouse Growers Expo
Cut flower program features a balance of production and business management topics.
The Michigan State University Extension floriculture team is excited to announce an educational program for specialty cut flower growers at the 2023 Michigan Greenhouse Growers Expo, which will take place at the Devos Place Conference Center in Grand Rapids, Michigan, Dec. 5 – 7. The education schedule features a healthy balance of production and business management topics including Anemone and Ranunculus production, recruiting and retaining local labor, weed management and a primer on agricultural cooperatives. This program has been designed to help growers of all experience levels and is presented by a combination of commercial flower growers, university researchers and industry specialists.
Program highlights
The following sessions will all take place on Wednesday, Dec. 6.
Producing High-Quality Anemone and Ranunculus in Michigan
Lindsay Daschner, Forget Me Not Farms
Anemone and Ranunculus are sought after by florists and consumers alike, but producing high-quality stems can be a challenging prospect due to their specific environmental requirements. Join us as Lindsay Daschner from Forget Me Not Farms walks us through her Anemone and Ranunculus production process and shares some tips for growing consistently gorgeous stems.
Speaker bio: Lindsay Daschner is the owner and operator of Forget Me Not Farms, a supplier of fresh-cut, sustainably grown flowers in Ottawa Lake, Michigan. After graduating from Michigan State University in 2016, she immediately went to work starting her flower farm and began building her first greenhouse in January 2017. From that point forward, Forget Me Not Farms has enjoyed consistent growth and now has a combined half-acre of protected growing space and 2 acres of outdoor production fields to provide Michigan and Ohio florists with seasonally relevant fresh cut flowers nine months out of the year.
Recruiting and Retaining Workers from Select Sources of the Local Labor Market
Lindsay Daschner, Forget Me Not Flowers, and Nikki Deming, Kalamazoo Specialty Plants
It's no secret that finding and retaining high-quality employees is challenging. In this session, Lindsay Daschner from Forget Me Not Flowers and Nikki Deming from Kalamazoo Specialty Plants share their experiences in working successfully with younger generations (high school and college students) and the Amish community. Attraction and retention efforts, as well as company culture, will also be discussed.
Speaker bio: Nikki Deming is a 30-year veteran of the floriculture industry. She is the general manager of Kalamazoo Specialty Plants, a 17-plus acre greenhouse operation providing high-quality plants to garden centers throughout the central and southern United States. Deming enjoys the ever-changing seasons of the industry and the constant adaptation that comes with producing different crops for varied markets. She has a flair for organizational culture and a passion for workforce development.
Weed Management Recommendations for Specialty Cut Flower Production
Debalina Saha and Manjot Kaur Sidhu, Michigan State University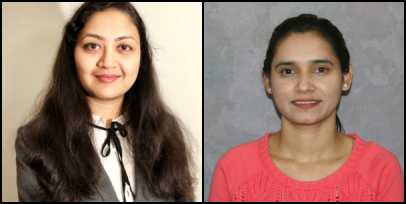 Managing weeds in specialty cut flower production can be challenging due to low damage thresholds, labeling limitations and high labor costs. In this session, our speakers will discuss major non-chemical weed control techniques, possible herbicide programs and how to control some specific problematic weed species. A short presentation will be followed by a facilitated Q&A session.
Speaker bio: Debalina Saha is an assistant professor and Extension specialist in the Department of Horticulture at Michigan State University. She conducts research on weed biology and management for ornamental crop production which includes nurseries, greenhouses, landscapes and Christmas tree production.
Speaker bio: Manjot Kaur Sidhu is a doctoral student of Saha at Michigan State University. She conducts research on weed control for ornamental crop production inside greenhouse conditions and nursery container production. Besides her research, Sidhu is also involved with Extension activities at Michigan State.
The Ins and Outs of Cooperatives and Collectives
Bill Knudson, Alex Cacciari, Josephine Brown, Paul Schaap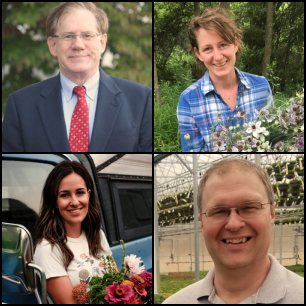 Have you wondered what it would be like to form (or join) a cut flower cooperative? Join us as we explore the fundamentals of agricultural cooperatives and discuss the benefit and drawbacks of joining forces with your fellow growers. Bill Knudson from Michigan State University will start us out by providing an overview of agricultural cooperatives. We'll then hear from members of three Michigan flower cooperatives/collectives as they take turns telling their story and sharing what they have learned. Note: Due to the complex nature of the subject matter, this session may run longer than usual.
Speaker bio: Bill Knudson is an agricultural economist at the Michigan State University Product Center. His primary areas of work are in field crops, livestock products and cooperatives of all types. Prior to joining the Product Center in 2003, he was a policy advisor for the Michigan Senate Majority Policy Office where he covered agriculture, higher education and appropriations.
Speaker bio: Alex Cacciari founded Seeley Farm in 2011 with her husband Mark Nowak. Located just 4 miles north of downtown Ann Arbor, Michigan, the farm is a true market farm, growing a wide range of vegetables, cut flowers and raising meat chickens. Cacciari is also one of the founding members of the Michigan Flower Growers Cooperative, a farmer-owned cooperative with 13 members who collectively market wholesale flowers to florists in the Ann Arbor and Detroit area.
Speaker bio: Josephine Brown is the founder of Michigan Flower Barn, a wholesale flower market collective. She spent over 15 years in the marketing and design agency world, working for large corporations, national parks and local conservancies, before switching to event design and florals. She serves as the creative director and operations manager for the Michigan Flower Barn while also managing the local farmers market and farming her own cut flowers.
Speaker bio: Paul Schaap is a fourth-generation greenhouse grower and co-owner of Schaap's Greenhouse, a wholesale bedding plant producer in Kalamazoo, Michigan. Schaap's grandfather was a founding member of the Kalamazoo Valley Plant Growers Cooperative (KVPG) in 1967. Continuing in that fine tradition, Schaap proudly serves as the current president of the KVPG.
Online registration for the Expo is now open. Attendees and exhibitors can find the full session schedule and trade show information at the Great Lakes Expo website.